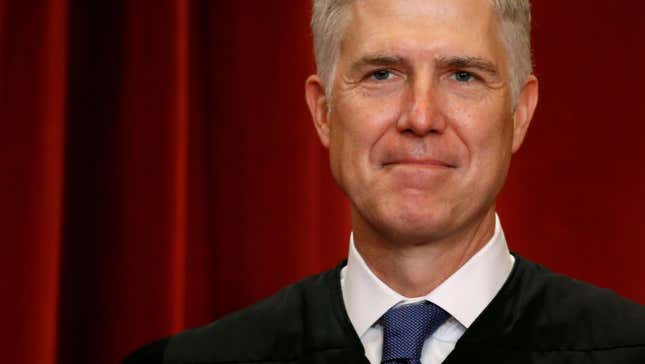 Nine days after being confirmed by the US Senate to a seat on the Supreme Court, Neil Gorsuch sold a 40-acre property in rural Colorado to the chief executive of Greenberg Traurig, a major law firm. Gorsuch reported earning between $250,000 and $500,000 from the sale in a legally required disclosure form, according to today's scoop in Politico, but left the name of the purchaser blank.
How HubSpot created a "Connect Four" program
The property, which Gorsuch owned with two partners, had been on the market for nearly two years, but didn't sell until Greenberg CEO Brian Duffy paid $1.825 million in 2017. Since then, his firm has been involved in 22 cases before the court, with Gorsuch on the record in 12 of them, ruling eight times in favor of Greenberg's client and four against.
Duffy told Politico that he had not met or spoken to Gorsuch, and had cleared the purchase with his firm's ethics committee. Gorsuch didn't respond to Politico's inquiries about the sale or its disclosure.
The latest question about Supreme Court conflicts of interest
The Supreme Court has been under renewed scrutiny after ProPublica reporting revealed that another justice, Clarence Thomas, went on lavish vacations paid for by Texas billionaire Harlan Crow, a major donor and activist in Republican politics. ProPublica also showed that Crow had purchased several pieces of property from Thomas, including the justice's mother's home, where she lives rent-free today. Thomas didn't disclose that deal, either.

Defenders of Thomas have argued that he is merely friends with Crow, and that his failure to disclose the financial benefits of their relationship comes down to misunderstandings about transparency laws. But ethics experts have said that these transactions clearly represent potential conflicts of interest the public should know about.
Ironically, there are few hard and fast rules for the Supreme Court, which has no code of conduct and is largely self-governing. Chief justice John Roberts, who leads the court, has declined to comment or take action on Thomas's conflicts. Senator Dick Durbin, the Democrat who chairs the Senate Judiciary Committee, which oversees US courts, has asked Roberts to testify publicly in May about the court's ethics rules.