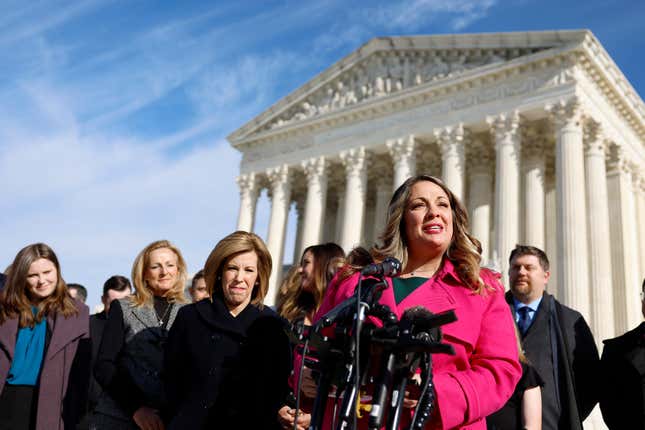 The Supreme Court has ruled in favor of a Colorado design company that objected to creating wedding websites for same-sex couples. The court ruled in a 6-3 majority today (June 30) that 303 Creative's stance is protected by the First Amendment, in a case set to have wide-ranging implications for discrimination laws around the country.
Why a tightening of credit conditions could lead to a weak economy
Lorie Smith, an evangelical graphic designer opposed to same-sex marriage, preemptively sued the state for discriminating against her religious beliefs after apparently refusing to build a wedding website for a same-sex couple, citing Colorado's wide-ranging public accommodations law as evidence she would be forced to violate her free speech.

In the majority opinion, justice Neil Gorsuch criticized the Colorado law. "Colorado seeks to force an individual to speak in ways that align with its views but defy her conscience about a matter of major significance," Gorsuch wrote. He also accepted that despite refusing that creating a same-sex wedding website, Smith is happy to work "for clients of any sexual orientation," a logic that justice Sonia Sotomayor described as "amusing if it were not so embarrassing" in her dissenting opinion, in which she was joined by justices Elena Kagan and Ketanji Brown Jackson.
In the dissenting opinion, Sotomayor argued the court's decision gave businesses permission to discriminate against minorities. "Today, the Court, for the first time in its history, grants a business open to the public a constitutional right to refuse to serve members of a protected class," Sotomayor wrote, adding "The decision threatens to balkanize the market and to allow the exclusion of other groups from many services."
The Supreme Court's conservative majority already signaled it would rule in favor of Moore, even before today's decision was announced. In oral arguments for the two cases, delivered in December, conservative justices questioned whether website design could be considered a public accommodation.

"This is not a hotel. This is not a restaurant. This is not a riverboat or a train," justice Clarence Thomas said during oral arguments. "I'm interested in the intersection of public accommodations law and speech."
Quotable: The core of the majority vs the dissenting opinion
The First Amendment envisions the United States as a rich and complex place where all persons are free to think and speak as they wish, not as the government demands. —Justice Gorsuch in his majority opinion in the 303 Creative v Elenis case
In a free and democratic society, there can be no social castes. And for that to be true, it must be true in the public market. For the "promise of freedom" is an empty one if the Government is "powerless to assure that a dollar in the hands of [one person] will purchase the same thing as a dollar in the hands of a[nother]."—Justice Sotomayor in her dissenting opinion in the 303 Creative v Elenis case
Questions arise about the validity of Smith's claims
The case took a surprising turn the day before the court's decision was due, when the New Republic reported that the man whose business Smith claims to have rejected is actually straight.
The legal filing to the Supreme Court says that two men named Stewart and Mike (last names not provided) approached Smith in September 2016 asking her to do "some design work" for the wedding's announcement and invites to guests. However, when Stewart was reached for comment about the case–through the phone number provided in the legal documents–he said that the call was "the very first time I've heard of it."
It turns out Stewart is straight and already married with a child, leading to speculation that Smith made up an inquiry for a wedding site as a pretext for suing the state. For the record, Stewart–a graphic designer himself–said he disagrees with Moore's decision to reject same-sex couples "in the strongest possible terms."
Building on the anticlimactic wedding cake case of 2018
The sense of dejà vu resulting from the 303 Creative v Elenis decision is justified. In 2018, the Supreme Court ruled in favor of a baker who refused to make a wedding cake for a same-sex couple in Colorado, in one of the most high-profile anti-discrimination cases in decades. The case was centered around Jack Phillips, the owner of Masterpiece Cakeshop, who said the cake would have conveyed a message of support for gay marriage, violating his personal religious beliefs.
The case was anticipated to be a landmark ruling on the rights of gay couples, three years after a right to same-sex marriage became federal law in Obergefell v. Hodges. However, the majority decision ended up siding with the baker by arguing that a member of the Colorado Civil Rights Commission–which had originally ruled against the baker–had expressed sentiments hostile to religious rights in the past.
The late justice Anthony Kennedy, a conservative who nonetheless expressed support for LGBTQ rights in the past, attempted to balance protections for same-sex couples with a commitment to free speech protections in his majority decision.
"The outcome of cases like this in other circumstances must await further elaboration in the courts," he wrote, "all in the context of recognizing that these disputes must be resolved with tolerance, without undue disrespect to sincere religious beliefs, and without subjecting gay persons to indignities when they seek goods and services in an open market."
Now, the court's decision to side with Smith's anti-LGBTQ weddings policy can be directly traced to the court's narrow interpretation of Phillip's actions in 2018, and the space it left for further restrictions of LGBTQ rights vis à vis religious beliefs.
A brief history of LGBTQ rights at the US Supreme Court
1958: One, Inc. v. Olsen

In 1953, the Mattachine Society released ONE: The Homosexual Magazine, the country's first magazine aimed at gay and lesbian readers in Los Angeles. Soon after distribution began, the magazine was seized by California's postal authorities, leading to a lawsuit over free speech concerns. The Supreme Court ruled in favor of the magazine's authors, finding that material written for an LGBTQ audience could not be considered inherently obscene.

1986: Bowers v. Hardwick

In a landmark defeat for LGBTQ rights, the Supreme Court upheld a Georgia sodomy law criminally punishing a man named Micheal Hardwick for having sex with another man in 1982. The decision found that the 14th Amendment's due process requirement did not apply to state laws criminizaling sex acts, even when private and consensual. State sodomy laws would be struck down by the Supreme Court in 2003, with Justice Kennedy authoring the majority opinion.

1996: Boy Scouts of America v. Dale

The Supreme Court ruled in favor of the Boy Scouts after they expelled a gay scoutmaster, James Dale, following his outing as a member of Rutgers University Lesbian/Gay Alliance in 1990. The court ruled that forcing the Scouts, a private organization, to readmit Dale would violate the group's first amendment rights. The Boy Scouts wouldn't allow gay members for two more decades, reversing the policy in 2015.

2015: Obergefell v. Hodges

The Supreme Court effectively legalized gay marriage nationwide in 2015, when they ruled that the states without gay marriage laws were violating the 14th Amendment's equal protection clause. The plaintiffs successfully argued that states without gay marriage were illegal preventing spouses from receiving access to financial benefits like social security and joint tax filing.

Justice Kennedy, in the majority opinion, framed the case as a moral issue: "It is demeaning to lock same-sex couples out of a central institution of the Nation's society, for they too may aspire to the transcendent purposes of marriage."

Related stories:
🏛️ The US Supreme Court ended affirmative action, upending decades of race-conscious college admissions
🏛️ With affirmative action struck down, here's how employers can protect workplace diversity initiatives
🏛️ The US Supreme Court struck down a GOP effort to subvert elections