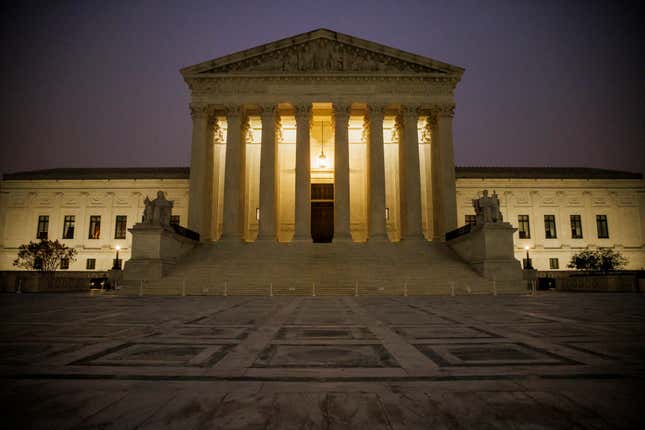 The US Supreme Court has decided to strike down affirmative action in a 6-3 vote, overturning 45 years of precedent upheld twice before by the same body. The decision will have wide-ranging implications for millions of students applying to US universities and colleges.

Should you buy McDonald's and Caterpillar stock right now?
Two cases, one against the University of North Carolina at Chapel Hill (UNC) and another against Harvard College, have decided the fate of the policy intended to ensure minorities have equal opportunities in admissions to higher education.
The majority of the Supreme Court interpreted the 14th amendment as not permitting race as a factor in deciding university and college admissions. Title VI of the Civil Rights Act of 1964, which applies to institutions receiving federal funds and financial assistance, has also been interpreted as barring race being taken into account in school admissions.
Chief justice John Roberts delivered the opinion (pdf) of the court. He wrote that Harvard's admission process is "not sufficiently coherent for purposes of strict scrutiny" and that the use of "opaque racial categories undermines, instead of promotes" Harvard and UNC's goals such as diversity of students, ideas, and perspectives.
Liberal justices Sotomayor, Jackson, and Kagan, wrote dissenting opinions. "That interpretation of the Fourteenth Amendment is not only contrary to precedent and the entire teachings of our history [...] but is also grounded in the illusion that racial inequality was a problem of a different generation," Sotomayor wrote in dissent. She continued: "Entrenched racial inequality remains a reality today. That is true for society writ large and, more specifically, for Harvard and the University of North Carolina (UNC), two institutions with a long history of racial exclusion. Ignoring race will not equalize a society that is racially unequal."
The Supreme Court, with its conservative supermajority, already signaled it would take down affirmative action before today's decision was announced. In oral arguments for the two cases, delivered in October, conservative justices questioned the validity and efficacy of race-based admissions policies.
"I've heard the word 'diversity' quite a few times, and I don't have a clue what it means. It seems to mean everything for everyone," said justice Clarence Thomas in one session (pdf). Thomas, considered the most conservative justice on the Supreme Court bench, then asked for an explanation of the "educational benefits of diversity" in a university context.
The decision is likely to lead to a loss of diversity in US universities and colleges. California is a telling example. In 1996, the state dropped affirmative action for public university admissions, leading to a plummet in the enrollment of minorities. Just two years after the ban, Black and Latino freshman at UC Berkeley and UCLA dropped by almost half, as the LA Times reported.
Banning affirmative action in the workplace has also negatively impacted the representation of minority groups, with marked declines in Black female, Asian female, and Hispanic male employees, in states that have prohibited the practice, according to a Harvard study from 2013.
Quotable: Justice Ketanji Brown Jackson's dissent
With let-them-eat-cake obliviousness, today, the majority pulls the ripcord and announces "colorblindness for all" by legal fiat. But deeming race irrelevant in law does not make it so in life. And having so detached itself from this country's actual past and present experiences, the Court has now been lured into interfering with the crucial work that UNC and other institutions of higher learning are doing to solve America's real-world problems. —Justice Jackson explaining the reasons for her dissent in the opinion published on June 29.
Edward Blum's fight to end affirmative action
One conservative legal strategist has become the face of the anti-affirmative action campaign in the US: Edward Blum. The former stockbroker and failed Republican congressional candidate has spent decades seeking to undo voting rights and affirmative action policies.
To that end, Blum founded the nonprofit advocacy group Project on Fair Representation (POFR) in 2005 to "support litigation that challenges racial and ethnic classifications and preferences in state and federal courts."
He founded Students for Fair Admissions, an arm of POFR, in 2014 specifically to target race-based affirmative action. Both organizations have received millions of dollars from conservative donors to support their agendas, including from the Searle Freedom Trust and Koch brothers-backed Donors Trust.
Students for Fair Admissions sought out Asian Americans plaintiffs
When Blum found his lawsuits against affirmative action with white plaintiffs failed, as was the case in Fisher v. University of Texas at Austin, he changed tack. A video of him speaking at the Houston Chinese Alliance in 2015 shows him baldly stating: "I needed Asian plaintiffs." He established three websites to seek out applicants who would allege they faced discrimination in admissions at Harvard, UNC, or the University of Wisconsin on the basis of their race or ethnicity.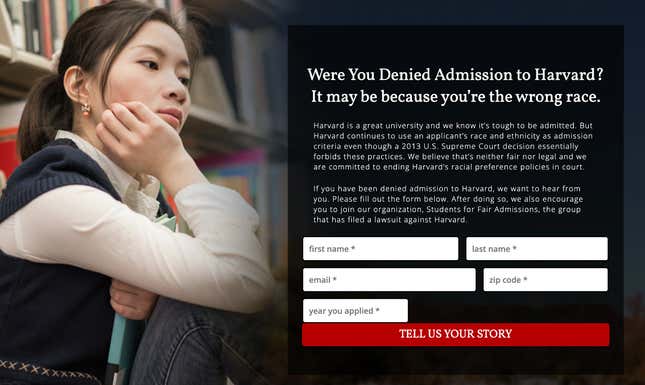 His search proved fruitful. Asian American plaintiffs were behind the two cases, Students for Fair Admissions v. President and Fellows of Harvard College and Students for Fair Admissions v. University of North Carolina, that have overturned race-based college admissions. The group has historically been deployed as a "racial wedge" in US politics.
While Asian Americans were leveraged to take down affirmative action, in fact 70% of the minority group supports affirmative action, according to the 2020 Asian American Voter Survey.
The number of Asian American students at UNC and Harvard has actually been increasing
Data from College Rover, a site for searching and comparing US colleges, shows that the proportion of Asian Americans enrolled at UNC and Harvard has grown from 2010 to 2021, as reported by USA Today. 
Asian Americans made up just over 14% of Harvard's student body in 2010, increasing to over 18% in 2021, according to the report. Meanwhile, Asian American students increased from 5.8% of the student body at UNC in 2010 to 12.6% in 2021.
A brief history of affirmative action cases in the US
1978: Regents of the University of California v. Bakke
The plaintiff in the case, Allan Bakke, was a white man who twice applied to the medical school at University of California, Davis, and was rejected both times. He alleged that the school discriminated against him on the basis of his race.
The Supreme Court ruled that affirmative action is constitutional, but that use of specific racial quotas in university admissions violated the Equal Protection Clause of the Fourteenth Amendment, and the 1964 Civil Rights Act.
2003: Gratz v. Bollinger and Grutter v. Bollinger
Twin Supreme Court cases on affirmative action were brought against the University of Michigan. The cases upheld affirmative action as constitutional in university admissions, so long as it is weighed with other factors, and also ruled against a points-based admissions system the school used at the time that awarded extra points to members of racial minority groups. The Supreme Court found the system unconstitutional.
2013 & 2016: Fisher v. University of Texas, Austin
A white plaintiff, Abigail Fisher, alleged that her application to UT Austin was rejected on the basis of her race. The Supreme Court ruled that Fisher was not rejected because of her race, and found that the school had legitimate grounds to factor in race in its admissions decisions.
The case was first considered by the Supreme Court in 2013 before being remanded to the Fifth Circuit Court of Appeals, which ruled in favor of UT Austin. Fisher appealed the case, and in 2016 the Supreme Court upheld the lower court decision.
Correction: A previous version of this article said justice Breyer wrote a dissenting opinion, but he is retired and has been replaced by justice Jackson, who wrote in dissent. The piece has been updated with a quote from justice Jackson.
Related stories
👀 The US Supreme Court is coming for workplace diversity initiatives next

💪 Employers can protect workplace diversity initiatives if affirmative action is struck down

🎓 Affirmative Action exists because the US educational system was built for white kids