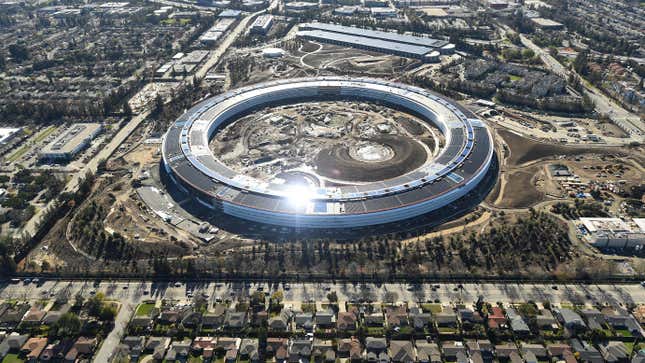 Apple's tax agreement with Cupertino has fallen under California tax authority's scrutiny.

3 considerations before your company takes a stance
Today (Apr. 13), Cupertino's finance director is scheduled to appear in front of the city council to explain the findings of an audit the California Department of Tax and Fee Administration (CDTFA) launched in 2021.
The CDTFA says it maintains "a robust audit program to ensure businesses report the correct amount of tax," including scrutinizing noncompliance or inconsistency pertaining to volumes, amounts, and locations of sales. This latter point puts Cupertino in a difficult spot with the authority, as under a longstanding agreement with Apple, the tax the tech giant reports in Cupertino extends well beyond city limits. Using a 1950s law that clocks the order based on the location of the sale, not the customer, Apple treats all online purchases in the state of California as if they were made in Cupertino.
Locating Apple's California online sales in Cupertino is a win-win situation for both the company and the city. For one, Apple's hometown gets more funding—the company is the largest source of sales tax revenue for Cupertino. Of the 7.25% tax rate in California that Apple pays on Cupertino sales, one percentage point is effectively earmarked for Cupertino. Secondly, Cupertino gives the iPhone maker a 35% kickback from the total revenue it amasses from Apple's sales tax revenue—a lure to keep the trillion-dollar company's headquarters in the city, to create jobs and more tax revenue. The bigger the sales tax bill Apple pays, the more money it stands to get back.
While Apple is not explicitly called out in the audit, the authorities are poking holes in the arrangement, as reported by Bloomberg.
How much tax revenue Cupertino could lose
Should the California tax authority decide to intervene, Cupertino's local tax revenues could dropping by as much as 73% in the current fiscal year, from $42.1 million to $11.4 million, according to Bloomberg.
If the CDTFA finds any accounting mismatch, Cupertino will not only have to forgo future revenues, it may also be required to return the money to the state that it received in previous years. That, and subsequent fines, would reduce Cupertino's operation spending by millions, Bloomberg warns. To cope, the city may well have to cut back on jobs, local events, and more until the end of this decade.
Jim Throop, Cupertino city manager, says the city's budget for 2022-23 "does take into consideration a potential reduction in sales tax revenue."
A brief summary of Apple's tax agreement with Cupertino
In the 1990s, Apple nearly went bankrupt. Steve Jobs was forced out by the board and then-CEO John Sculley in 1985, competition from rivals like IBM and Microsoft was heating up, investors were losing confidence, and Apple's focus on high-end products and its refusal to license its software to other companies was stifling the company inside its own silo.
Then, with Steve Jobs returning to the helm in 1997, things started to turn around. That's also the time Apple brokered a tax-incentive deal with its hometown, Cupertino. Building on the back of this, in exchange for keeping its headquarters in the city, Cupertino would give Apple half of the city's 1% portion of the sales tax revenue generated by the company's sales to businesses in California for at least five years.
In 2013, four years after the iPhone was launched, Apple and Cupertino renegotiated their contract, revising the rebate to 35% of the city's sales tax revenue on its sales of devices to businesses within California as well as sales at its two retail stores in the city.
The agreement is expected to endure until at least 2023, as long as the company completes its construction projects—which it is on track to do.
One big number: The money Apple got back from Cupertino
$107.7 million: The sum of Cupertino's payments to Apple via the 35% kickback since 1998, as per city payment records examined by Bloomberg Tax
Quotable: Apple's is Cupertino's largest taxpayer
"We're the largest taxpayer in Cupertino so we'd like to continue to stay here and pay taxes…If we can't, then we have to go somewhere like Mountain View and we take our current people with us [...] The largest tax base would go away and that wouldn't be good for Cupertino and it wouldn't be good for us either."—Steve Jobs, Apple co-founder and former chief executive officer, to the city council when he presented the proposal for the new campus in June 2011, a few months before his death.
Companies of interest: Those with Apple-like tax deals with California cities
💄 Fresno gives Ulta Beauty up to 75% of sales tax revenue it gets from the company's fulfillment center there.
🥾 Uggs-maker Deckers Outdoor Corp gets up to 60% of sales tax revenue back from Moreno Valley for running a distribution center there.
🛍️ Sacramento County offered Macy's a sales tax reimbursement of 50% for its distribution center, depending on sales volumes and employees.
🔌 Dinuba promised Best Buy a sales tax rebate at 45%. 
The sales tax rebate debate, summarized
While these companies help cities grow, it can be argued that the payments made to them could have been used to benefit residents and other local businesses. Plus, such agreements often concentrate funding in some localities, while leaving others behind.
Related stories
🏬 Apple's first India store, years in the making, is finally here
 The most impressive thing Apple showed off at its event was its campus