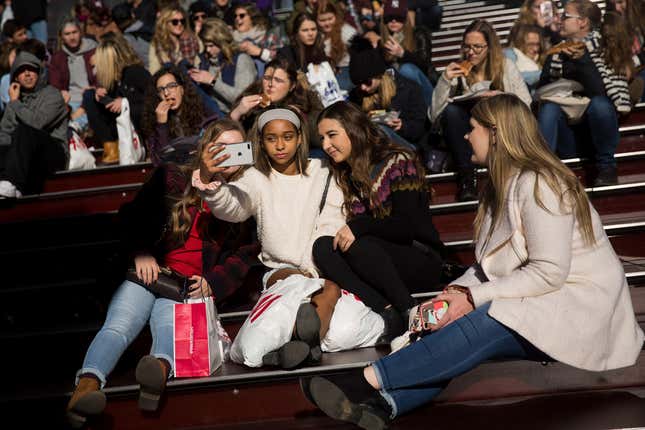 Sarah Huckabee Sanders, the governor of Arkansas, imposed a minimum age limit for social media use in legislation signed on Wednesday (Apr. 12). The bill—referred to as the Social Media Safety Act—will go into effect in September and requires parental approval for most social media use under the age of 18.

It was not immediately clear which social media services would be affected, as the law contains a number of exemptions, including for gaming-focused social media and platforms that permit users to "generate short video clips of dancing, voiceovers, or other acts of entertainment."
Tyler Dees, a state senator and co-sponsor of the bill, confirmed to CNN that the law would target Facebook, Instagram, and TikTok, but declined to confirm YouTube (the most popular social media for teenagers) would be affected.
Dees also confirmed that representatives for Apple, Meta, and Google were consulted while crafting the bill.
"While social media can be a great tool and a wonderful resource, it can have a massive negative impact on our kids," Sanders said in a press conference where she announced she would sign the bill.
Think of the children
A national conservative figure, Sanders is part of a growing movement to restrict internet usage for children and teenagers at the state level. Spencer Cox, the governor of Utah, signed a similar piece of legislation last month.
However, Sanders' decision to sign this bill comes just a month after she approved a change in work permit requirements for children under the age of 16 that removes parental consent from the process, raising questions about an imbalance in the governor's youth policy priorities.
HB1410, or the Youth Hiring Act, removes one of the only oversight mechanisms for child labor in the state. The law was passed just weeks after the Department of Justice fined a food sanitation company $1.5 million for child labor violations in factories across the country, including two cases in Arkansas.
While concerns about how teen social media usage impact mental health are warranted, Sanders' decision to require parental oversight of Facebook use and not for employment raises the question of whether child safety is truly a priority or simply an area in which to score political points.
Which states have proposed laws targeting social media use for minors?
Utah: A law passed on March 24 restricted access to teen social media usage without parental consent, with similar preconditions to the Arkansas law. At the same time, Utah passed legislation that would allow lawsuits on behalf of children claiming that social media had harmed them.
California: Last year, California passed a law that required tech companies to refrain from using the personal information of children in any way that could harm children physically or mentally.
New Jersey: Legislators in the Garden State proposed legislation that would make tech companies liable for technology that is meant to make underage users develop social media addictions.
Texas: State lawmakers in Texas have proposed some of the most stringent restrictions, with state rep. Jared Patterson proposing a bill that would ban social media usage of anyone between the age of 13 and 18 outright.
Ohio: Governor Mike DeWine announced his support for the "Social Media Parental Notification Act" in February, a piece of legislation designed to require parental oversight of youth social media use. Ohio lieutenant governor Jon Husted also supports the bill, saying "The verdict is in, Social media is harmful to kids and we have to do more to protect them."
Related stories
⛏️ Arkansas is set to roll back child labor protections
🐄 A slaughterhouse cleaning company paid a $1.5 million fine for illegally employing more than 100 children

📱A US senator is slowing down the process to ban TikTok, citing free speech concerns