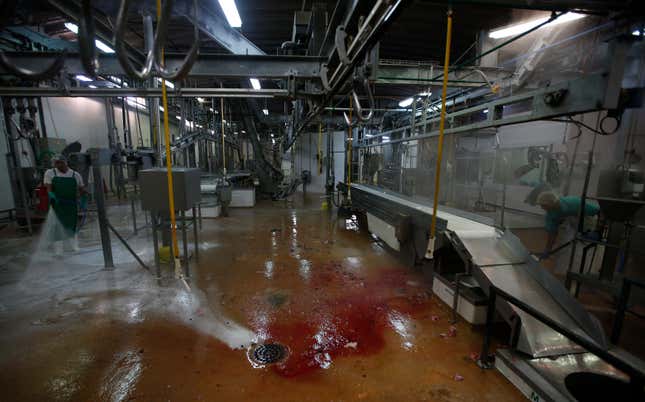 A food sanitation contractor illegally employed more than 100 children in hazardous jobs.

The US Department of Labor (DOL) on Feb. 17 fined Packers Sanitation Services Inc. (PSSI) $1.5 million for unlawfully employing child labor to use caustic chemicals to clean razor-sharp saws as well as handle other high-risk equipment, often during graveyard shifts.
The probe—which began last August following a tip from law enforcement—and the subsequent penalties "compelled this employer to change their hiring practices to ensure compliance with the law," solicitor of labor Seema Nanda said in a statement.
"Let this case be a powerful reminder that all workers in the United States are entitled to the protections of the Fair Labor Standards Act and that an employer who violates wage laws will be held accountable," Nanda added.
The Blackstone-owned company provides cleaning services under contract to some of the nation's largest meat and poultry producers, serving over 725 food processing plants. It employs 16,500 skilled food sanitors, microbiologists, technical experts, engineers, and safety specialists in total. It claims to have a "zero-tolerance policy" against employing minors, and relies on the mandatory use of the government's E-verify system for new hires, extensive training, multiple audits, and biometrics, to ensure adherence.
Findings of the DOL investigation into PSSI's labor law violations, by the digits
At least 102: Children aged between 13 and 17 employed "in hazardous occupations" by PSSI
13: Meat processing facilities in eight states where PSSI employed child labor, often in graveyard shifts
At least 3: Minors who suffered injuries, including chemical burns, while working for the Kieler, Wisconsin-based food safety sanitation services provider
45 days: Time the US District Court of Nebraska gave PSSI to "notify the Department of Labor of each individual under 18 years of age whose employment was terminated" as part of a consent order and judgment issued on Dec. 6. The company also has to be prepared for unannounced inspections and to fire management employees who violate the order
90 days: Time PSSI has, starting Dec. 6, to hire a third-party consultant or compliance specialist to provide quarterly training to all management personnel for a period of three years, and annually thereafter
$15,138: Fine for each minor-aged employee employed in violation of the law, according to the Fair Labor Standards Act. The amount is the maximum civil money penalty allowed by federal law
$1.5 million: Total civil money penalties PSSI paid on Feb. 16
Charted: The minor exploitation fines PSSI paid
Quotable: PSSI tried to thwart the labor department's investigation
"Our investigation found Packers Sanitation Services' systems flagged some young workers as minors, but the company ignored the flags. When the Wage and Hour Division arrived with warrants, the adults–who had recruited, hired and supervised these children–tried to derail our efforts to investigate their employment practices." —DOL Wage and Hour regional administrator Michael Lazzeri
A brief timeline PSSI's poor track record of workplace safety
April 2017: An analysis by advocacy group National Employment Law Project finds PSSI has some of the worst rates of workplace injuries in the country.
May 2021: A CNBC report reveals many PSSI employees have felony records, which may be keeping them from reporting violations out of fear of losing their jobs.
July 2021: The US Department of Labor's Occupational Safety and Health Administration (OSHA) includes Packers Sanitation among four companies held responsible for a nitrogen leak that led to six preventable deaths.
March 2022: A report by the Private Equity Stakeholder Project called PSSI out as a dangerous workplace, citing the results of OSHA investigations which revealed at least four amputations and three fatalities of company employees, including a decapitation.
Related stories
🚗 Reports of child labor and engine recalls weigh on Hyundai ahead of earnings
👤 Sixteen- to 19-year-olds in the US are employed at higher rates seen in decades

✅ Researchers have identified a very simple, universal solution to child labor's vicious cycle of poverty