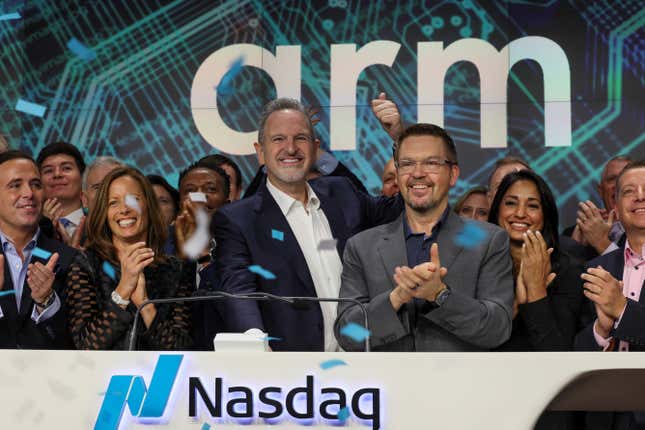 Shares of SoftBank-owned chip designer Arm started trading on Nasdaq today (Sep. 14) under the ticker symbol "ARM" after the firm completed a $54.5 billion IPO listing. This is the biggest US IPO since Rivian in 2021.
Should you keep investing in Big Tech?
The Cambridge, UK-based company has floated 95.5 million shares at a price of $51 each, with the IPO raising $4.87 billion for SoftBank.
Boosted by a boom in demand for its chips, Arm's shares have attracted tech heavyweights on the Nasdaq, many of which are also the company's top clients and rivals. They include Apple, Google, Nvidia, TSMC, AMD, Intel, MediaTek, and Samsung. Arm has set aside more than $700 million of the stock for these companies.
TSMC says it will invest up to $100 million in Arm's IPO. "Arm is an important element of our ecosystem, our technology and our customers' ecosystem," chairperson Mark Liu said on Sep. 6. "We want it to be successful, we want it to be healthy." Leading underwriters for the IPO are also the world's banking behemoths—Goldman Sachs, JPMorgan Chase, Barclays, and Mizuho Financial Group. Arm has given them the option of buying 7 million additional shares.
Responding to Arm's debut on Nasdaq, shares of chip companies Nvidia, AMD, and Semtech rose by 1.1%, 0.7%, and 4%, respectively, at the time of writing. Shares of Broadcom, Qualcomm, and Micron were also up between 0.6% and 1.2% in premarket trading.
Arm was wary of the Chinese market
In its IPO filing with the US Securities and Exchange Commission on Aug. 21, Arm was apprehensive about China, which makes up 24% of its sales. But thanks to the huge potential of its AI chip design technology, tech companies are betting big on its future. "Despite some concerns about the company's exposure to numerous risks in China, it's not stopped a juggernaut of enthusiasm, with the IPO oversubscribed multiple times," says Susannah Streeter, head of money and markets at British financial service company Hargreaves Lansdown.
The company, whose chip design tech is used by more than 260 companies to make over 30 billion chips annually, powers 99% of smartphone processors in the world. It recorded $2.68 billion in revenue during its last fiscal year with $524 million in profit. Arm's business centers on licensing the intellectual property of its chip designs to clients, rather than chip manufacturing.
While the company's chip architecture predominantly serves the global smartphone industry, is has in recent years been making inroads in the server, internet of things (IoT), and PC markets.