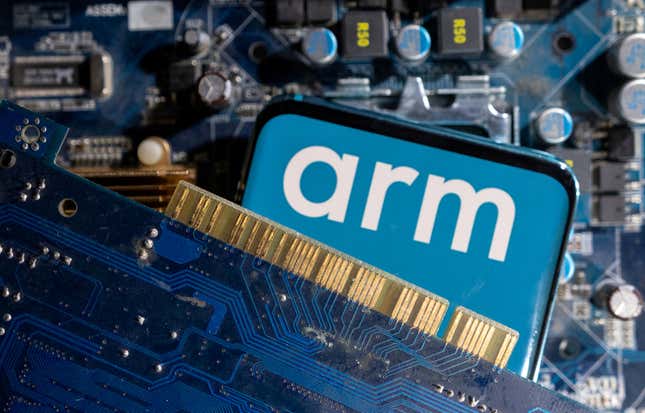 SoftBank's UK-based chip designer, Arm, is wary of the Chinese market, a feeling it made clear in its proposal to file for an initial public offering (IPO) on the Nasdaq stock market next month. China is Arm's biggest semiconductor market globally.

Should you keep investing in Big Tech?
In its IPO filing with the US Securities and Exchange Commission on Aug. 21, the company took a long-winded approach in explaining its apprehension about China—a country that accounts for 24% of Arm's sales. "In particular, our top five customers (including Arm China) collectively accounted for approximately 57% and 56% of our total revenue for the fiscal years ended March 31, 2023, and 2022, respectively," the document reads.
Arm also noted that the results of its operations, particularly licensing and royalty revenues, could vary significantly between periods and may be unpredictable. The success of Arm's estimated $60 billion IPO largely hinges on the potential of its AI chip technology, as it keeps making chip designs for the vast majority of smartphones and tablets globally.

"Our results may fluctuate and be unpredictable because of a variety of factors, including, among others the financial results of Arm China and its ability to make payments to us in a timely manner, or at all," it said. Arm's uncertainty stems from expected changes in geopolitical, regulatory, and economic conditions as the diplomacy turmoil between China and Taiwan escalates. Taiwan manufactures 60% of the world's semiconductors.
China's economic turbulence is affecting Arm's business
While Arm wants to keep its grip on the Chinese market, the company's near-term growth prospects in the country remain unclear due to the ongoing economic stress caused by policies to contain the covid pandemic, and the country's elevated levels of private and public indebtedness.
For the fiscal year ended March 31, 2023, Arm says revenue derived from the Chinese market increased as compared to last year, but growth of royalty revenues in the country slowed due to "economic issues in China and factors related to export control and national security matters." Arm expects to continue recording "declining royalty revenues, and we could see a decline in licensing revenues, derived from China."
But it's not just Arm that is cautious about betting big on the $18 trillion Chinese economy. Investors world over have stopped counting on Beijing as an investment destination as the yuan keeps plunging, real estate industry collapses, exports dwindle, and youth unemployment shoots through the roof. A lack of monetary policies to reignite domestic demand has forced banks to cut China's economic growth forecast to below 5%.