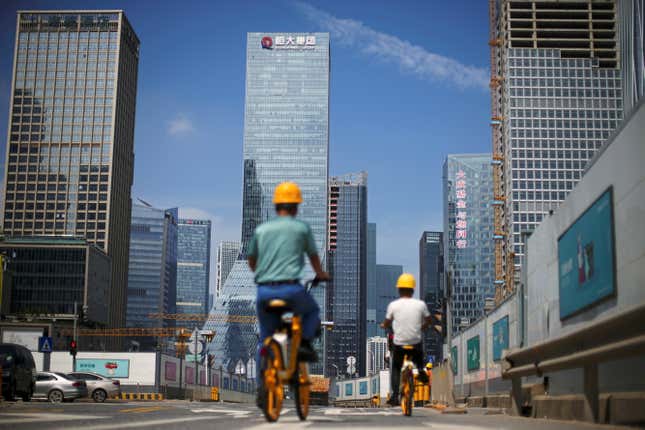 China Evergrande Group, the property giant whose collapse precipitated a real estate sector crisis in the country, has filed for bankruptcy in the US. The company sought protection under chapter 15 of the US bankruptcy code in a Manhattan court on Thursday (Aug. 17) as part of its massive debt restructuring plan.
Should you keep investing in Big Tech?
Chapter 15, which applies to cross-border insolvency cases, is designed to protect foreign companies undergoing restructuring from creditors. The filing requested recognition of restructuring activities in the British Virgin Islands, Cayman Islands, and Hong Kong.
Evergrande was deemed to be in default in 2021, and announced its offshore restructuring plan (pdf) in March this year. The implosion of the Guangdong-based developer triggered a slump in the real estate sector, which accounts for as much as 30% of China's GDP.
Chinese authorities are aiming to carry out a "controlled demolition" of the real estate titan, in the words of Shehzad Qazi, managing director of data analytics firm China Beige Book, as quoted by AFP.
Evergrande's financial troubles, by the digits
$340 billion: Total debt at the end of 2022, of which $31.7 billion was offshore
$19.15 billion: Offshore debt covered in Evergrande's restructuring plan approved by some creditors
$256 billion: Total assets at the end of 2022
$81 billion: Posted losses on the Hong Kong Stock Exchange from 2021-2022
Fears of contagion from China's property crisis
Evergrande has become a symbol of Beijing's economic woes in the property sector, which is in the midst of a liquidity crisis that only appears to be deepening.
Developer Soho China reported a 93% plunge in profits in its first half earnings report today (Aug. 18). Meanwhile, Country Garden, the largest developer still standing in China, missed two US dollar bond payments totaling $22.5 million on Aug. 8.
There is now fear that the property sector's cash crunch is spilling over into China's $3 trillion shadow banking industry. Several investors throughout August have reported that Zhongrong International Trust, partly owned by one of China's wealth management giants, had failed to make payments on some of its trust products.
One more thing: Evergrande's EV unit just got a cash infusion from Dubai
Dubai-based start-up NWTN just claimed a 28% stake in Evergrande's electric vehicle unit on Aug. 14. The investment, totaling $500 million, may be able to keep the business—which reported a combined loss of $11.7 billion over the past two years—afloat. It's a big win for Evergrande, who has offered creditors a debt-to-equity swap for shares in its EV unit as part of its restructuring plan.
Evergrande's New Energy Vehicle Group also announced a new, $3.2 billion debt restructuring plan on Aug. 15. It then pushed back a meeting with creditors to Aug. 28 to allow more time to consider the plan, according to a Reuters report.
Related stories
🫥 China halted the release of data on youth unemployment after it hit a record high in June
🔻 China's reputation as a leading economic power is fast eroding