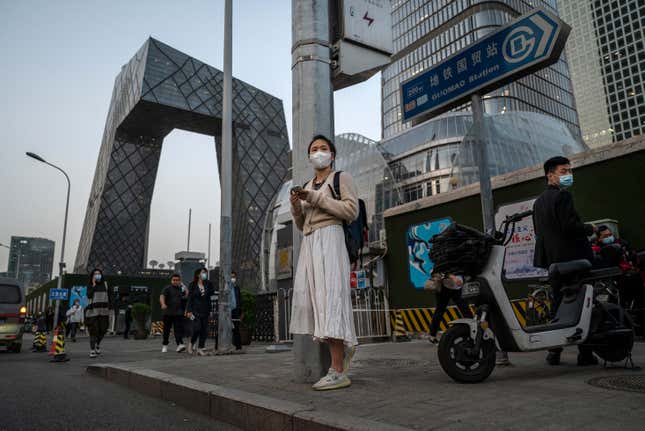 A trust linked to one of China's wealth management giants has failed to make payouts on dozens of products in another sign of trouble in the country's economy. Multiple clients at Zhongrong International Trust reported in recent weeks that payments have been delayed, adding to worries that China's floundering property market is impacting liquidity in the financial industry.

Should you keep investing in Big Tech?
KBC Corporation disclosed in a Shanghai Stock Exchange (SSE) announcement (pdf) on Aug. 12 that it was missing a 60 million yuan ($8.22 million) payment on trust products from Zhongrong. Nacity Property Service, also listed on the SSE, made an announcement (pdf) the same day that a 30 million yuan ($4.11 million) payment was overdue. Xianheng International was the first to report missed payments (pdf) amounting to 2.57 million yuan ($352,000) as early as Aug. 8.
Zhongrong is partially owned by Zhongzhi Enterprise Group, a Beijing-based asset management conglomerate with stakes across China's financial sector, including in trust companies, wealth management firms, and mining groups.
The National Financial Regulatory Administration, China's banking regulator officially established in May, created a task force to investigate the risks of Zhongzhi's financial situation. The company controls about 1 trillion yuan in assets ($138 billion), according to Use Trust data reported by the Washington Post.
One big number: $3 trillion
The size of China's shadow banking sector, which is about the same size as the UK's economy in 2022.
Zhongrong's troubles may be linked to China's struggling property market
China's real estate crisis, which began in 2020, only appears to be deepening—and is sparking fears of contagion. New home prices in China dropped in July for the first time this year, according to Reuters calculations, marking another grim sign amid a raft of gloomy economic data that Beijing released this week.
Last week, real estate giant Country Garden, which has been teetering on the brink of default, missed two bond payments worth $22.5 million. It now has a grace period of 30 days to make the repayment. Failure to do so could trigger a wave of defaults in the industry, and beyond, echoing the trouble at real estate giant Evergrande, which was declared to be in default in late 2021 and whose losses at the time were only revealed in filings released last month.
Zhongrong has historically had high exposure to the real estate market, which makes up, along with infrastructure spending, about 25% to 30% of China's GDP. Of the trust firm's 629 billion yuan ($86.2 billion) managed assets in 2022, 11% were in real estate, according to its annual report cited by Bloomberg. Zhongrong invested in at least 10 real estate projects last year, the South China Morning Post reported.
Economic trouble could mean social unrest—something Beijing is no stranger to when financial scandal hits. A couple dozen protesters were recently seen outside Zhongrong's Beijing office demanding their payments, according to a video seen by Bloomberg report, in a rare show of public discontent. A Bloomberg reporter returned today (Aug. 16) and found no more demonstrators, but noted a higher police presence.
Related stories
💣 Biden called China's economy a "ticking time bomb." Which countries will suffer?
🤕 China's new app rules have created a headache for tech giants like Apple
🚘 Chinese EV maker BYD is rocketing up Fortune's Global 500 ranking