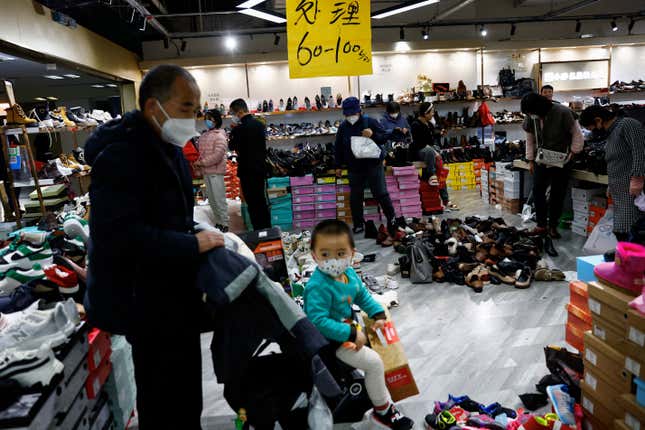 Prices in China are plunging, and the risk of deflation is rising. Consumer inflation fell to 0% in June from a year earlier, according to the Chinese National Bureau of Statistics. That's good for a 28-month low. Meanwhile, producer prices dropped at their fastest rate since December 2015, sinking 5.4%.

Quartz Smart Investing with Cameron Dawson, Part 2
The Chinese economy is struggling under the weight of several challenges. Hopes for a broad-based recovery from its reopening from draconian zero-covid restrictions have been dashed. Interest rate hikes by central banks worldwide have crimped consumer demand, weighing on Chinese exporters. At home, Chinese consumers are keeping purse strings tight as efforts to boost spending have proven insufficient. Youth unemployment is at a record high, and the property market slump is forecast to drag on for years.
So far, Beijing has turned to rate cuts in a bid to stimulate the economy. Authorities have yet to turn on the fiscal firehose, with no massive government spending programs announced. That's probably because officials are worried about already high debt-to-GDP levels and low returns on government investments.

Is China already in a deflationary spiral?
But the pressure is on for the central government to steer the economy away from a deflationary spiral, which would sap growth and is often difficult to escape. China's shrinking population doesn't help, either.
For now, some Chinese economists are downplaying the risk of deflation.
Consumer inflation is expected to hit 2% by year-end, and "the risk of prolonged inflation is not high," Wang Qing, the chief macroeconomic analyst at Golden Credit Rating International, told Chinese news outlet The Paper.
Others are less sanguine.
"I think [a deflationary spiral] is actually already happening in China," economist Richard Koo said in a recent episode of Bloomberg's Odd Lots podcast.
"Very few people are borrowing, so many people are paying down debt, even with these low interest rates. And that's a very bad sign macroeconomically," Koo added. "Individually, they might be doing the right things, but collectively, they may be killing the economy."