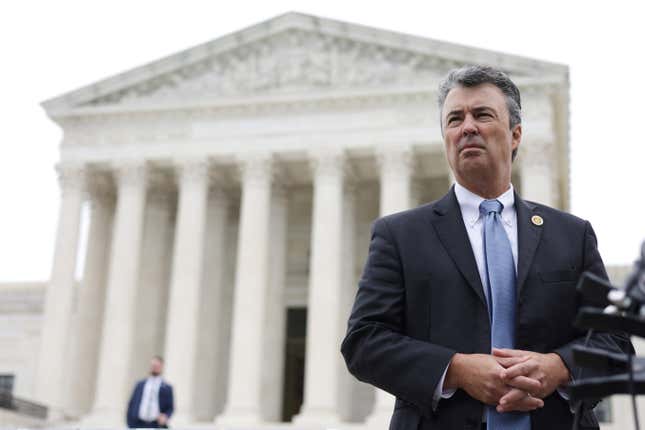 Republican attorneys general from 13 states urged major companies to eliminate race-based promotions and hiring quotas in a letter (pdf) published Thursday (July 13). The letter cited the Supreme Court decision to strike down affirmative action in college admissions as reason to end equivalent workplace policies.
Should you keep investing in Big Tech?
"Companies that engage in racial discrimination should and will face serious legal consequences," the letter warned. "The Supreme Court's recent decision should place every employer and contractor on notice of the illegality of racial quotas and race-based preferences in employment and contracting practices."
The attorneys general from Kansas and Tennessee were the first signatories on the letter addressed to the CEOs of Fortune 100 companies. Apple, Microsoft, Google, and Netflix were among the companies directly called out in the letter for their race-based practices in hiring, contracting, and promotions.
Other signatories of the letter included the legal chiefs from Alabama, Arkansas, Indiana, Nebraska, Iowa, South Carolina, Kentucky, West Virginia, Mississippi, Missouri, and Montana.
Corporate DEI initiatives are safe—for now
The letter takes aim at corporate diversity, equity, and inclusion (DEI) initiatives, which are designed to help disadvantaged groups be better represented in the workplace. Conservatives have attacked DEI as a racially discriminatory "woke" policy.
The Supreme Court's affirmative action ruling does not actually affect corporate DEI programs, which are protected under a separate legal framework called Title VII. However, the message from the attorneys general is clear: be on your guard, litigation could be incoming.
Oral arguments that preceded the Supreme Court's decision on affirmative action signaled it may only be a matter of time before similar corporate practices are also banned. Conservative Supreme Court justices including Clarence Thomas, Brett Kavanaugh, and Samuel Alito made statements during the Oct. 31 presentations that showed general skepticism towards race-based affirmative action policies.
"Racial classifications are potentially dangerous and must have a logical end point," Kavanaugh said. Alito indicated that he believed college admissions are a "zero-sum game," where giving one individual an advantage was an automatic disadvantage to all other candidates.
Extending that thinking from school admissions to the workplace would be a logical next step for the Republican-controlled bench.
Related stories
🍎 What workplaces underestimate about their antiracism commitments
💵 3 pay principles can help build an antiracist company
🤝 Want to work for a values-driven company? Here's how to find your match.