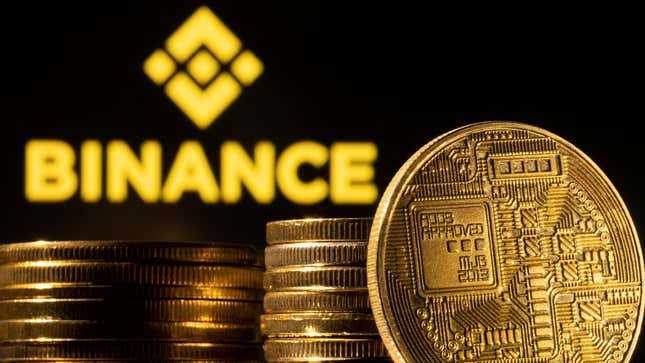 The world's biggest cryptocurrency exchange has gotten a little too burdened.

Binance halted bitcoin withdrawals for an hour late on Sunday (May 7) and again for several hours early Monday (May 8) morning, citing heavy volumes and a surge in processing fees.

Carin Pai, Part 2: Reasons to de-risk your portfolio
"We've temporarily closed $BTC withdrawals as the #Bitcoin network is experiencing a congestion issue," Binance tweeted. "Our team is currently working on a fix until the network is stabilized and will reopen $BTC withdrawals as soon as possible."
Bitcoin gas fees have been spiking amid increased interest in a new token standard, BRC-20, which spurred the launch of several new meme coins this year. Gas fees are the cost paid by users of a blockchain to its validators every time they wish to transact on the network. Cost increases as more users seek to include their transactions on a block with limited capacity.
The company replaced the pending bitcoin withdrawal transactions "with a higher fee so that they get picked up by mining pools," it said. Binance adjusted the fees and resumed trading within a few hours.
Quotable: Crypto price fluctuations
"Gas prices fluctuate and go up, transactions get stuck, fees go up, people complain. Bull market issues…Look on the bright side though, still faster and cheaper than fiat."— tweet by Binance founder and chief Changpeng Zhao, popularly known as CZ.
Crypto congestion, by the digits
134,000 to over 390,000: The rise of unconfirmed transactions on the bitcoin network in under two weeks. This skyrocketing caused a bottleneck in the meme pool, or memory pool, which is a list of pending transactions waiting for validation from a node before it is committed to a block on the blockchain.
1%: Bitcoin's slide to $28,162, its lowest in a week, due to Binance's halt
175,646: Count of Bitcoin tokens withdrawn on May 7, which was Binance's highest-ever net daily, according to data from CryptoQuant
179: Blocks that'll need to be mined to clear the current backlog
1.24 days: Needed to mine 179 blocks; the average block time is 10 minutes
Charted: Bitcoin transaction fees have surged
One more thing: Voyager is folding
In April, Binance called off a $1 billion deal to buy bankrupt crypto lender Voyager Digital. This was Voyager's second failed bid to bag a buyer after its agreement with the now-disgraced FTX fell through. According to a May 5 court filing, Voyager will self-liquidate its assets and wind down operations.
Related stories
💰 US regulators sued Binance for encouraging customers to buy unregistered crypto commodities 
🔎 Binance's proof-of-reserves is just another black box
🤝 Bored Ape Yacht Club's metaverse NFTs cost buyers $181 million in "gas" fees