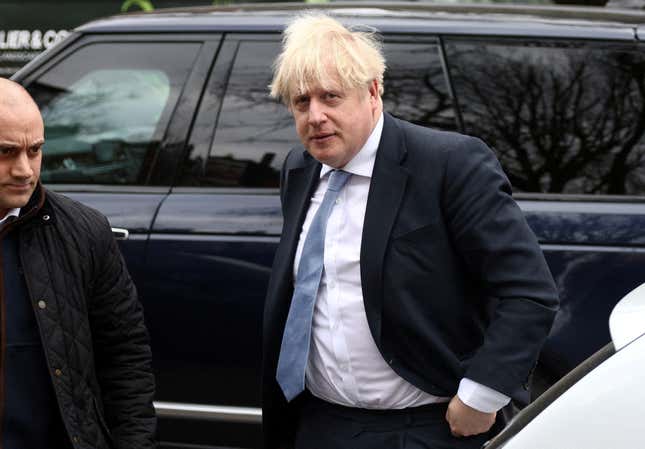 Boris Johnson, the former prime minister of the United Kingdom, denied wrongdoing in an inquiry into the Partygate scandal, the breach of Covid-19 protocols by his government that led to his eventual resignation.
Eric Beiley Part II: Where rates are heading
Johnson was grilled for three hours by lawmakers on the Privileges Committee of the House of Commons during a televised hearing on Wednesday (March 22). The committee largely focused on the details surrounding a series of parties held at the offices of 10 Downing Street, as well as in Johnson's personal Downing Street apartment.
The committee focused on one specific party meant to celebrate the departure of an employee, saying it broke national Covid-19 restrictions. Johnson disagreed, saying the parties were held outdoors and largely followed social distancing guidelines.
"It would have been impossible to have a drill sergeant measuring the distance between us all hours of the day and night," Johnson said to the committee, admitting that some social distancing protocols were likely to have been broken.
The loquacious politician did admit that he had, unintentionally, misled parliament about various social gatherings at 10 Downing Street, saying "hand on heart" that he did not lie to the House of Commons. He then attacked his former advisor, Dominic Cummings—the main witness disputing Johnson's testimony—saying "he has every motive to lie." Cummings has become a fierce critic of Johnson since resigning his post.
Mainly, however, Johnson's argument rested on the belief that it was important for him to keep up morale through social gatherings, celebrating staff departures even amid a deadly pandemic. Conservative MP Sir Bernard Jenkin pushed back.
"A leaving do for everyone else in the country was not acceptable under the guidelines … so why was it acceptable and necessary for work purposes in Number 10?" Jenkin asked.
Partygate to resignation: a Boris Johnson timeline
March 23, 2020: Johnson places the UK in a complete lockdown at the onset of the Covid-19 pandemic.
April 5, 2020: Johnson is hospitalized for Covid-19. He is released 7 days later.
May 15, 2020: A gathering centered around cheese and wine is held in the Downing Street garden. When a photo leaks, Johnson says the guests were talking about work.
June 19, 2020: Johnson has a birthday party in the Cabinet room. Up to 30 people attend, including current prime minister Rishi Sunak.
November 13, 2020: Two parties celebrating the departure of senior advisor Dominic Cummings are held in the offices of Downing Street and in Johnson's personal flat.
November 30, 2021: News of illegal parties first breaks, with opposition leaders calling for an investigation into the Johnson administration.
December 8, 2021: Johnson authorizes an investigation into what has now become known as Partygate.
April 12, 2022: Johnson is fined 50 pounds sterling ($63) by London police for violating lockdown regulations. Opposition leaders accuse him of being the first prime minister to break the law in office.
May 22, 2022: The findings of an investigation by lawmakers into Partygate is released, detailing 16 gatherings at Johnson's home and office.
June 6, 2022: Johnson narrowly survives a vote of no confidence, with 41% of his own party voting against him.
July 7, 2022: Johnson resigns the office of prime minister after several top ministers, including Sunak, quit.
March 22, 2023: Johnson testifies at an official parliamentary investigation into the scandal, hoping to be cleared of charges and revitalize his political career.


Related stories
🇪🇺 The UK and the EU have reached an agreement on Northern Ireland
🇬🇧 UK prime minister Boris Johnson has resigned