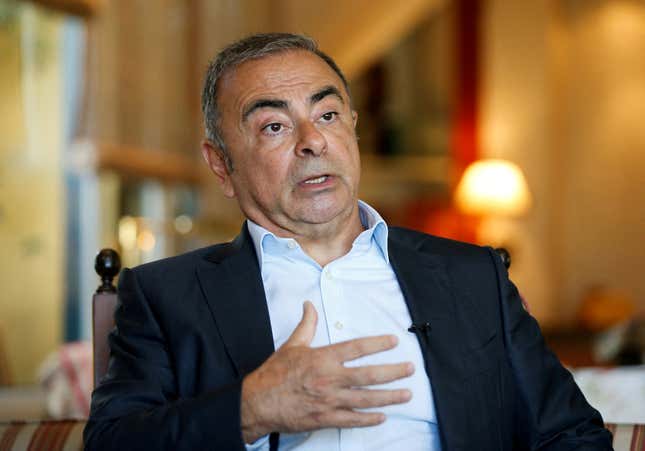 Carlos Ghosn, who was booted out as chief of Nissan in 2018 for alleged financial wrongdoing and then fled to Lebanon to avoid trial, has now launched a legal battle against his former employer.

The fugitive ex-CEO filed a lawsuit against Nissan in Lebanon's Court of Cassation on May 18, according to a Bloomberg report, and is seeking $1 billion in damages.
In the filing, obtained by Bloomberg and translated from Arabic to English, Ghosn claims that due to "the serious and sensitive accusations" leveled by Nissan, he "will suffer from them for the remainder of his life, as they have persistent and lingering impacts, even if based on mere suspicion."
It is but the latest development in an ongoing saga between the embattled executive and the Japanese automaker, which dates back to 2018. Five years ago, Ghosn made a slippery escape from house arrest in Tokyo to Beirut, evading prosecution for allegedly under-reporting millions of dollars in earnings.
Since then, Ghosn has also been charged by Japanese authorities with aggravated breach of trust, misappropriation of funds, and a host of other financial crimes.
To date, the embattled executive faces both criminal and civil charges in Japan, but has remained in Lebanon, where he holds citizenship and is safe from extradition. Ghosn is also wanted in France, another country where he holds citizenship (he also holds a Brazilian passport) over suspected payments worth nearly €15 million ($16.3 million) between an Omani company and the Renault-Nissan-Mitsubishi alliance. Ghosn claimed his innocence.
Quartz contacted Nissan for comment on Carl Ghosn's lawsuit.
Carl Ghosn's lawsuit, by the digits
$588 million: Ghosn's claimed loss in compensation and costs, as reported by Bloomberg
$500 million: Ghosn's claimed punitive damages
A non-exhaustive timeline of the Carlos Ghosn-Nissan saga
1999: Nissan and French carmaker Renault form an alliance. Ghosn, an executive at Renault, joins Nissan as COO and aims to turn around the debt-saddled company.
2000: Ghosn, who has reached celebrity status in Japan for his aggressive "Nissan Revival Plan," becomes the first non-Japanese CEO of Nissan.
2017: Ghosn steps down as CEO, passing the baton to Hiroto Saikawa, but stays on as chairman.
2018: Ghosn touches down in Tokyo via private jet, where he is arrested by Japanese authorities on allegations of financial misconduct. Nissan's board fires Ghosn following the arrest.
2019: Ghosn flees house arrest in Tokyo, reportedly hiding inside a large music box to be transported to a private plane. He reportedly flies from Osaka to Istanbul, and then on to Beirut.
2020: Nissan sues Ghosn for $90 million in damages for his "corrupt practices."
2022: France issues international arrest warrant for Ghosn.
2023: Ghosn files a lawsuit against Nissan for $1 billion in damages to his finances and reputation.
Related stories
😰 Toyota has been accidentally sharing personal data for millions of Japanese users over the last decade

💴 SoftBank halved its loss last year, but only because it sold a chunk of its Alibaba stake
🪦 Electrification and Brexit are killing the British car industry