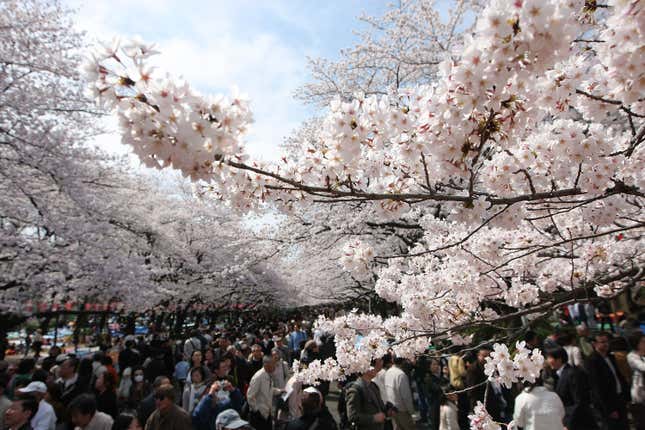 Spring is just beginning but the cherry blossoms have already reached peak bloom in Washington, DC. The National Park Service documented peak bloom on March 23 this year, two weeks earlier than April 4, which is the historical average peak bloom date since 1921. Peak bloom has now taken place in March for 4 years straight, the earliest on the first day of spring on March 20, 2020. Peak bloom is when 70% of blossoms are in full bloom.
Ben Emons Part 2: The Fed, Apple shares
The National Cherry Blossom Festival in DC has also started earlier to accommodate earlier blooming.
The earliest year for peak bloom in DC was 1990, when blooms peaked on March 15. The latest in the year that the bloom peaked was April 18; that was 65 years ago in 1958. The trees have bloomed earlier since the 1960s when they consistently peaked between the last week of March and first week of April. Since the mid 1980s, peak bloom has shifted about a week earlier.
Cherry trees showed green buds very early this year on February 23, a record since 2008, according to the National Park Service data. The earliest buds since 2004 appeared on February 19, 2008. The National Park Service said forecasting peak bloom is almost impossible more than 10 days in advance. Cherry tree blossom development is highly dependent on weather conditions, and the trees are grappling with shorter winters and greater frequency of extreme weather. Buds grow more quickly in warmer temperatures, but the flowers can be ruined if they bloom before the winter frost ends or a cold snap hits.
Tokyo also saw another record early start this year to its cherry blossom season. Cherry blossoms in Tokyo started blooming 10 days earlier than average, the earliest since 1953.