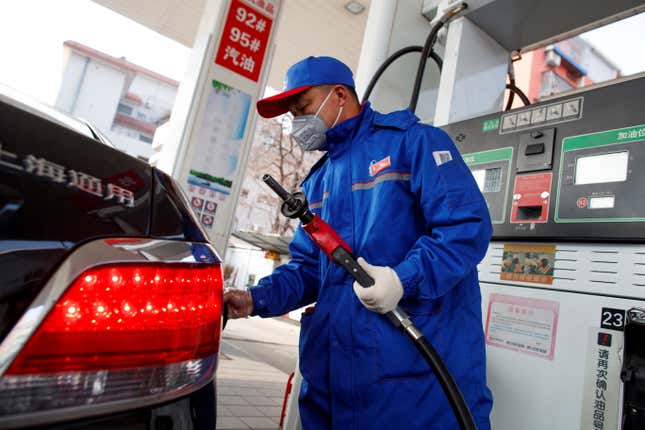 China's largest oil and gas conglomerate is optimistically predicting the decline of gasoline in the country.

Why a tightening of credit conditions could lead to a weak economy
The combined demand for gasoline and diesel in China will peak in 2025, according to projections released this week by Sinopec during its half-year earnings conference (link in Chinese). And the demand for gasoline alone will peak even sooner: this very year, two years ahead of its previous predictions, Sinopec said in a remarkable forecast three weeks ago
China is accelerating towards is peak gasoline moment thanks to its rapid adoption of electric vehicles and plug-in hybrids. These "new energy vehicles," as China calls them, are expected to displace 15 million tons of oil products this year alone, according to Bloomberg's reporting on the Sinopec conference, where the company's peak gasoline projection was released in early August.

"We believe the significant increase in electric vehicle travel is directly related to the improvement of domestic infrastructure such as charging stations," Huatai Futures wrote in a note (link in Chinese) following the conference.
Sinopec's prediction of peak Chinese gasoline demand is also a year ahead of projections by the International Energy Agency. The Paris-based organization expects China's gasoline demand to top out in 2024. That assessment aligns with Rystad Energy's forecast that Chinese gasoline consumption will peak early next year at 3.7 million barrels a day.
Gasoline demand is slowing the world over

ExxonMobil expects to see this trend play out on a similar timescale globally. In its latest global energy outlook published this week, the oil major predicted that light-duty vehicle energy demand (measured in millions of oil-equivalent barrels per day) would peak and decline by the mid-2020s.
Evn as China's gasoline demand wanes, its electric vehicle dominance continues to climb. Powered by EV sales, China overtook Japan for the first time as the world's largest auto exporter in the first six months of the year. And with foreign carmakers flocking to partner with Chinese rivals, China's EV clout looks likely to only get stronger.