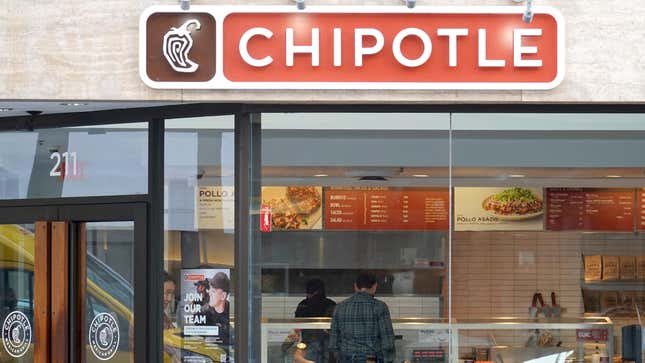 Restaurant chain Chipotle Mexican Grill filed a trademark lawsuit against salad chain Sweetgreen in California federal court Tuesday (Apr. 4) over the latter's new menu item "Chipotle Chicken Burrito Bowl."

Marcus Samuelsson on the New York City restaurant scene
Chipotle's lawsuit said Sweetgreen's "very similar and directly competitive" bowl is an attempt to capitalize on the Chipotle brand and likely to confuse consumers. 
Sweetgreen's "intent to draw an association between its product and Chipotle's product and brand, can only be explained by a willingness to infringe Chipotle's intellectual property, confuse and/or deceive consumers, and wrongfully profit from and trade off of Chipotle's valuable goodwill and reputation in the Chipotle Marks," Chipotle argued.
Chipotle said Sweetgreen calls from its legal team nor did it respond to a written demand that Sweetgreen rename its new item using "chipotle" in lower-case, in a textual sentence, to accurately describe ingredients of its menu item, such as ". . . with chipotle flavoring."
Sweetgreen told NPR it is aware of the lawsuit, but does not comment on pending litigation.
A brief timeline of Chipotle's Chipotle trademark
1993: Steve Ells, a classically trained chef and graduate of the Culinary Institute of America, founded Chipotle. He started using Chipotle as a trademark and service mark in connection with his first restaurant at the corner of Evans and Gilpin Streets in Denver, Colorado.
April 25, 2000: Chipotle trademark registered for restaurant services.
2008: Chipotle is awarded various trademarks pertaining to food
2008-2009: Chipotle registered "Chipotle" stylized fonts for the restaurant business
March 30, 2023: Sweetgreen launches the "Chipotle Chicken Burrito Bowl." It comprises blackened chicken, wild rice, black beans, tomatoes, cabbage and a roasted chipotle salsa.
April 6, 2023: Sweetgreen is running a promotional event for the "Chipotle Chicken Burrito Bowl," purportedly in honor of "National Burrito Day." "This promotion is clearly intended to copy and trade off of Chipotle's longstanding 'National Burrito Day' promotion," Chipotle wrote in its lawsuit.
Quotable: Why Chipotle's trademarks matter
"As a result of Chipotle's extensive, long-standing, and exclusive use of the Chipotle Marks, the Chipotle Marks have become famous in the eyes of food shoppers and the general public. Plaintiff's Chipotle Marks have acquired substantial goodwill and are an extremely valuable commercial asset, serving to identify and distinguish Chipotle's restaurants and food items from others available in the market."—Chipotle's lawsuit against Sweetgreen
Charted: Sweetgreen's stock is slipping
Resolutions Chipotle wants from Sweetgreen
Broadly, Chipotle, which is seeking a jury trial, wants a handful of remedies:
🤔 One, for Sweetgreen and each of its affiliates, subsidiaries, officers, and more from aiding, abetting, or acting in concert there with, to refrain from using the mark Chipotle, or any other similar one, in connection with the promotion of its restaurant services, sale, or offer of sale of prepared food items.
🛑 Chipotle also asked for Sweetgreen to be barred from "otherwise competing unfairly or committing any acts likely to confuse the public into believing that Sweetgreen or any of Sweetgreen's products are associated, affiliated, or sponsored by Chipotle or are authorized by Chipotle, in whole or in part, in any way."
💰 Chipotle is seeking monetary compensation. Most notably, Sweetgreen should "account for and pay to Chipotle any and all profits Sweetgreen has received by its conduct alleged herein," and include "any and all damages and losses" Chipotle faced as a result of Sweetgreen's conduct, among other things like covering Chipotle's attorney fees.
Related stories
🌯 Chipotle wants to hire 15,000 more workers in time for "burrito season"
🍔 In-N-Out Burger sues delivery service DoorDash for screwing with its burgers and brand