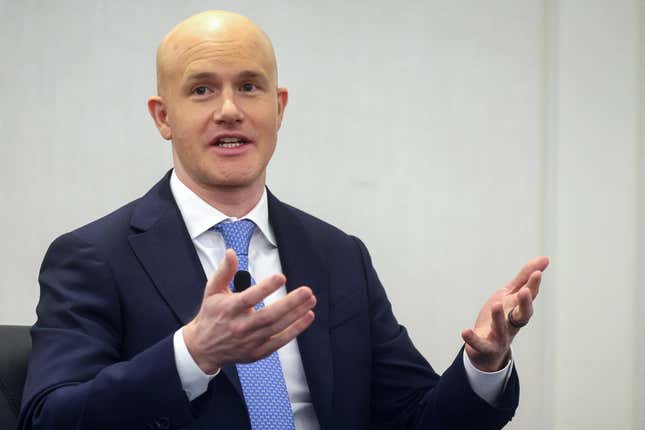 Coinbase, undaunted by a lawsuit from the US Securities and Exchange Commission (SEC) alleging it offered unregistered securities to retail investors, continues to operate its business as it always has.

What's the future of crypto regulation? | Ben McKenzie
Coinbase CEO Brian Armstrong told Axios as much at the Piper Sandler Global Exchange and Fintech Conference on Wednesday (June 7). Armstrong's strategy to keep steady contrasts with another major crypto player that recently got into some regulatory trouble: Binance paused over-the-counter trading all together and trading for several pairs of cryptocurrencies on Wednesday in response to its own legal confrontation with the SEC, which alleged that Binance offered unregistered securities to retail investors.
The SEC has named 13 cryptocurrencies as unregistered securities on Coinbase's platform. While the exchange does occasionally delist cryptocurrencies as part of a separate listing and delisting process, it doesn't want to give in to the SEC until it's forced to.
"We're going to continue to operate business as usual, and those assets are going to continue to trade until the court makes a determination," Armstrong told Axios.
What happens if Coinbase takes this case to the Supreme Court?
The move signals that Coinbase wants to take its case as far as it can go legally. It's a risky, likely expensive strategy with a potential high reward for the crypto business: if Coinbase was able to move the case to the Supreme Court, that may end up curbing the powers of the SEC—a move that would enthuse cryptocurrency proponents and leave investors with less protections.
Meanwhile, the SEC may be gearing up for more lawsuits against exchanges. According to an analysis by Reuters, Kraken, Gemini, Crypto.com, and OKCoin have all allowed American investors to trade cryptocurrencies that the SEC said were unregistered securities. This is because the suits made several new claims about broadly traded cryptocurrencies, including solana, cardano, and polygon.
At least one crypto exchange claims it has nothing to fear. "We do not list securities," a spokesperson for Kraken told Reuters. "For every asset we list, our teams conduct thorough risk and security evaluations which includes a comprehensive legal and compliance process. We will continue to closely monitor this case and others for precedential rulings."