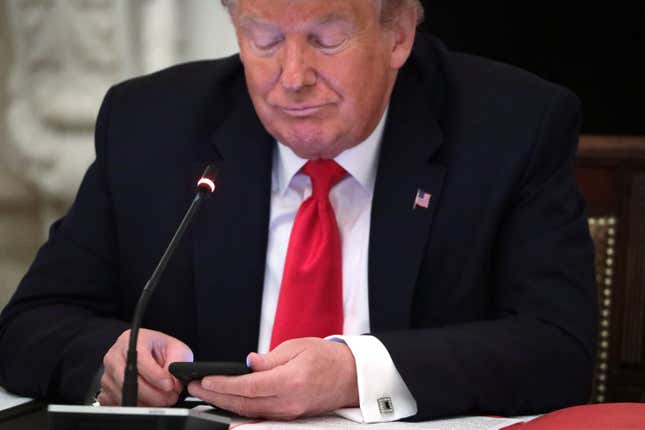 Donald Trump's media company might finally go public, ending a two-year-long regulatory battle with federal securities regulators in the US. Trump Media & Technology Group (TMTG) is the parent company of Truth Social—a right-wing Twitter lookalike, created after Twitter banned Trump for inciting violence at the US Capitol on Jan. 6, 2021. (Twitter's new owner, Elon Musk, has since lifted Trump's ban but the former president has yet to rejoin his old haunt.)
Why a tightening of credit conditions could lead to a weak economy
TMTG announced in October 2021 that it would go public on the Nasdaq stock exchange in a $300 million merger with a blank-check corporation called Digital World Acquisition Corp. (DWAC). DWAC became an instant meme-stock, with a heavy base of retail investors hoping to cash in on the Trump name. The dynamic stock once hit above $97 per share, though it's currently trading just above $14 per share.
Two years after the deal was announced, however, the DWAC-TMTG merger has yet to be approved by the US Securities and Exchange Commission amid allegations that the two companies broke federal securities laws in their merger talks.
But on July 3, DWAC announced in a regulatory filing that it had struck a tentative deal with the SEC to pay an $18 million civil penalty to finally get the deal done. A deadline for the merger is set for September 8, 2023. Should the deal not complete by then DWAC would dissolve and return the $300 million to investors. DWAC has previously had to ask retail investors to extend the merger deadline, which was no easy feat.
DWAC allegedly flaunted SPAC rules while investors committed insider trading
Shortly after the DWAC-TMTG merger was announced, the New York Times reported that representatives of the two companies held merger talks before DWAC even went public. Under federal securities laws, special purpose acquisition companies (SPACs) such as DWAC aren't allowed to go public with a merger deal already in place.
DWAC has also been embroiled in criminal charges recently. On June 30, three early investors—including a former DWAC board member—were arrested and charged with insider trading. The SEC and the US Department of Justice allege that the three men traded DWAC stock—and told associates to do so—with advance knowledge of its plans to merge with TMTG.
Add these to Trump's own legal woes: The former president was indicted by a Manhattan grand jury in March over hush money payments to adult movie actress Stormy Daniels ahead of the 2016 presidential election. Additionally, on June 8, the US Justice Department charged Trump with 37 felony counts of mishandling classified documents. He's also under investigation in Georgia over attempts to interfere with the 2020 presidential election results.
But with two major legal dilemmas for Truth Social now in the past, Trump's media company may finally see its day on the stock market—just in time for the 2024 presidential election in which Trump is once again poised to represent the Republican Party and face off with president Joe Biden.