Central Turkey and northwestern Syria were hit by a massive earthquake in the early hours of Monday (Feb. 6).
The powerful quake hit at 4.17am local time, according to the United States Geological Survey (USGS). Eleven minutes later, there was a 6.7 magnitude aftershock. Since then, several more followed. By noon, the death count was already in the thousands, while thousands more remained trapped and injured.
Total chaos ensued in the affected parts of Turkey. People frantically trying to leave quake-stricken areas caused traffic jams and got in the way of emergency teams. Rescue workers called for silence to hear cries for help coming from the wreckage. For those left out in the harsh winter as their homes were destroyed, mosques started opening to offer shelter.
Meanwhile, in Syria, which has been embroiled in a civil war for over a decade, much of the devastation occurred in the region held by anti-Assad rebels where access to healthcare facilities is limited—it makes the situation even more precarious. The Syria Civil Defence, called White Helmets, has declared a state of emergency and called for help from local and international outfits both.
The Turkey-Syria earthquake, by the digits
3: Earthquakes of magnitude 6 or larger that have occurred within 250 km of the February 6 epicenter since 1970
At least 66: Aftershocks that had occurred after the quake shortly, according to Turkey's disaster management agency, the AFAD
1,710: Number of buildings that collapsed, according to Turkish vice president Fuat Oktay
1,200: The combined death toll in Turkey and Syria before 2pm local time
47%: Chance that the final number of fatalities is between 1,000 and 10,000, according to the USGS
30%: Chance that the loss to the Turkish economy is between $10 billion and $100 billion, as per the USGS
18.85: Value of the Turkish lira against the US dollar, a new low
2000 years: Age of the Gaziantep Castle, destroyed by the earthquake
2,800: Search and rescue teams that have been deployed in the disaster-stricken areas, including 1,150 teams from the country's disaster management agency and the rest from the gendarmerie, police and military rescue teams
1,000: Rescuers attached to volunteer search and rescue groups who were involved in the efforts
17,500: Death toll during the last major 7.8 magnitude earthquake that hit Turkey in 1999
Mapped: Shakemap by United States Geological Survey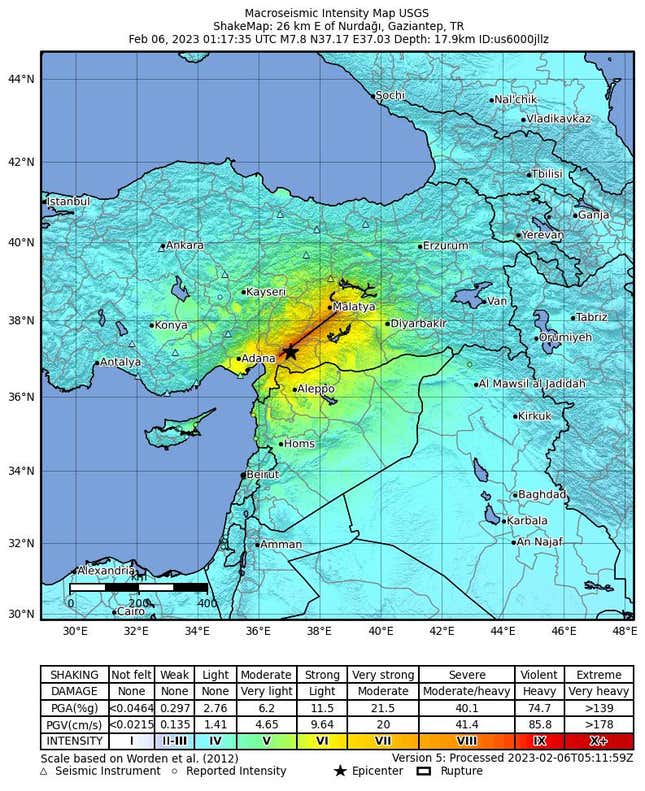 Quotable: The damage the earthquake can do
"Overall, the population in this region resides in structures that are extremely vulnerable to earthquake shaking, though some resistant structures exist. The predominant vulnerable building types are unreinforced brick masonry and low-rise nonductile concrete frame with infill construction…Recent earthquakes in this area have caused secondary hazards such as landslides that might have contributed to losses." —United States Geological Survey 

International help is on the way
🇪🇺 The EU's Emergency Response Coordination Centre (ERCC) commissioner Janez Lenarcic tweeted that "teams from the Netherlands and Romania are already on their way."
🇳🇴 NATO's current secretary general, former Norwegian prime minister Jens Stoltenberg, tweeted members of the alliance "are mobilizing support."
🇧🇬 Bulgaria's defense minister said two planes with emergency teams of firefighters, rescue workers, and medics, will be sent to Turkey.
🇫🇷 French president Emmanuel Macron said his country is "ready to provide emergency relief to the populations on the ground" despite his strained relations with Turkish president Recep Tayyip Erdoğan
🇹🇼 Taiwan's foreign ministry said it would donate $200,000 towards rescue efforts. Its fire department said it has a team of 130 people, along with five search dogs and 13 tonnes of aid, waiting to be dispatched once Turkey responds.
🇺🇸 White House national security advisor Jake Sullivan said he told Turkish officials the US is ready to provide assistance.
🇷🇺 Russia's minister of emergency situations Aleksandr Kurenkov said the country, is readying to fly rescue teams to affected areas in both Turkey and Syria. Teams of 100 search and rescue personnel are on standby.
🇩🇪 German chancellor Olaf Scholz tweeted "Germany will be sure to send help."
🇳🇱 Dutch prime minister Mark Rutte sent a search and rescue team from the Netherlands.
🇮🇱 "At the request of the Turkish government," Israeli prime minister Benjamin Netanyahu "instructed all authorities to prepare immediately to provide medical, rescue and life-saving assistance."
🇬🇷 Greek prime minister Kyriakos Mitsotakis tweeted that his country is "mobilizing its resources and will assist immediately."
🇮🇳 The Indian government dispatched search and rescue teams of the National Disaster Response Force (NDRF)—two teams comprising 100 personnel with specially trained dog squads and necessary equipment—medical teams and relief material to earthquake-hit Turkey.
🇵🇱 Poland will send a rescue group HUSAR comprising 76 firemen and eight dogs, interior and administration minister Mariusz Kamiński said.
🇪🇸 Spanish urban rescue teams are coordinating to send crews immediately to Turkey.
Related stories
🔎 Scientists are turning to space to better understand how to respond to earthquakes
🏗️ How Turkey made its railway tunnel under the Bosphorus earthquake-proof