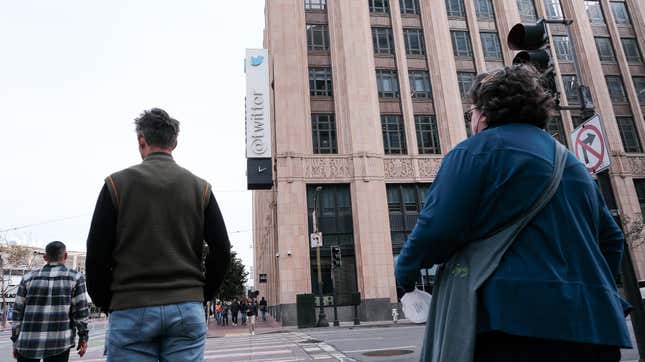 Three years after Jack Dorsey decided to suspend all political advertising on Twitter globally, the rules are changing.

The microblogging platform yesterday (Jan. 3) said it plans to "expand the political advertising" permitted in the coming weeks. It is also relaxing its policy for cause-based ads in the US.
"Moving forward, we will align our advertising policy with that of TV and other media outlets," the Twitter Safety account tweeted. "As with all policy changes, we will first ensure that our approach to reviewing and approving content protects people on Twitter."
The extent of the changes and timeline for implementation is still not clear. Political ads were initially banned on Twitter in 2019 to consciously opt out of the 2020 election cycle as misinformation ran rampant—a departure from peers like Facebook that took a hands-off approach—and let political message reach be "earned, not bought." Given the tiny number of political advertisers on Twitter then, the move was largely symbolic.
The problem with online political ads, in Jack Dorsey's words
"Internet political ads present entirely new challenges to civic discourse: machine learning-based optimization of messaging and micro-targeting, unchecked misleading information, and deep fakes. All at increasing velocity, sophistication, and overwhelming scale." —Twitter co-founder and former CEO Jack Dorsey, who banned both candidate-based ads as well as issue-based ads, barring a few exceptions like voter registration campaigns.
Twitter is losing advertisers
The move comes at a time when advertisers are fleeing Twitter. Half of Twitter's top 100 advertisers have reportedly left the platform since Elon Musk's takeover in October. These include carmakers Chevrolet, Ford, and Jeep; fast food chain Chipotle; and United Airlines.
The exodus is motivated by a series of controversial decisions affecting the quality and safety of the content shared on Twitter Despite Musk's assurances that Twitter won't turn into a "free-for-all hellscape," hate speech did skyrocket on the platform. Musk reinstated users that had been banned for inciting violence or discrimination even as some, like rapper Ye (formerly Kanye West) were swiftly kicked off again. Ending the enforcement of the covid misinformation policy was a misguided move, too.
Musk's erratic enforcement of new policies has also been a turn off for advertisers. A twice-launched paid blue checkmark subscription system failed to stop imposter accounts that impersonated brands and celebrities, and also imposed a tiered pricing targeting Apple users. Recently, the platform abruptly banned links to rival platforms only to quickly reverse course upon backlash.
Plus, Musk's Twitter has squeezed several executives and trust and safety advisors out, and the billionaire chief twit is about ready to give up his pole position, too.
For these reasons and more, the biggest ad agencies continue to warn clients against advertising on Twitter. Maybe political advertisers can fill the void these corporations are leaving behind ahead of the 2024 election cycle.
One more thing: What are cause-based ads and how are they changing?
Cause-based ads refer to sponsored content that aims to "educate, raise awareness, and/or call for people to take action in connection with civic engagement, economic growth, environmental stewardship, or social equity causes"—think topics like climate change, or abortion. In those instances,Twitter not only needs advertisers to adhere to its ads policies and complete its advertiser certification process, but it also outlines a set of restrictions they must abide by:
📍 Geo-targeting can be done at a state, province, or region level and above—not at a zipcode-level
🔎 Keyword and interest targeting is allowed but they may not include terms associated with political content, prohibited advertisers, or political leanings or affiliations (e.g., "conservative," "liberal," "political elections," etc.)
🙅‍♀️ No other targeting types are allowed, including custom audiences
💭 The ads shouldn't "have the primary goal of driving political, judicial, legislative, or regulatory outcomes."
As of yesterday, the ads policies page has been updated to say advertisers whose cause-based ads "target only within the United States" are exempt from the restrictions, the Verge noted. Twitter claims this relaxation will help "facilitate public conversation around important topics."
Related stories
🤝 Elon Musk needs Twitter's advertisers more than they need him
🍏 Elon Musk is making iPhone users pay for his fight with Apple