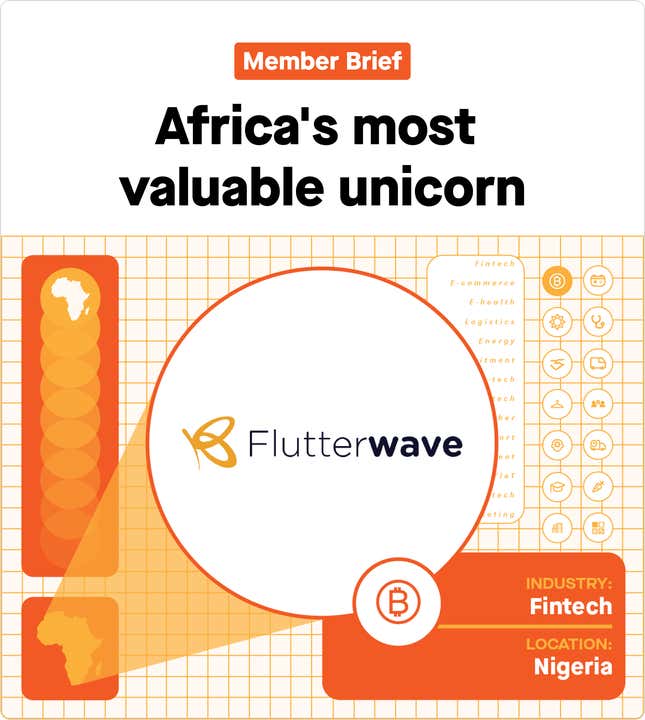 Dear Quartz Africa members,
You may have received a draft version of this week's Africa Member Brief earlier today. Apologies! We got ahead of ourselves. Let's try that again.
No matter where you are on the continent, if you make an online payment, it will likely be processed by Flutterwave. Founded in 2016, the San Francisco-based payment company is focused almost entirely on Africa, and currently serves more than 900,000 businesses, including Uber, Booking.com, and Nigerian e-commerce giant Jumia. With its regional vision and $3 billion valuation, Flutterwave is arguably Africa's most valuable unicorn.
Just a few years ago, the continent's digital payment landscape was highly fragmented. Like today, different countries relied on different payment types: A customer in South Africa might use a debit card payment to pay their bills, while someone in Cameroon might use a bank account. Someone in Kenya could use a mobile money wallet to buy goods locally, but couldn't use the same wallet for purchases in Nigeria. Payments ultimately went through a web of banks, mobile money wallets, and card networks, all while navigating the complexities of different local currencies.
In 2016, Nigerian entrepreneurs Olugbenga Agboola and Iyinoluwa Aboyeji started Flutterwave to streamline things. The company provides businesses with a digital payment platform that they can use to create customizable payment solutions for customers, allowing for many different payment types. In bringing together so many disparate systems, Flutterwave essentially built a digital payment infrastructure for Africa.
Indeed, the company's pan-African mission is one reason for its success. From the outset, Flutterwave focused on the whole continent—seeking big partnerships that would allow it to operate in multiple countries, and enabling African businesses to accept payments from all over the world. Through one such partnership, with Chinese e-commerce giant Alibaba, African merchants can receive payment from the 1 billion users of Alipay.
But the fragmentation that first inspired Flutterwave isn't going anywhere, says chief commercial officer Ifeoluwa Orioke. Africa's payment landscape will continue to be dynamic in coming years, with different payment types evolving in different regions. Flutterwave's role, he says, is to enable them.
---
Cheat sheet
🌍  The growth story: By 2017, a year after its founding, Flutterwave had processed more than 10 million transactions worth over $1.2 billion. Today, the company has processed more than 200 million transactions worth over a whopping $16 billion. The company now operates in more than 34 African countries.
💰  The early investors: Y Combinator, Greycroft Partners, Green Visor, and Glynn Capital participated in Flutterwave's $10 million Series A round in 2017. Omidyar Network, Social Capital, CRE Venture Capital, and HOF Capital had invested earlier.
💡  The competitive advantage: Flutterwave's pan-African model didn't call for it to establish a footprint in one country before scaling up to another; the company focused on serving the continent from the start.
🤔  The risk factors: Evolving payment methods and payment types, particularly with customers in dozens of countries, mean more opportunities for competitors.
---
By the digits
200 million+: Transactions processed by Flutterwave since its launch
$16 billion+: Value of transactions processed by Flutterwave
$3 billion: Flutterwave's valuation as of February 2022
900,000+: Businesses served by Flutterwave globally
$250 million: Amount raised by Flutterwave in 2022
77: African fintech startups that raised more than $1 million in 2021
48%: Portion of all African funding that went to fintech startups in 2021
93%: Portion of all 2021 African fintech funding that went to Nigeria, Egypt, South Africa, and Kenya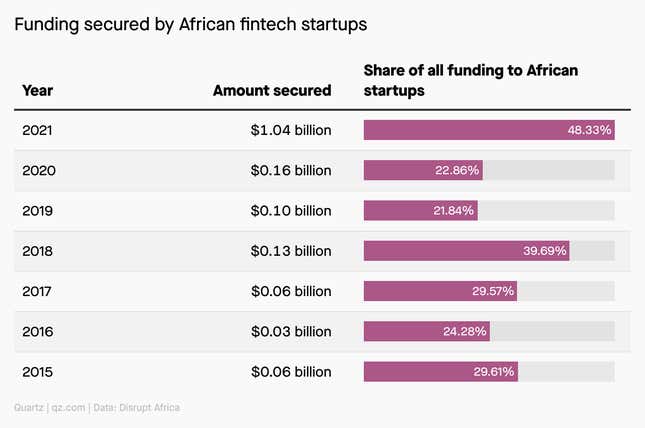 ---
In conversation with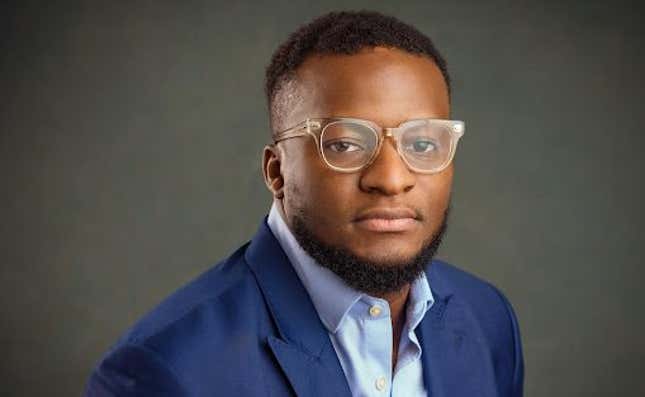 Flutterwave's chief commercial officer, Ifeoluwa Orioke joined the company in 2018 after nearly a decade in finance (and a brief stint as the co-founder of his own mobile payment app). Here are some choice quotes from our conversation:
💸  On Flutterwave's mission:
"To simplify payments for Africans, for Africa, and for businesses."
📈  On the regulatory environment:
"Across the board, if you look at the growth rate of fintech, fintechs are springing up everywhere. It means the regulators are doing something right."
🔧  On Flutterwave's model:
"If you think about the plumbing system, what is behind the wall—you don't see it if you just open the tap. Regardless of the color of the tap or the style of the tap or the manufacturer of the tap, water flows. Essentially, that's what we've tried to do across the payments landscape in Africa—serve as that infrastructure."
---
Fintech deals to watch
Chipper Cash, an Africa-focused peer-to-peer payment service, raised $100 million in its Series C round in 2021. The company offers cross-border payment solutions to individuals and businesses.
Paystack, a Nigerian payment company, was acquired by American payments giant Stripe for a reported $200 million-plus in 2020. Paystack provides an API to integrate payments services into an online or offline transaction.
Interswitch, a Nigerian digital payment company, got a $200 million investment from Visa in 2019. Interswitch connects online payment platforms and point-of-sale terminals to a debit card network.
MFS Africa, a South African digital payment company, raised $100 million through an equity and debt financing round in 2021. The business provides access to financial solutions by connecting mobile money users and service providers.
---
Learn more with Quartz Africa
🎓  VC firms back foreign educated African startup CEOs
💰  Flutterwave's $250 million raise is to fortify its relentless marketing
👍🏿  A Nigerian VC is trying to democratize startup funding
🎢  African fintech startups are diversifying to scale up
🦄  Everything you need to know about Africa's unicorns
🚀  What boosting local funding could mean for Africa's startup ambitions
📱  Africa's dive into a cashless future with MTN, Flutterwave deal
---
🎵  This brief was produced while listening to "Muzina" by Taby Ley (DRC)
---
Have a highly motivated rest of your week,
—Carlos Mureithi, east Africa correspondent
---
One 🤔 thing
Flutterwave is headquartered in San Francisco in the US. It's one of a growing number of Africa-focused startups that are domiciled and incorporated in the US for financial and other reasons. This has raised debate on the definition of an African startup and the merits around serving customers in Africa without actually being based there.