Hi Quartz Africa readers!
The African Development Bank (AfDB) is hoping that the digitalization of economies and companies in response to the pandemic will help the continent recover quickly from associated economic shocks. To that end, AfDB is looking to establish investment banks to accelerate ventures by Africa's young, tech-savvy innovators.
A regional funder of infrastructure and economic capacity, the AfDb projected in its most recent economic outlook that the continent will grow by 3.4% in 2021 and by about 4% in 2022, compared to a contraction of 2.1% in 2020 mainly as a result of the pandemic.
As in much of the world, Covid-19 lockdowns in Africa prompted a migration to online platforms, forcing government employees to become more digitally literate, and sectors like telecom and banking to invest in systems to support remote working. The AfDB believes "an all-out effort to harness digital technologies" will boost productivity and employment, and could cushion the impact of hits taken by oil, tourism, and mining-dependent countries.
Flutterwave's partnership with PayPal, announced this week on the heels of the Africa-focused startup reaching unicorn status, speaks to these goals. But much stands in the way of this dream being realized—from the challenges of more comprehensive digitalization to the blunt measures taken by some authorities to shut down or over-regulate digital platforms. Covid-19 has made both governments and digital platforms more powerful, bringing them into ever more conflict with each other.
As Landry Signé, Addisu Lashitew, and Sanjeev Khagram write for MIT Technology Review Insights, institutions both public and private need to be reimagined to navigate the "great reset" brought on by the pandemic. "It is about time to start experimenting with novel and agile forms of governance to underpin resilient social, political, and economic systems that are suited to a changing world." Only in doing so can the promise of digitalization be fully realized.—Tawanda Karombo and Jackie Bischof
PROTEST SONG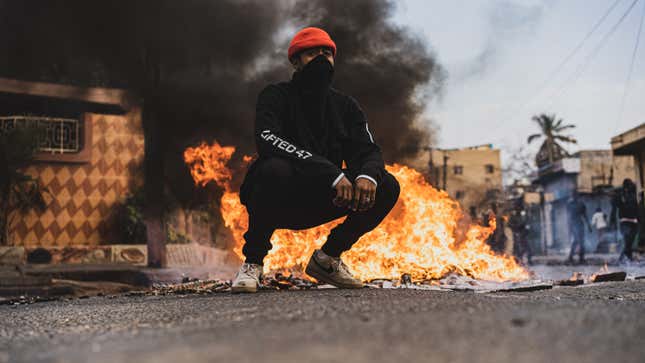 Even though it surprised some foreign observers, the #FreeSenegal movement has been a long time coming for many Senegalese. In songs written both before and after the arrest of popular opposition leader Ousmane Sonko, the country's top rappers are vocalizing the feelings of young people and offering insight into what drove them into the streets, Nellie Peyton explains. Here are some of the songs capturing this moment:
🎵 "Fii" ("Here") by Hakill
🎵 "#FreeSenegal" by Dip Doundou Guiss
🎵 "Khekh Yu Bess" ("A new type of combat") by Canabasse
🎵 "Bayil Mu Sedd" ("Drop it") by Positive Black Soul
Senegal has a tradition of rappers pushing for political change. Ten years ago, the group Y'en a Marre ("Enough") was instrumental in mobilizing young voters against then-president Abdoulaye Wade when he bid for a controversial third term.
FIVE STORIES FROM QUARTZ AFRICA
An uncertain period for Tanzania. President John Magufuli's death this week capped more than a month of speculation over whether the Covid-skeptical leader was suffering from the virus (his death was attributed to heart complications). Now, Priya Sippy explains, all eyes are on  newly sworn in Samia Suluhu Hassan, Tanzania's first female president, who is tasked with leading the country through precarious economic and political conditions.
A warning against Covid-19 complacency. Ebola epidemics are very different from the pandemic that has kept the world shut down for a year—Ebola is not airborne, for one thing, and is less contagious than Covid-19. Yet, as Annalisa Merelli reports, the discovery that a new Ebola outbreak in Guinea may have stemmed from a survivor of the 2014-16 epidemic should also be a warning as the SARS-CoV-2 vaccination campaign continues.
China's vaccine diplomacy in Africa. China is donating thousands of its Covid-19 vaccines to low- and middle-income countries, including in Africa, in what is viewed as a soft-power push to bolster its global influence. Carlos Mureithi maps where the vaccines have gone so far, and the kind of public relations China is getting in return.
Modernizing an ancient monarchy. South Africa's Goodwill Zwelithini, who was laid to rest this week after serving for almost 50 years, leaves a legacy that is admirable but not replicable, Norma Young writes. The Zulu king was a revered political broker and custodian of historic rituals—but his successor will have to take into account the pull of a multicultural identity, and more modern norms.
A love of Indian TV in Ghana. Over the past 10 years, Indian TV series have become a feature in many households across Ghana as they've become available on cable and satellite channels. But the history of Indian media in Ghana, Katie Young writes, extends back to the mid-1950s. In the intervening decades, such shows have remained popular within Ghana's majority-Muslim communities.
CHART OF THE WEEK
It's been over a month since the Central Bank of Nigeria issued a communiqué prohibiting financial institutions from dealing with local cryptocurrency exchanges and ordering the shutdown of crypto traders' accounts. The rather abrupt news plunged cryptocurrency startups, traders, and investors into a frenzied state of readjustment. 
But users are still finding ways around it, as Grace Akinosun observes. Bitcoin trading on LocalBitcoins, a peer-to-peer platform, hasn't slowed since the announcement, according to data from Coin Dance. Weekly buying and selling is regularly exceeding 1 billion naira ($2.6 million), which is comparable to the volume seen before the central bank took action.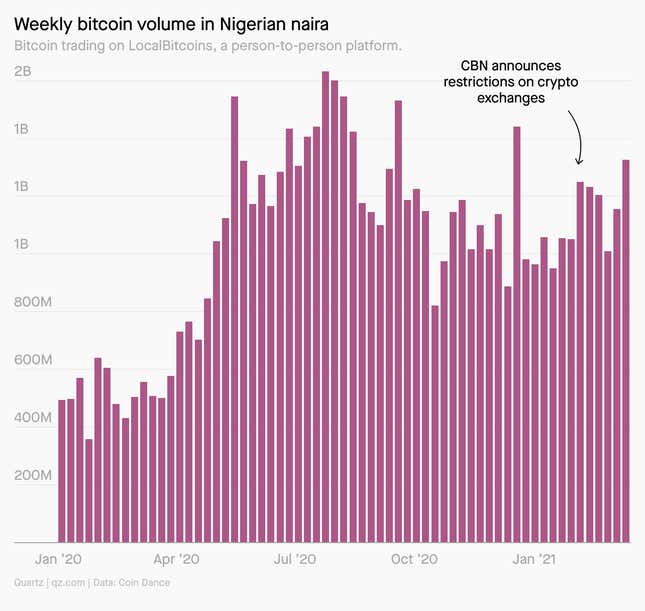 DEALMAKER
Quench, the South African delivery startup, has raised an undisclosed amount of funding to help build brand awareness and establish more partnerships across the country. Imvelo Ventures, a South African venture capital firm, provided the funding. Established in 2016 as an on-demand alcohol delivery app, the pandemic saw the startup expand its range through partnerships.
Savannah Fund, a sub-Saharan Africa-focused tech venture capital firm, has raised $25 million to invest in early-stage startups across the region. Investment in the firm's "Savannah Fund II" was led by International Finance Corporation (IFC) and the Women Entrepreneurs Finance Initiative (WeFi). The focus is on women entrepreneurs and disruptive companies in high-growth sectors at an early stage.
Moshe Capital Fund Managers, a South African private equity company, has launched an investment fund worth $23.5 million. The funding was secured from FNB Commercial and through a partnership agreement with RMB Ventures. The firm is looking to aid the growth of established businesses in the country, in sectors such as manufacturing, industrial, mining products or services, and secondary agriculture.
QUARTZ GEMS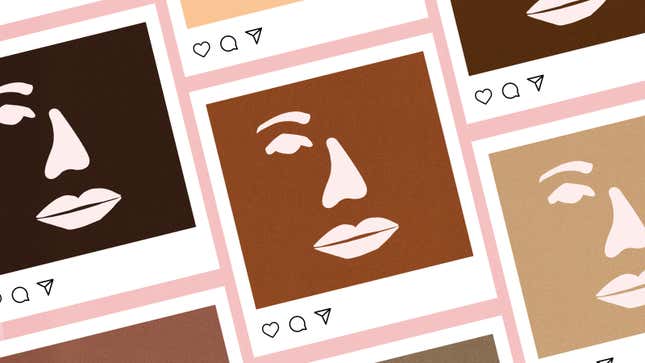 Fashion's diversity reckoning. At the end of May 2020, as protests exploded over police killings of Black Americans, numerous fashion and beauty companies went online to post their messages of support for the Black community and the Black Lives Matter movement, as well as to pledge their own commitments to change.
A Quartz analysis of the skin tones in 27,000 images from the feeds of 34 fashion and beauty brands, representing a selection of companies across different segments of the industries, found while many did increase the diversity of skin tones in their Instagram images, the increases were often only marginal or short-lived.
✦ Support Quartz's mission to hold businesses accountable for the promises they make. Try out a membership for a week, free.
OTHER THINGS WE LIKED
South Sudan's grand plan for women's football. South Sudan has been keen to exist on its own terms since becoming an independent state 10 years ago. Part of this agenda, Isifu Wirfengla writes in New Frame, has been to accelerate the growth of women's football as a profession, and as a tool to combat patriarchy and harmful gender norms.
Burna Boy's Grammy win is for Africa. While the Afrobeats star's triumph at the awards signifies the crescendo of an ever-ascending career, CNN's Nimi Princewill argues that the effect on African artists promises to be profound.
A big cat conundrum. It's long been thought that adding bigger predatory cats to South Africa's small wildlife reserves would benefit other carnivorous species. However, a new study has found this could be at the expense of the smaller carnivore species and the ecological system. Rachel Nuwer explains the complexities in the New York Times.
Sea cucumbers can fetch up to $6,000 per kilogram. They are eaten as a delicacy and used as medicine in China, whose demand for the slimy creatures provides a financially healthy, if physically dangerous, living for deep-sea divers off the coast of Liberia. For BBC News, Lucinda Rouse reports on another threat, this time to the coastal ecosystem.
Reddit investors are using GameStop proceeds to adopt gorillas. A Reddit trading tips community is pouring thousands of dollars into conservation organizations across the world, Isabella Kaminski reports in The Guardian. Elephants, pangolins, sea turtles, and gorillas are among the animals being handed a lifeline by amateur investors.
ICYMI
Financial unity… Quartz partner Development Reimagined's next webinar will look at whether African countries can, or should, join together for more financing. (March 24)
… and financial inclusion. Impact Africa holds a series of virtual workshops on investment sustainability and parity as part of its summit on social entrepreneurship. (March 25-27)
Buy now pay later—does it make business better? Discuss the hottest trend in consumer borrowing with Quartz senior reporter John Detrixhe, along with Affirm exec Chung-Man Tam and fintech expert Jason Mikula on Clubhouse. (March 25)
Apple Entrepreneur Camp. Female founders and developers are invited to apply for this "immersive technology lab," and a year of support from Apple engineers and developers. (March 26)
Kenya's I am Samuel is one of the films featured at this year's Human Rights Watch Film Festival. You can watch it online through Barbican Cinema On Demand until March 26.
KEEP AN EYE ON
Congo-Brazzaville elections (March 21). President Denis Sassou Nguesso is on track to join a very short list of African leaders who have ruled their country for 40-plus years. Currently his Central African neighbor, Equatorial Guinea's president Teodoro Obiang, is alone on that list. There is not much to suggest Nguesso, 77, won't be declared winner in today's election. If, as expected, he is the victor, he will be ruling for his fourth consecutive term in office since returning to power in 1997.
Prior to that, Nguesso had ruled the country for two terms from 1979 to 1992. Constitutional encumbrances to his continued stay in power, such as the age limit, were dispatched in 2015, which gave him an opportunity to rule the oil-rich country for another three five-year terms.
---
🎵 This brief was produced while listening to "Fii" by Hakill (Senegal).
---
Our best wishes for a productive and ideas-filled week ahead. Please send any news, comments, suggestions, ideas, Senegal protest songs, and gorilla adoption papers to africa@qz.com. You can follow us on Twitter at @qzafrica for updates throughout the day.
If you received this email from a friend or colleague, you can sign up here to receive the Quartz Africa Weekly Brief in your inbox every week. You can also follow Quartz Africa on Facebook.