Hi Quartz Africa readers!
Despite speech becoming an important way humans interact with machines, voice technology remains largely closed off to Africa's languages, accents, and speech patterns. Case in point: The world's most popular voice assistants—Siri, Alexa, and Google Assistant—still don't support any African languages.
Common Voice, a crowdsourcing project started by the open-source nonprofit Mozilla Foundation in 2017, has been addressing this by inviting African-language speakers to donate voices to a free and publicly available dataset that researchers and developers can use to train voice-enabled apps, products, and services.
Common Voice has so far recorded more than 9,000 hours of voices speaking 90 languages from around the world, including three from Africa: Luganda (Uganda), Kabyle (Algeria), and Kinyarwanda (Rwanda). This week, it announced an expansion of the project to Swahili, an east African language spoken by an estimated 100 million people, with the help of a $3.4 million investment from four organizations.
Still, African languages are being left behind in voice recognition innovation. The continent is not a major market for the tech companies behind the leading voice assistants, and a lot of the voice data used to train machine-learning algorithms are held by a few big firms, making it difficult for others to develop high-quality speech recognition technologies.
Chenai Chair, special advisor for Africa innovation at the Mozilla Foundation, says Common Voice can help technologists find data and build models and technologies that work for their communities. And she holds that people, not profit-making companies, should dictate how language appears in their digital lives.  —Carlos Mureithi
---
Five stories from Quartz Africa
Ghana enters the surging social bond market. The pandemic's devastating impact on tax revenues and the need to fund critical social sectors may prompt more countries to follow Ghana's lead, writes Carlos Mureithi, as the country plans to raise up to $1 billion through bonds to support projects in the environmental and social sectors.
A well-trodden path for the fashion industry.  When Adidas released the latest sneaker in its collaboration with singer Pharrell Williams, South Africa was not one of the countries where it would be sold. Fashion reporter Marc Bain explains why the shoe's selective distribution strategy raises cultural appropriation issues.
Ethiopia's blockchain moment... Bitcoin has gotten all the hype over the last few years, but the technology behind it could end up being more pivotal for the continent. Iwa Salami explains why the Ethiopian government's deal to create a national database using a decentralized digital identity solution is making waves.
… and mobile wallet wins. More than 1 million Ethiopians have registered for a new mobile money service, and Safaricom is officially the country's first private network provider. Tawanda Karombo lays out the huge potential of privatization, even as the country faces major challenges, such as the crisis in Tigray.
Big Tech needs to tamp down on misinformation. The proliferation in Africa of Covid-19 vaccine mistruths, particularly those spread by influential religious leaders, risks prolonging the pandemic. Odanga Madung argues that platforms like Facebook, Twitter, and TikTok need to do more to close the toxic taps feeding conspiracy theories.
---
Table of the week
Nigeria lags in metrics that are critical for a robust tech ecosystem, a new report by fDi Intelligence and Briter Bridges asserts. The report ranked 17 of the country's biggest tech sectors based on the concentration of startup funding, investment, and tech hubs, to determine their health and potential going forward.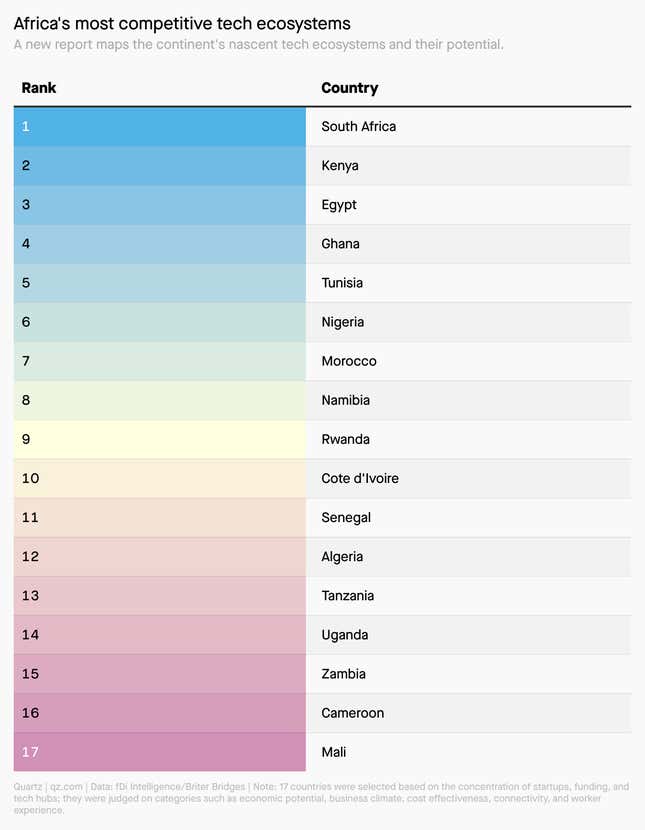 Nigeria had the highest volume of startups—more than 750—but was missing altogether in the top 10 rankings for categories that are critical to helping a startup thrive beyond its founding, including cost effectiveness and the level of country-wide tech talent, Tolu Olasoji writes. It also only ranked sixth for business friendliness.
The ranking highlights the frustration of conducting business in Nigeria, where entrepreneurs must contend with stifling government policies, poor internet speed access, and other systemic challenges.
---
Dealmaker
Flat6Labs, the MENA region seed accelerator, has announced the second close of its Egypt fund, raising $13.2 million to support early-stage startups and provide follow-up investment. The International Finance Corporation, the MSME Development Agency, Egypt Ventures, and the Egyptian American Enterprise Fund were leading investors in the seed fund, with Sawari Ventures participating.
LifeQ, a South African e-health company, has raised a $47 million funding round to help it scale operations. Providing the investment are groups including Invenfin, Nedbank Corporate and Investment Bank, OneBio Seed Investment Fund, Virgin Group, and Acequia Capital.
Mono, the Nigerian fintech startup, has raised a seed funding round of $2 million to scale, launch new products, and expand into Ghana and Kenya. Entree Capital, Kuda CEO Babs Ogundeyi, Gbenga Oyebode, Ehimare Idiahi, and Lateral Capital provided investment for the YC-backed startup. Using a single API, Mono helps firms like Flutterwave and Carbon access their customers' financial and identity data.
---
Quartz gems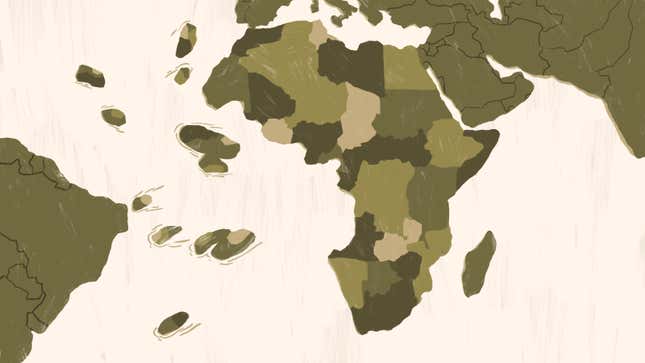 After years of negotiation, Namibia and Germany are close to striking a reparations deal for the early 20th century genocide of the Herero and Nama peoples. Details of the plans are expected to be shared in Namibian parliament this week.
The deal will reportedly not include financial compensation to individuals, but instead aid to Namibian programs supporting the Herero and Nama tribes. But as the Guardian reports, an internal document from the German foreign office "strains to clarify that such payments do not amount to reparations in the legal definition of the word."
As part of our series last year on reparations, Lynsey Chutel asked what was owed to Africa, and described the limitations of Germany's focus on aid, and the struggle to admit wrongdoing. "Namibia says money without an admission of guilt would be an insult. The stalled talks and the decades it has taken Germany to even acknowledge wrongdoing speak to the lopsided relationship between Africa and its former colonial oppressors, and to [the argument] that any reparations must first address Africa's position on the world stage."
Consider supporting Quartz Africa's vital reporting on the topic of reparations and economic injustice by becoming a member today.
---
Other things we liked
Tracking Covid-19's long-term effects on athletes. South African track star Rikenette Steenkamp's Olympics dreams remain uncertain, despite her recovery from Covid-19. Initial findings by researchers, covered by Ockert de Villiers in New Frame, show that athletes are having to contend with "a significantly longer return-to-play" after contracting the virus, with serious implications.
Nigeria's satellites can't track terrorists… Nigeria's satellite system was intended to be a crucial part of its counterterrorism strategy. Yet despite being one of the most funded space projects on the continent, the country has very little to show for its huge investment, according to an analysis by Muhammed Akinyemi in HumAngle.
…while its justice system is threatened by a strike. For the Guardian, Ope Adetayo reports on how the demand for financial autonomy and better working conditions for the courts has spiraled into a nationwide strike, throwing those awaiting judgement into limbo.
Women in control of their image. A new book collects stylish portrait images of West African women, resulting in a stunning portfolio that captures the subjects' power and resilience. Author Catherine McKinley shares the story behind the collection with the BBC.
Google lessons. Tech companies operating in Africa need to understand local needs and adjust to them, argues Google's regional director Juliet Ehimuan in the Africa Report. She reflects on the major digital transformation she's witnessed in her 10 years at the company, and the challenges that remain.
---
ICYMI
What's one skill all business journalists should have? Register for Quartz's second webinar in its series on "A Better Kind of Journalism." Speakers from the Washington Post, LA Times, and KQED will describe the skills they've mastered in their careers, and lessons they've learned along the way, in conversation with Quartz executive editor Heather Landy. (June 2)
---
🎵 This brief was produced while listening to "Shahumba" by Sho Madjozi ft. Thomas Chauke (South Africa).
---
Our best wishes for a productive and ideas-filled week ahead. Please send any news, comments, suggestions, ideas, powerful portraits, and Uluntu sneakers to africa@qz.com. You can follow us on Twitter at @qzafrica for updates throughout the day.
If you received this email from a friend or colleague, you can sign up here to receive the Quartz Africa Weekly Brief in your inbox every week. You can also follow Quartz Africa on Facebook.