Good morning, delegates!
For those of you who choppered in yesterday, it's day deux of the festival's weekday programming. For the completists, quatre.
Even if it got hopelessly crumpled in your carry-on, today is the day for linen—with a high of 30°C (86°F), nobody will begrudge a few wrinkles. Oh, and experts recommend reapplying sunscreen every two hours, or "after swimming, toweling off, or sweating a great deal."
What's going on today
Instagram at the (Facebook) beach. There are no waves in the bay, but tomorrow Kelly Slater will talk about "Instagram authenticity." It's probably easy to look cool on Instagram when you're pro surfer Kelly Slater, but no matter. Later in the afternoon, Gucci CMO Robert Triefus will reveal some of the secret sauce that makes those #GucciGrams so good. In between, stick around to hear Quartz's editor-in-chief Kevin Delaney discuss wabi-sabi—aka the art of imperfection—in design. (You can incorporate that into your 'grams too.)
It's China Day. The mostly Western crowd in Cannes knows what GAFA and FANG stand for, but today's China-themed sessions in the Palais are a chance to get to know BAT (Baidu, Alibaba, and Tencent) a lot better. The dominant players in Chinese search, shopping, and chat will explain how things work in their massive—and massively hard to crack—home market. A party promising "unexpected fun from the east" closes out the evening.
Practicing feminism. The Female Quotient's Girls' Lounge—which is open to all genders—at the Martinez Hotel has a jam-packed program of power players every day, with topics including reimagining superheroes, managing one's inner critic, and tech leveling the playing field for women. In addition to pontificating (in a lovely penthouse with snacks, manicures, and face mist), panelists discuss how to take meaningful action—as RYOT founder Molly Swenson put it: "Are you a feminist in name, or are you a practicing feminist?"
Existential session of the day: "What Can a Whale Teach Us About Creativity?"
Star power. Gwyneth Paltrow, Halle Berry, Jesse Jackson, Mario Testino, and Papi Jiang (the Chinese YouTube star who might have more social media followers than the rest of those people combined) all make appearances throughout the day. If you don't have an invite to the fancy-pants dinner at Hotel du Cap, there are two good beach shows on tap: Phoenix (Spotify Beach) or Future (Palm Beach).
What people are talking about
Is Ryan Seacrest a robot? Yesterday, the busiest man (?) in show business said his new gig co-hosting TV morning show Live with Ryan and Kelly in New York forced him to plan his days, literally, to the second. He's done with TV at "10:59:30," and then straight onto live radio beamed over to LA. "My strength is velocity," he said. "I've always subscribed to ubiquity." But on the sidelines of his panel, we overheard him respond to yet another invite with, "I'm not doing all that stuff. It's too much."
"Our insides are our outsides." That's how Diana O'Brien, CMO of Deloitte, explained that social media has made every one of her company's many thousands of employees a brand ambassador. On a panel with senior execs from Deloitte, IBM, Ogilvy, and Philips—moderated by Quartz—all agreed that the marketing department is more powerful than ever, but only if it can exert some control over messaging: not by force, but by inspiring colleagues to be proud of where they work, and eager to tell the world about it.
What is Stevie Nicks' personal oath? AOL and Verizon merged, and now it's called Oath. At the company's launch party last night, CEO Tim Armstrong opened for Stevie Nicks by urging the crowd to come up with their own three-word oaths—a practice apparently now encouraged for everyone in the company's ranks. After the concert, we had to corner the boss to ask for details. Armstrong's wife Lisa told us her oath is "Always say yes." Tim's is "Never give up," and his favorite Stevie Nicks song is "If Anyone Falls in Love."
Meanwhile, in France… If you find yourself making small talk with locals this week, it could get complicated. In Sunday's parliamentary vote, the Cannes seat was won by the candidate from Les Républicains. The Cannoises also preferred the center-right party in the first round of last month's presidential election, but switched allegiances to centrist Emmanuel Macron when their first choice didn't make the second-round runoff. Only three of the nine seats in the Alpes-Maritimes département were won by president Macron's party.
The "Fearless Girl" roars. The defiant bronze statue standing up to the Wall Street bull, by McCann New York for State Street Global Advisors, won Grand Prix Lions in three separate categories: PR, Outdoor, and Glass (an award for work which addresses gender inequality). Also taking top prizes were Twitter for Outdoor, Burger King's agency DAVID for Print & Publishing, and Boost Mobile's agency 180LA for Promo & Activation.
Seen and heard
Not so fast, bots! A former high-frequency trader, now working in music, on what he enjoys most about his new career: "I like the randomness of people." A CMO of a large tech company: "I am pro-human."
"It's the Big Little Lies song!"—a 20-something in the crowd when Stevie Nicks sang the first bars of "Dreams."
Achieve total information awareness of all things Cannes by following the frequently updated site of the festival organizers, online commentary by Ad Age, a daily newsletter by Digiday, and 60-second summary videos by Ogilvy. (There's also this email, of course, but you already knew that. Tell your friends!)
Away from the Palais
What's the best way to get your creative juices flowing? We asked Dani at Juice Lab on Rue Macé. She recommends the "King Kale," a cold-pressed blend of apple, pineapple, spinach, ginger, and kale. A refreshing way to inspire fresh ideas.
Chart interlude
🇨🇳📲📈 China's internet advertising market is currently worth $45 billion, according to PwC, second only to the US. Like elsewhere, mobile ads are steadily eating the market, growing at a punchy 20% per year through 2021.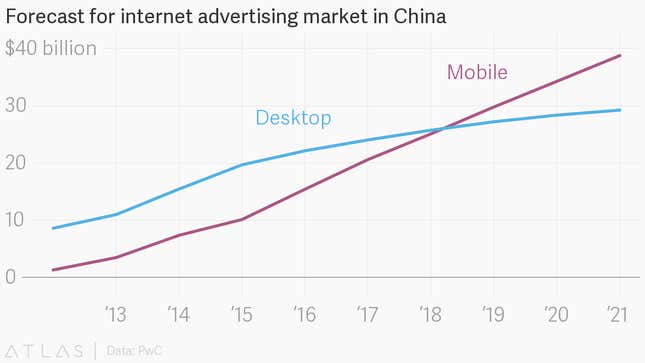 Hello from Quartz
If you're enjoying this email, make sure to sign up for our weekly lifestyle email, Quartzy, which is all about living well in the global economy. Click here to subscribe for free.
News from around the world
American student Otto Warmbier died days after being released by North Korea. The 22-year-old had been sentenced to 15 years of prison and hard labor for allegedly trying to steal a propaganda poster during a tour of Pyongyang. He was released on "humanitarian grounds" last week, but returned home to Cincinnati in a coma before he died.
China Railway Group signed on to build a $2.5 billion high-speed rail in Russia. The state-owned company signed a memorandum of understanding with Russia for a line running from Chelyabinsk to Yekaterinburg, the nation's third-largest city, according to the China Daily. The time to complete the trip, which covers 200 km (125 miles), would be cut from 5 hours to 70 minutes.
Tech giants convened at the White House. Nearly 20 members of Donald Trump's technology advisory council, including the CEOs of Apple, Amazon, and Alphabet, met to discuss the private sector's role in cutting government IT costs and other issues. Trump's son-in-law and senior advisor Jared Kushner made a rare public address.
Matters of debate
The secret to eternal happiness is in reality TV. The Great British Bake Off showcases the joy of flow.
If someone cuts you off in a meeting, talk more quietly. Everyone in the room will have to focus harder on what you're saying.
Amazon's Whole Foods deal is more than it seems. The grocery chain could be a signature customer for the company's logistics services.
Surprising discoveries
At last, we can turn pee into electricity. Researchers in the UK created a device lined with microorganisms that feed on urine and produce phone-charging electrons.
A tick that makes you allergic to meat is spreading. A single bite can reprogram your immune system, making ingestion of a protein-linked sugar molecule potentially fatal.
Donald Trump's presidency is saving history. At least as a university major—students want to know, "How did we get here?"
Our best wishes for an inspiring day at the festival. Please send any news, tips, Fleetwood Mac b-sides, and after-sun lotion to us at jason@qz.com and jenni@qz.com.