Hello Quartz readers,
Let's start today with some light meditation. Take a deep breath through your nose and count to five, filling your lungs like a balloon.
Now let it all out, exhaling a long, slow breath through your mouth.
Feel better?
Great! Now, just answer those two new emails marked "urgent," respond to the Slack message from your boss, and rattle off that memo to your team before your next meeting—and don't forget about the whole pandemic thing.
As Covid-19 introduces a new level of stress to our lives, it's no wonder legions of people are flocking to meditation apps to help them cope. Monthly active users across the top three apps globally (Calm, Headspace, and Meditopia) rose 59% year-over-year in November. In this week's field guide, Sarah Todd looks at the business of mindfulness, which is booming as stressed out people try to deal with a turbulent world. That includes meditations on:
✦ Speaking of apps that get your mind right, make sure you download the Quartz iOS app. It's free—and dang do we send good push notifications—but the best way to experience Quartz articles, presentations, and field guides like this one is with a membership. While you meditate on a longer commitment, try it for one week free.
Okay, let's get started.
---
A tale of two recoveries
China is bouncing back relatively quickly from the pandemic. The country's 2.3% GDP growth last year is the slowest it's seen in more than four decades, but still makes China the first and probably only major economy to have expanded at all last year.
But the pandemic has set back China's efforts to shift from an export-focused economy to a more consumption-driven one. Retail sales contracted for the first time since 1969 last year (link in Chinese), and while spending has picked up since August, a recent resurgence of Covid-19 cases could lead to another muted Chinese New Year, potentially resulting in another dip.
On the other end of the spectrum are China's rich, who appear to be engaging in "revenge spending," a trending phrase on the Chinese internet that captures the government's hopes for post-pandemic consumption. Exports of Swiss watches (pdf) to mainland China, for example, increased 17% between January and November, while the other top 20 markets for watchmakers saw declines. Overall, China's luxury goods market is estimated to have grown by nearly 50% last year.
"The coronavirus hasn't impacted the high-income group that much," says Terry Hong, a senior vice president at Chinese brokerage firm Guotai Junan International. "And because of the travel restrictions globally, lots of the group's demand for luxury goods has shifted to the domestic market."
The robust demand from China's affluent population, paired with sluggish spending by mass consumers, offers a window into the country's worsening wealth gap. China had a record number of billionaires last year, thanks to new company listings and stock market booms. At the same time, the government provided companies with cash incentives rather than offering relief checks to families. The result was greater financial instability, particularly for poorer families.
Traces of discontent are starting to appear. On Weibo this week, a post by the state-owned People's Daily celebrating economic growth sparked complaints about the rising price of goods and stagnating salary levels. "The rich are becoming richer, while the poor getting poorer," said one user in a now-deleted post. "The 'V-shaped' [recovery] doesn't carry much meaning for us."
---
New job, who dis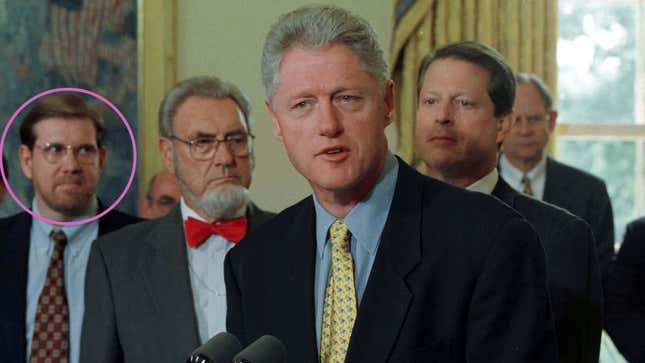 On Jan. 15, US president-elect Joe Biden tapped David Kessler as the new head of Operation Warp Speed, the federal funding arm that has been working with private companies to manufacture and test Covid-19 vaccines at a breakneck pace. Katherine Foley looked at what we know about Kessler's experience:
⚕️  He's already been advising Biden on the pandemic since its onset.
💉  He served as the commissioner of the US Food and Drug Administration (FDA) during the 1990s, and was integral in efforts to bring antiviral HIV drugs to market quickly. (Above, Kessler is pictured in 1997 with president Bill Clinton as the latter discusses teen smoking.)
💊  Kessler has no ties to big pharma, and is one of the few FDA commissioners who didn't go on to work for a drug company.
🎓  After the FDA, Kessler went to work in academia, and then for the Center for Science in the Public Interest, a non-profit nutritional science advocacy group.
Kessler's appointment could help restore some faith in the government's ability to put public health before private profits. To start, he'll focus on creating larger vaccination sites and directing new investments in pharma—this time focusing on novel antiviral treatments for Covid-19.
---
All things being unequal
"Economic inequality in India is even more damaging because of its combination with social inequality. There's a triple-whammy of religion-, caste-, and gender-based disenfranchisement, which is why we have some of the highest numbers of people on the verge of destitution. Even a slight economic change can be devastating in such populations, and push them to starve to death." —Jayati Ghosh, professor of economics at the University of Massachusetts Amherst
In 2020, the cumulative wealth of 828 Indians on the Hurun India Rich List stood at $821 billion (Rs60 lakh crore), up by $140 billion from a year ago. Meanwhile, layoffs and pay cuts are disrupting the dreams of India's booming middle class, and daily wage earners are scrambling for survival. For Quartz India, Manavi Kapur looks at how the pandemic is reinforcing both social and economic inequality in the country.
➕  Don't miss these other stories from Quartz India:
---
You asked
Is it time to worry about inflation?
As the US economy gets an infusion of ultra-easy credit and multiple rounds of big-time government spending, questions are growing about whether it's a cocktail that will cause a big jump in inflation. While inflation in small doses helps keep the economy ticking, a sharp increase in prices can drive investors to sell a government's debt, causing interest rates to climb, making refinancing more expensive, and dragging down the economy. High inflation also erodes the savings of retirees and other investors.
As John Detrixhe explains, the breakeven rate gives a sense of what professional traders are expecting here: The rate is the difference between Treasury bonds and Treasury Inflation Protected Securities, which are linked to the Consumer Price Index. The 10-year breakeven rate signals investors are betting inflation will rise to about 2.1% in the next decade. It's not exactly Argentina-style hyper inflation, but would signal the highest expectations for price increases in the US in more than two years.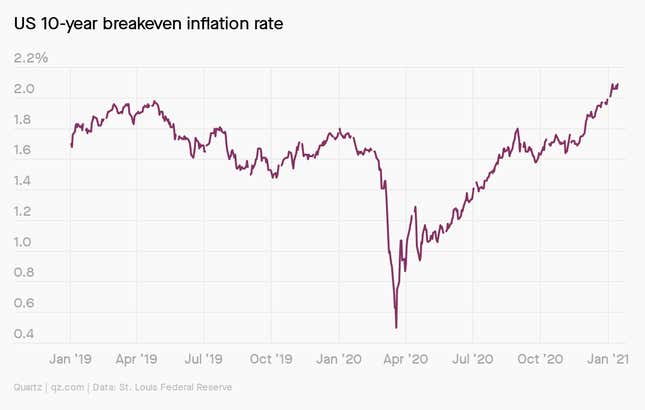 ---
Deliverance
Millions of Americans are still unemployed, but there is one segment of the US economy where hiring is booming. As more people buy all sorts of items online instead of in stores or restaurants, the number of couriers and messengers rose 26% from February to December of last year, the largest gain among all the positions and industries tracked by the US Bureau of Labor Statistics.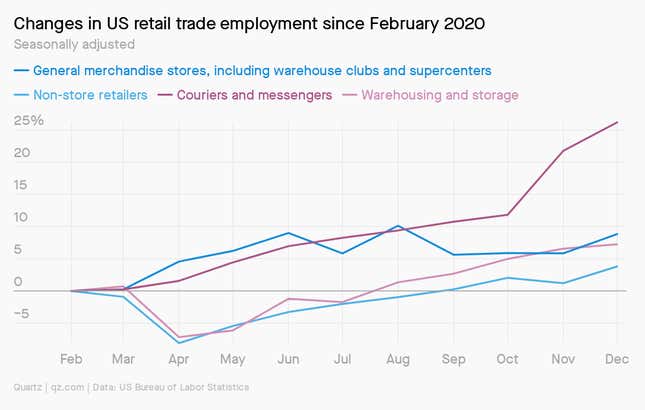 The courier and messenger industry was also the fastest growing job field in the US prior to the pandemic. The number of workers in the category grew 22% between January 2018 and January 2020.
---
Essential reading
---
Our best wishes for a healthy day. Get in touch with us at needtoknow@qz.com, and live your best Quartz life by downloading our iOS app and becoming a member. Today's newsletter was brought to you by Sarah Todd, Jane Li, Katherine Foley, Manavi Kapur, John Detrixhe, Karen Ho, and Kira Bindrim.