Hello Quartz readers,
The short video quickly went viral: a single police officer sprinting up a Hong Kong city street while rapidly unrolling police tape, with half a dozen somewhat less nimble colleagues following on his heels.
The cops weren't chasing down protesters or runaway suspects; they were executing an ambush-style lockdown. The approach involves temporarily sealing off a set of residential blocks for between 12 and 48 hours, with residents ordered to stay inside and undergo mandatory coronavirus testing. Mary Hui reports that at least one surprise lockdown a day is expected in Hong Kong over the next two weeks.
It was only last month that Hong Kong enforced its first ever pandemic lockdown. Up until that point, there hadn't been much need: Through universal masking, social distancing, border restrictions, quarantines, targeted testing, and contact tracing, the city of 7.4 million has recorded just over 10,000 cases and under 200 deaths. But a recent wave of cases has been more persistent.
The militant branding of the new lockdown campaign is of the government's making: Top official Carrie Lam pledged to pursue "ambush-style operations" by sealing off residential areas without prior warning  to prevent people from slipping out ahead of time. Though authorities have since tried referring to the lockdowns as "restriction-testing declarations" instead, the ambush connotation stuck. It doesn't help that the government has threatened to break into people's homes to administer tests.
So far, Hong Kong authorities have enforced about half a dozen ambush lockdowns. But while they are dramatic, the ambushes don't appear to have unearthed worrisome "hidden" transmission. Lockdowns across four districts on Monday night, for example, turned up no new cases after more than 1,700 people were tested. Another lockdown last week found zero cases after testing roughly 500 residents. And the first lockdown surfaced 13 cases after testing more than 7,000 residents.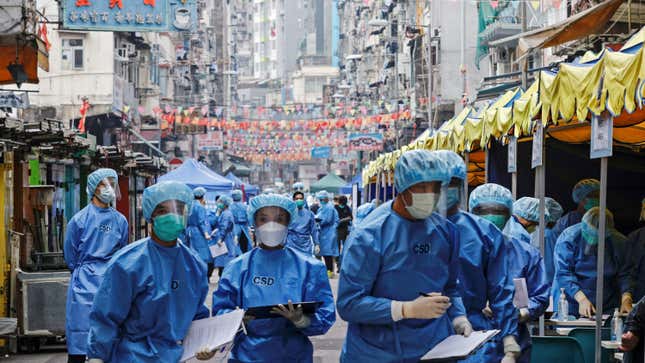 ---
No place like home
This time last year, Hong Kong was facing a mounting mental health crisis. Schools and offices had been closed on and off for months, and people were spending more time than ever cooped up at home. Marisa Yiu thought she could help.
An architect and the co-founder of nonprofit Design Trust, Yiu launched a design initiative called "Critically Homemade," an open invitation for designers to create a small homemade prototype—no larger than 20 x 20 x 20 cm (8 x 8 x 8 inches)—that might help people cope with the pandemic's stresses. In particular, Yiu wanted the prototypes to foster intergenerational play and to encourage collaborative and creative thinking.
Responses poured in from designers working in media as varied as textiles, ceramics, candles, sculpture, and woodwork. Dozens of prototypes arrived at Yiu's studio: building blocks made from wood scraps; ice molds in the shape of calligraphic Chinese characters; baked, edible cutlery to reduce plastic waste. The lesson? Even small tweaks to our daily environments can make them feel less constricting.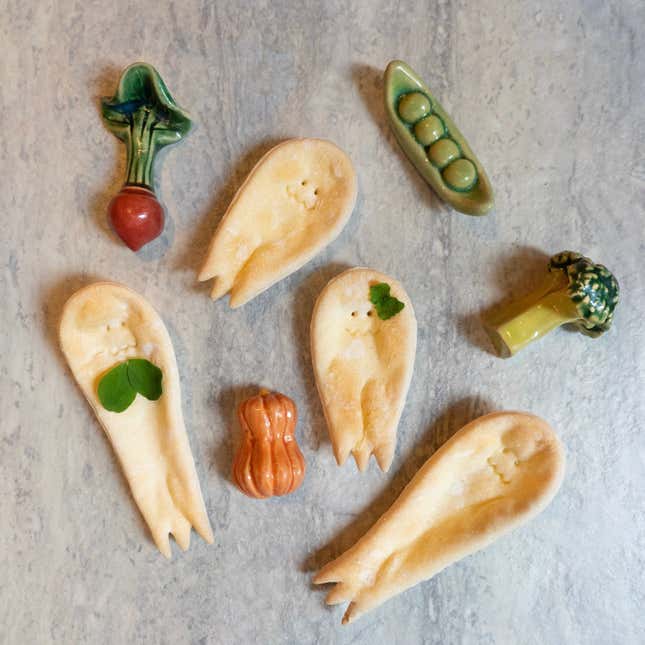 Inspired by thinkers like Yui, we decided to stop climbing our walls and start writing about them. Our resulting field guide on finding happiness at home has something for every taste:
🔨  DIY imperfections are A-OK. Marisa Yiu shares tips for embarking on personal projects.
🧠  Psychology has tips for a happier home. Here's one: Paint your office light green.
😎  It's time to think about solar. In the US, switching has never been more accessible.
👂  There's a smart-home turf war. And speakers are on the front lines.
🌱  Gardening is a proven stress reliever. That's just science.
✦ Quartz membership is full of smart speakers, er, writers. To enjoy all of them—and roam the homey hallways of our stories, presentations, field guides, and workshops—try a membership free for seven days.
---
You only get one shot
On Jan. 29, Janssen announced data from the phase 3 clinical trial for its Covid-19 vaccine. The vaccine-making subsidiary of Johnson & Johnson tracked trial participants after just one dose, giving it a potentially sizable advantage in a market dominated by two-shot options. For everything there is to know, we turn—as always—to Katherine Foley:
What data did Janssen release? In a trial with 43,783 participants across the US, Latin America, and South Africa, the vaccine prevented about 66% of Covid-19 cases and 85% of moderate-to-severe cases. Results varied depending on study participants' location.
How does the vaccine work? Janssen's is a viral vector vaccine, meaning it uses a virus—in this case, a version of an adenovirus—modified to include DNA that codes for the spike protein on the SARS-CoV-2 virus. The adenovirus works its way into our cells, then injects the genetic material for the spike protein instead.
Why one shot vs. two? It's not unheard of for a vaccine to work after a single dose. That's because immune cells are super smart: As soon as the body encounters a new pathogen, the immune system begins working to modify its response for the future.
When will the vaccine be available? That depends. Back in August, the US ordered 100 million doses of Janssen's vaccine. These doses should be distributed throughout the US by June, pending FDA approval.
---
In excess
It's been well documented that essential workers face heightened risks of contracting Covid-19. Michelle Cheng looked at new research that suggests they're also more likely to die from it.
A recent study found that, between March and October of last year, death rates for US working-age adults in California were 22% higher than would have been expected without a pandemic. The so-called excess mortality rate was highest among food and agriculture workers (39%), transportation and logistics workers (28%), facilities workers (27%), and manufacturing workers (23%).
The mortality risk ratio—the observed number of deaths versus the expected—was highest among cooks, packaging workers, agriculture workers, and bakers.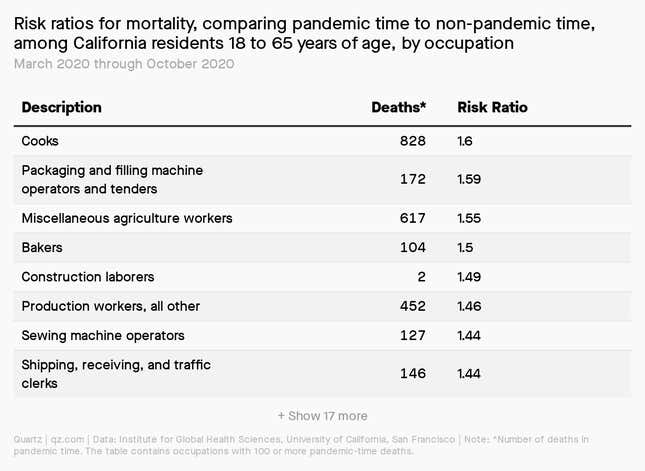 You can check out all of the most impacted occupations here. While the research has not yet been peer-reviewed, the study's authors say it "could point to opportunities for intervention, such as workplace modifications and prioritization of vaccine distribution."
---
Live in Levi's sweats
Levi's has for years been adding more stretch to its jeans, and the pandemic means shoppers are now even more keen on keeping comfortable. Marc Bain looked at how the quintessential denim company is responding: with more sweatpants and sweatshirts. "If you look at what the kids are wearing today, that's what they're wearing," Levi's CEO Chip Bergh said of the company's Gen-Z focused collection, Red Tab sweats. "That represents a significant opportunity for us."
In general, Covid comfort has been bruising denim sales and boosting activewear. At Lululemon, sales fell last spring but have rebounded since, and in the quarter through Nov. 1 were up 22% year-over-year. Levi's also bounced back some in its most recent quarter, but sales were still down 12% (pdf).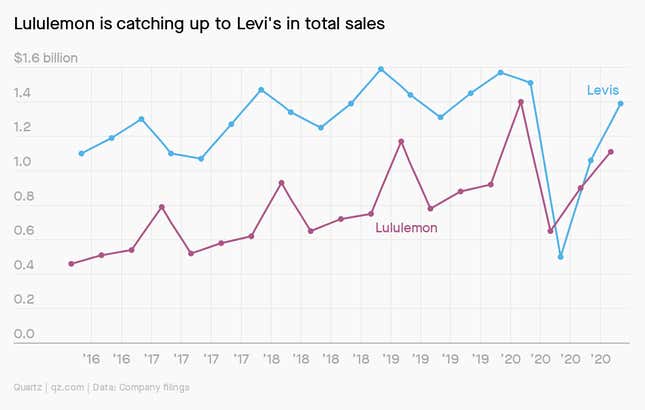 Need more cozy content? Go down a rabbit hole with the Quartz Obsession on sweatpants.
---
Essential reading
---
Our best wishes for a healthy day. Get in touch with us at needtoknow@qz.com, and live your best Quartz life by downloading our iOS app and becoming a member. Today's newsletter was brought to you by Mary Hui, Katherine Foley, Michelle Cheng, Marc Bain, and Kira Bindrim.