Hi Quartz readers,
At-home rapid covid-19 tests are a key to everyday life in many parts of the world: They only take 15 minutes and can tell, with a reasonable degree of accuracy, if someone has been exposed to the virus. They aren't foolproof—false negatives happen—but remain an important tool to control the spread of the disease.
This isn't hard to do when tests are cheap and easily available. In Germany, at-home tests sell for €0.7 (or about $1) each. In other European countries, they range from less than €1 to a couple of euros. In the UK, they are free, and can be ordered online from a government site or collected in libraries, pharmacies, and other locations. In Canada, the government provides businesses with free testing for workplace screening.
But in the US, tests range from $9 each to $24 for a box of two (which are more commonly available), and they are only sold in pharmacies. Just 12 manufacturers have received FDA authorization to make such tests, and the process for obtaining that authorization is burdensome—designed to hold the tests to accuracy standards that aren't strictly necessary outside a clinical setting.
The real reason rapid tests are so scarce in the US is rooted in the history of American medicine. Ever since US healthcare was professionalized in 1910, the field has favored a biomedical approach to medicine, which focuses nearly exclusively on clinical measures. That's in contrast to a so-called biopsychosocial one, which addresses individual health as a function of the broader social context. For covid-19, this approach means clinical interventions—such as vaccines and treatments—are emphasized over more society-based measures.
"A pandemic is first a public health crisis and secondarily a medical crisis," says Eric Reinhart, a physician and anthropologist at Northwestern University. "[But] our management of the pandemic has been dictated by medical clinical logic."
---
Don't quote me
"This is not supposed to be Russia where the government tells you what to do and when to do it." —a resident of New York City, complaining to the Washington Post 
If you thought that gripe was about mask requirements or vaccine mandates, think again: It comes from 1985, a year after the state of New York became the first to pass a seatbelt law. While nobody today questions the value of seatbelts in saving lives, laws requiring them faced major opposition when they were introduced. That precedent may come in handy as New York City tries to implement the US private sector's strictest vaccine mandate yet.
---
Talking points
🇨🇭 Switzerland is dropping omicron travel restrictions. Health minister Alain Berset said it doesn't make sense "to maintain quarantine for people coming from countries where this variant is circulating, because it's also circulating here."
⛔  What's the point of travel bans, anyway? They didn't contain the spread of the delta or alpha variants. Travel bans can be prudent sometimes, says one epidemiologist, "but the time afforded by such measures is days."
🚢  Supply chain chaos has ships speeding up. Cargo ships chasing record-high container prices are racing across the ocean to load up more often, raising emissions at the fastest rate since 2008.
💰  Vaccinating the world is affordable. The OECD estimates it would cost $50 billion to vaccinate everyone against covid-19, representing 0.5% of the $10 trillion that G20 countries have spent so far to weather the economic impact.
​​🤔  Economists are confused by the latest US jobs report. By one measure, the US economy added only 210,000 jobs, half of what was expected. By another, newly employed people topped 1 million.
💪  Resilient people are not afraid of stress. Instead, they have a "growth mindset," which means confidence in their ability to learn, change, or grow when life gets difficult.
✦ Omicron is a reminder to get your growth mindset in order. For Quartz members, we looked at the role of resilience in managing the next stage of the pandemic. To enjoy paywall-free access to all of Quartz, try membership free for a week.
---
Continental drift
Almost a year after covid-19 vaccines became available, more than 80% of Africa's population has not seen a single dose. The continent has received millions of doses as donations, but getting vaccination rates up is more complicated.
Rich countries have been able to secure almost twice as many covid-19 vaccines as Covax, the world's mechanism to ensure poorer countries, most of them in Africa, aren't left behind.
Without access to jabs for much of the pandemic, vaccination campaigns in Africa started months behind countries such as the US. Now, the continent is racing to catch up.
Most vaccine donations to Africa have been done in an "ad hoc" manner, with little notice and with doses that have short shelf lives.
Even in South Africa, which has better access to covid-19 vaccines, just under 40% of adults were fully immunized as of Dec. 3. That has to do with financial and logistical challenges, plus vaccine hesitancy.
---
Bang for your buck
Once limited to pizza chains and urban supermarkets, it's now hard to find a retailer, supermarket, or restaurant that doesn't offer delivery—including Dollar stores. In October, Dollar Tree expanded its partnership with Instacart to include same-day delivery from nearly 7,000 stores, and last month Dollar General said it would partner with DoorDash to provide delivery in under an hour from more than 10,000 locations.
That tracks: Spending on meal and grocery delivery surged during the pandemic, in part due to lockdowns and government relief.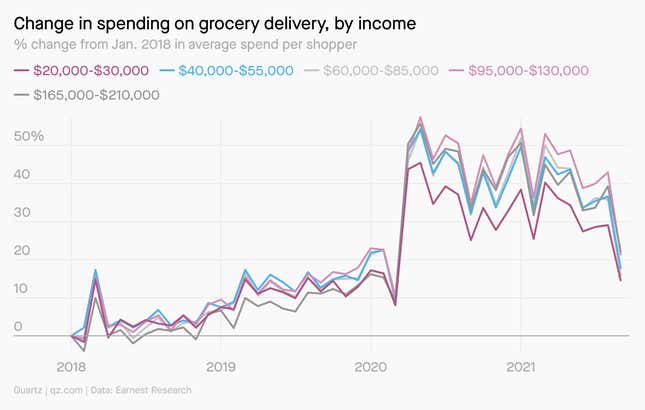 ---
Elsewhere on Quartz
---
Our best wishes for a healthy day. Get in touch with us at needtoknow@qz.com, and live your best Quartz life by downloading our iOS app and becoming a member. Today's newsletter was brought to you by Annalisa Merelli, Samanth Subramanian, Laura Lopez Gonzalez, Carlos Mureithi, Michelle Cheng, and Kira Bindrim.