Good morning, Quartz readers!
Here's what you need to know
South Korea goes to the polls. The nation will elect 300 members of its National Assembly, despite concerns that a delay would have been both safer and more democratic. President Moon Jae-in's ruling Democratic Party of Korea (DPK) is hoping to maintain its majority by capitalizing on widespread public approval of the country's extensive Covid-19 measures.
Japan's cases have doubled since it declared a state of emergency. It took a week for reported instances of Covid-19 to multiply by two, though health officials pointed out that there were days with no new reports at all. Meanwhile, China approved human trials for two possible vaccines.
Economies throughout Asia struggle to adapt. Amid dour International Monetary Fund predictions, the Bank of Japan told the G7 it was ready and willing to ease monetary policy, and Indonesia's central bank kept rates steady but decreased the cash reserve threshold for banks. Renault is cutting its losses in China after a slowdown in domestic car sales that's only projected to get worse.
ByteDance is ramping up headcount for a busy 2020. The eight-year-old Chinese startup behind TikTok and news aggregator Toutiao currently has 10,000 open roles with a year-end goal of hiring 40,000 new workers. Apple also projected confidence in China, reporting a 19% annualized rise in iPhone sales last month.
The Tour de France hit the brakes. For the first time since World War II, cycling's biggest event will leave its Lycra in the locker room after French president Emmanuel Macron announced that all events with large crowds are on hold until at least mid-July.
---
Unlocked and loaded
Around the world, people and municipalities are devising markers to encourage social distancing, using everything from chalk to floor stickers. Those signifiers will take on new importance as some cities in Asia start to reopen for business. But even the best signage can't overcome newfound squeamishness about proximity to others.
If your lockdown is lifting, how comfortable do you feel being out and about?
👯‍I'm heading straight for the nearest pub, no matter how crowded.
👀I'm going to ease myself in and keep some distance.
🙅‍️Let me know when there's a vaccine, and I'll see you all then.
---
Charting India's Covid concerns
On Tuesday, India extended its coronavirus lockdown by 19 days, through May 3. But even though 76% of the population supported the extension, it's certain to ramp up anxieties.
Under lockdown, Indians are worried about access to essential items, health care for themselves and loved ones, and employment opportunities, according to a survey conducted by UK-based market research and data analytics firm YouGov, between April 3 and 10.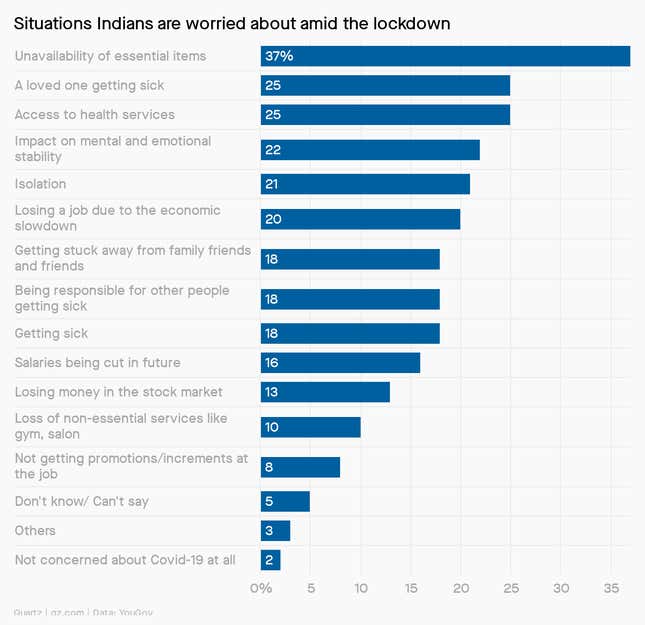 ---
For our members 
Medical crowdfunding has messy morals. Online fundraising is extremely effective at encouraging people to help others, yet incapable of improving equal access to healthcare. To understand this paradox, we must first understand what compels people to give.
The Dutch are craving a Doughnut. Amsterdam's so-called "Doughnut" framework for sustainable development could foster a post-coronavirus recovery without harming the environment.
There's an art to remote job interviews. If you're among the job-seekers concerned about how to convey your professional prowess from a distance, here are a few tips.
---
Quartz Daily Obsession
Sweatpants no longer signal laziness. The foundation has been laid for this moment for years, as high-fashion brands have found a way to make money off newly fashion-conscious men, and athletic brands discover a women's market they've long underserved. It's still possible to project a genuinely unfashionable slovenliness with your ratty sweats, but it's a lot harder than it used to be. The Quartz Daily Obsession invites you to slip into something more comfortable.
---
Surprising discoveries
Vietnam set up rice ATMs. The machines distribute free rice in cities across the country, including a 24/7 dispenser in Ho Chih Minh City.
Roman police are cracking down on turtle walks. An Italian woman was fined 400 euros ($440) for taking a nonessential walk with her (unleashed) turtle.
The bigger they come, the harder they supernova. Astronomers have confirmed the brightest supernova ever observed, caused by a star up to 100 times the mass of the sun.
WWE = World Wrestling (is) Essential. Florida deemed the WWE an "essential service," opening the door for actual sports to return, too.
Gen Z is getting "zumped." The era of the Zoom-based relationship has led to the rise of the Zoom-based breakup.
---
Cancel your meeting
Whether you've been under lockdown for weeks or months, Quartz at Work has a three-step plan to help you take your quarantine productivity level up a notch.
Take back control of your time. The volume of internal meetings is on the rise, according to meeting-software company Hugo, whose co-founder Darren Chait recommends a company-wide rule of thumb: No more than 10% of anyone's workweek should be spent in internal confabs.
Use your time to continue learning. Join us on Thursday, April 16 at 11am ET (11pm HKT) for a free virtual workshop on leading from the future, headed up by Mark W. Johnson, who co-founded the management consulting firm Innosight with Clayton Christensen. RSVP here.
Stay ahead of the curve. For more insights on building a productive, creative, and compassionate workplace, sign up for The Memo, a new newsletter from Quartz at Work. You can read it during all that rescued meeting time.
---
You asked 
To me the word "social distancing" sounds antisocial. Shouldn't we be stating it as "physical distancing?" 
Right you are, Sohail K. "Social distancing" comes from epidemiology, but a growing group of people are calling for the term—though not the actions—to be changed. "Language matters right now," says Cormac Russell, a faculty member of the Asset-Based Community Development (ABCD) Institute at Northwestern University. "Stay at home and when out, remain physically apart," is an essential message, he says, "but to stay well during this time, people will need to actively seek ways to stay social."
Singapore calls it "safe distancing." Stanford psychologist Jamil Zaki suggests "distant socializing." And on March 20, the WHO even changed its official language to "physical distance."
✉️ What's your coronavirus question?
---
Our best wishes for a productive day. Please send any news, comments, Zoom meeting cancellations, and Zoom relationship cancellations to hi@qz.com. Get the most out of Quartz by downloading our app on iOS or Android and becoming a member. Today's Daily Brief was brought to you by Max Lockie, Susan Howson, and Kira Bindrim.