Good morning, Quartz readers!
Here's what you need to know
Donald Trump said the US has passed its coronavirus peak. The number of new infections is slowing, he claimed, after more than 640,000 confirmed cases and 28,500 deaths related to Covid-19. But health officials warn there's not nearly enough testing.
Millions more Americans file for unemployment benefits. Almost 17 million people made new claims in the previous three weeks, and economists are forecasting another five million. But is the unemployment rate metric now useless?
The US unveils guidelines for re-opening the economy. Trump will issue the federal benchmarks for states following a conference call with 50 governors, though the final decision on how to restart businesses will be made at the state level.
Meanwhile, stimulus funds began to trickle into Americans' bank accounts. The US started issuing one-time payments of up to $1,200 for each adult, plus $500 per child, to help offset the economic fallout from the pandemic. Trump's name appears on the paper checks.
Oil prices continued to drop. The landmark OPEC+ pact to cut output has yet to boost prices, with North American oil futures settling under $20 per barrel for the first time since 2002. Global demand is expected to shrink by a record 9.3 million barrels a day in 2020.
Tech unicorns laid off more workers. SoftBank-backed Opendoor, private company equity service platform Carta, and robot pizza maker Zume were the latest companies once valued at $1 billion to announce staff cuts.
---
Who's making it work on Zoom?
---
Charting banks' backup plans
America's banking giants are fortifying themselves for a potential tsunami of bad loans.
The five biggest US lenders have stashed away $24 billion of loan-loss provisions as of the first quarter, almost five times as much as in the previous period, according to FactSet data. Banks are preparing for a wave of soured loans and credit losses as businesses endure weeks of closures to contain the coronavirus pandemic.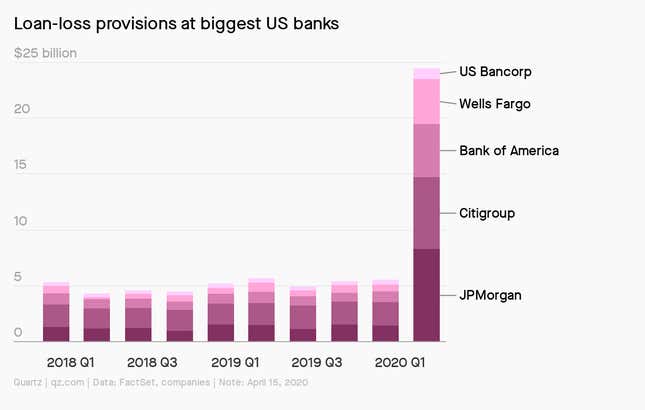 ---
For our members
💰"I've always seen the WHO's lack of funding as a symptom, not a cause, of their problems. People don't trust them, and that's why they've underfunded them." —Ashish Jha, director of the Harvard Global Health Institute
🥛"The biggest thing is the collapse in restaurant and food service demand. It's tough to get numbers, but I would estimate as much as 40% of dairy goes into food service channels." —Lucas Fuess, a food industry analyst with HighGround Dairy
👖"Now what we're seeing is much more emphasis on core products that have a never-out-of-stock, trans-seasonality to them, because those can be much more profitable for retailers." —Francesca Muston, fashion director for trend forecaster WGSN
(You too can be a member! Start with a 7-day free trial.)
---
Quartz Daily Obsession
Prison breaks are having a resurgence in the Covid-19 era. From the US to Italy, Brazil, and Iran, inmates are trying to escape from jails that have high coronavirus infection rates. Pandemic aside, prison breaks have a long history, and the ingenuity of escapees draws a cult following. Make a break for the Quartz Daily Obsession.
---
Surprising discoveries
Banksy's lockdown artwork is causing mayhem in his bathroom. The anonymous artist said his wife hates it when he works from home.
A Helsinki bakery can thank toilet paper for keeping its business alive. Well, sort of. The new novelty cake made of passion fruit and white fondant has become a social media craze.
A lost Viking trade route has been re-discovered. It was likely used to ferry goods like butter and reindeer antlers across Europe.
Just one Brit raised £12 million for the NHS. 99-year-old veteran Tom Moore completed 100 laps in his garden, with the help of a walking frame. His goal was to raise £1,000.
The ocean's longest creature measures 150 feet. A siphonophore spotted off the coast of Australia puts blue whales to shame.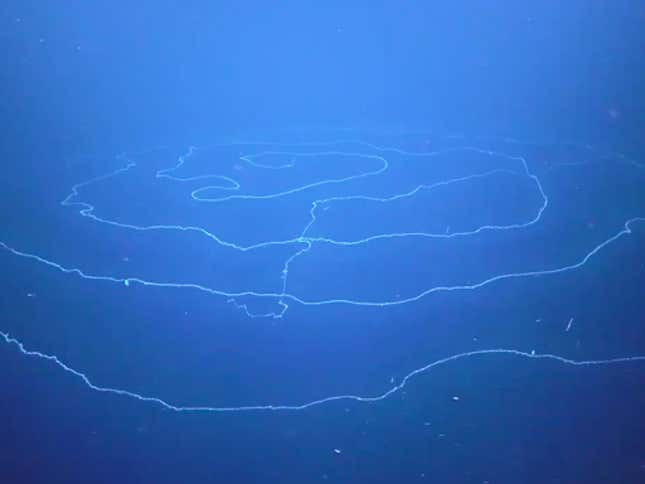 ---
From the Quartz newsletterverse 
Climate deniers have a new hobby: coronavirus denial. The same people (and psychology) are at work, said Stephan Lewandowsky of the University of Bristol. One conservative radio host referred to the coronavirus on March 14 as "climate change 2.0." "They perceive it as a threat, in the same way that climate change is—not just to the economy, but also to the way in which the economy operates," said Lewandowsky.
Learn more about the fight against climate change—and climate-change deniers—by signing up for Race to Zero Emissions, a weekly briefing on the battle for the planet.
---
You asked 
How do you make yourself productive if you're so distracted and aren't that interested in what you happen to be working on now, but you have to finish it?
Great question, Abigail. Here's some advice from Quartz's director of audience, Phoebe Gavin: "I try to plan out my day as much as possible and assign tasks to time periods. But I only work on them for 15 minutes at a time. It's short enough that I'm not intimidated by starting, and if I go offline, no one will freak out because not much can happen. But it's long enough that I can make meaningful progress and possibly build up some momentum.
"When I have tasks I'm not excited about, I try to work on those in chunks too. If it's a particularly onerous task, I'll chop it down to five-minute chunks."
You can find more sage workplace wisdom by signing up for The Memo, a new newsletter from Quartz at Work. If you have your own workplace or productivity question, ✉️ send it our way.
---
Our best wishes for a productive day. Please send any news, comments, tidy bathroom pics, and legit TP to hi@qz.com. Get the most out of Quartz by downloading our app on iOS or Android and becoming a member. Today's Daily Brief was brought to you by Adam Rasmi and Hasit Shah.