Good morning, Quartz readers!

---
Here's what you need to know
Europe's Schengen zone welcomed Croatia. It's the 27th country to join the free movement area.
Luiz Inácio Lula da Silva became the 39th president of Brazil. He has pledged to undo the environmental destruction seen under his predecessor Jair Bolsonaro.
Adidas, Maersk, and Penguin Random House are a few of the companies getting new CEOs in 2023. A lot of factors will influence just how long they'll stay.
Rwanda is expecting BioNTech's first modular mRNA vaccine factory. Six containers are due to arrive within the first quarter of 2023, with vaccine production set for early 2024.
Agatha Christie, Virginia Woolf, and Franz Kafka went public. It's not just writers—works of famous musicians and composers entered the US public domain Jan. 1.
The Walt Disney Company is celebrating its 100th birthday this month. The centennial jubilee will kick off Jan. 27.

---
Dates for the diary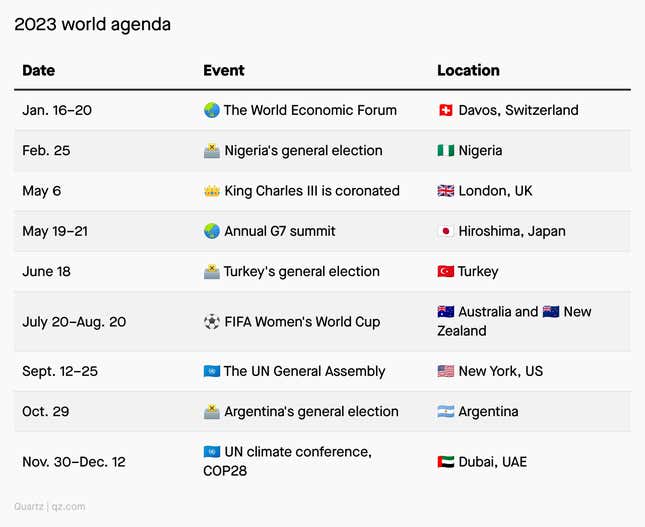 ---
Laws to watch this year
😂 Nitrous oxide, or laughing gas, will be banned in the Netherlands
🏡 Canada will enact a two-year ban on foreigners buying residential real estate
💡 The EU will ban fluorescent lighting 
💷 The UK's national living wage will increase 9.7%
🍪 The Philippines will ban all prepackaged processed foods with partially hydrogenated oils
🛶 Italy's Venice will enact a "day-trippers" fee
🥤 Single-use plastic will be banned in Canada, the Isle of Man, and Hong Kong
🤖 New York City will restrict the use of AI tools in recruitment
---
Take me down this 🐰 hole
2023 will be the year of the rabbit, according to the Chinese traditional calendar. Here are some digits to know about this year's "Spring Festival":

4th: Ranking of the rabbit in the Chinese zodiac
12: Animals in the Chinese zodiac
2011: The previous year of the rabbit
22: Day of January the new Chinese year begins (and it ends Feb. 9, 2024)
7: Days off work in China for the holiday, though celebrations traditionally last for 16 days
200 million: People in China that travel for the holiday, making it the largest annual migration in the world (when lockdowns aren't in place)
25%: Fraction of the world that celebrates Chinese New Year
---
Quartz's most popular 2022
🐦 Elon Musk already broke his agreement with Twitter

💵 Why it matters if Saudi Arabia sells oil in Chinese yuan instead of US dollars
📌 There's one job perk more popular than a four-day workweek
🍆 The world's largest condom manufacturer has had a surprisingly bad pandemic
🌍 How powerful is your country's passport?
😷 What we know about why some people never get covid
🙊 Jamie Dimon says he no longer uses the word "cryptocurrency"
🏃 How much is Kate Bush making from "Running Up That Hill"?
🍔 The photographic evidence presented in a lawsuit over fast-food burger sizes
---
Quartz's crystal ball 🔮
India will become the world's most populous country this year. The UN projects India's population will surpass China's on April 14, counting 1,425,775,850 people.

The EU kicks off a new import tariff system based on carbon emissions. For a three-year phase-in period starting in October 2023, importers of a number of goods into Europe will be required to report the emissions from the products' manufacturing process.
Don't hold your breath on an IPO market recovery. Analysts' most rosy predictions don't see activity picking up before the second half of 2023 at the very earliest.
Flying cars production takes off. Archer Aviation appears to be on track to fulfill its 2021 goal of mass producing electric vertical take-off and landing (eVTOL) aircraft by 2023. The company also plans to begin tests for Federal Aviation Administration certification (pdf) next year.
Japanese billionaire Yusaku Maezawa is going to the Moon. Elon Musk's SpaceX seems to be making good on its 2018 plan to send a private flight around the Earth's satellite. Maezawa has even already selected his companions.
Apple prepares to enter the metaverse. The Cupertino, California giant is widely expected to release its first-ever AR/VR headset, and it's been hiring for dozens of roles.
Cheaper alternatives to AbbVie's blockbuster drug Humira will hit the market. The biopharma company has other ways to protect its market dominance for decades to come.
Pfizer's covid vaccines are about to get pricey. The pharmaceutical company is planning a 10,000% markup as it moves from supplying the US government to the commercial market.
Africa's Super League football tournament drops in August. The annual club competition aims to generate money for participants at an unprecedented scale for the continent.
---
The ins 💅 and outs 🙅‍♀️ of 2023
In: Living with mom and pop
Out: Crying to buy a new home
In: Crypto charges
Out: Crypto B.S.
In: Buy now, pay later
Out: Zelle
In: Firewood
Out: Natural gas
In: Snoop Dogg?
Out: Musk 

---
1️⃣ big thing
China's pivot on its zero-covid policy is going to have big ramifications for the global economy this year. Fewer lockdowns and the loosening of strict pandemic requirements could significantly improve manufacturing and trade with China, helping to ease inflation. But surging covid infections are dashing hopes of a sharp economic recovery, and the lifting of zero-covid—which was a blessing for the EU's oil-scarce economy as China consumed less energy—could push up oil prices in mid-2023.

---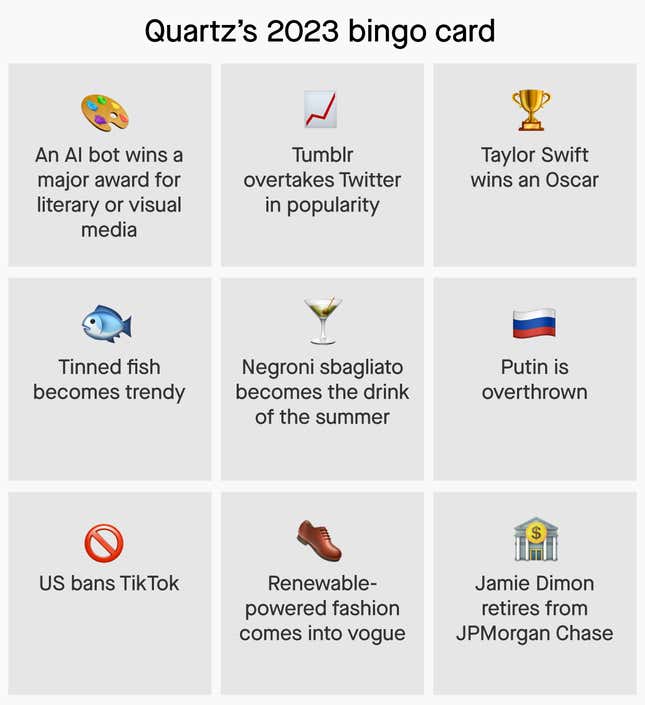 ---
This 1️⃣ work trend we're watching
A number of companies have started cracking down on compliance with return-to-office policies, and our reporters over at Quartz at Work expect that to only increase this year. We know workers would rather quit than go back into the office full-time. What will happen if workers refuse to comply? It's possible the pandemic union boom could lead to organizing new kinds of protections around hybrid work.
---
Our best wishes for a productive 2023. Send any news, comments, tinned fish, and rabbits to hi@qz.com. Reader support makes Quartz available to all—become a member. Today's Daily Brief was brought to you by Amanda Shendruk, Ashley Webster, Gabriela Riccardi, Julia Malleck, Morgan Haefner, Sofia Lotto Persio, and Zach Seward.