Good morning, Quartz readers!

---
Here's what you need to know
Europe has been hit by a winter heat wave. Countries from the Netherlands to Poland have seen their highest January temperatures on record.
The EU fined Meta $414 million for violating privacy law. In a blow to the tech company's digital advertising model, regulators ruled that it cannot force users to agree to personalized ads.
Dubai announced an $8.7 trillion economic plan. The city is seeking to double the size of its economy in the next decade and cement its status as a global financial center.
The WHO warned China is under-reporting covid data. China has reported 22 deaths since December, despite a nationwide surge in infections. Meanwhile, the EU recommended that member states require travelers from China to show negative covid tests prior to departure.
Amazon workers in the UK will strike for the first time. GMB union members, demanding higher pay, are set for a walkout on Jan. 25.
Twitter is lifting its ban on political ads. Suspended three years ago amid misinformation concerns, political ads will return as CEO Elon Musk seeks to boost revenue.
---
What to watch for
The Great Resignation isn't over yet. After alternating between staying steady and declining for nine months, the overall quits rate grew to 2.7% in November from 2.6% in October, according to new data from the US Bureau of Labor Statistics.
The job openings and labor turnover report is the first in a series of data released this week that will give an updated picture of the US labor market, indicating which actions the Federal Reserve might take to stem inflation.
In at least one aspect, the labor market is cooling off: The hiring rate fell from 4% in October to 3.9% in November. But an increase in Americans leaving their jobs is the opposite of what Fed chair Jerome Powell wants to see. Throughout 2022, he has insisted that the job openings and quits rate should decrease and wage growth should slow to help bring down prices.
---
Chinese automakers are becoming shipping companies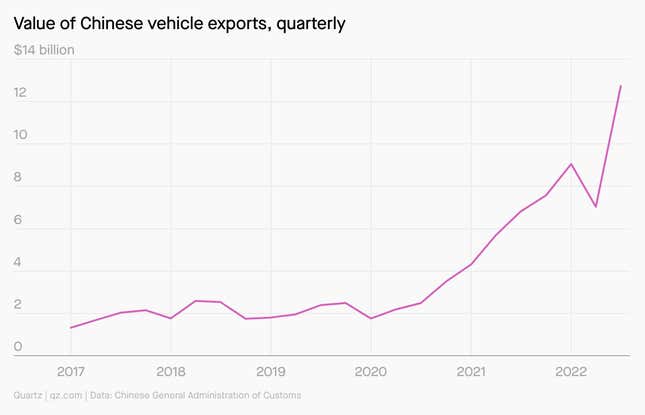 As China's vehicle exports boomed over the past two years, pandemic-related supply chain snarls led to overcrowded cargo ships. So what's an electric vehicle giant like China's BYD to do? Control the verticals of course, becoming at once ship owner and shipping logistics provider.
BYD is no stranger to vertical integration, having started out as a mobile phone battery maker before manufacturing other electronics, auto components, and finally EVs. Now, the automaker has ordered at least six massive car carriers—and the company is tapping into the other end of the process too, scouting for lithium mines in Africa and mining contracts in Chile, the better to make its own EV batteries (and supply competitors with them, too).
Other Chinese car exporters are jumping on board with their own forays into shipping. And not a moment too soon for the Chinese auto industry—there are roughly 750 car carriers in operation worldwide, and China's only got 10 of them.
---
Your work is preventing you from doing your work
This week, Shopify announced a new policy for the calendar-submerged: It's dropping meetings for employees in the new year.
Well, not all meetings. The recurring ones with more than two people will simply be removed from internal calendars, but honestly, aren't those the worst? It's also banning meetings on Wednesdays and for most of Thursdays, giving employees a dedicated block in which they know they'll be able to work.
Shopify's not the first company to do this, but should yours be the next? For Quartz at Work, Gabriela Riccardi makes the case.
✦ If you love stories like these, help keep content like this free and accessible to all by becoming a Quartz member. We're offering 50% off!
---
Quartz's most popular
🙈 Elon Musk's Twitter thinks rockets are "intimate media"
🗳️ US Republicans kept rejecting Kevin McCarthy. How will they pick a House speaker?
💸 More countries are paying people to move out of their overgrown cities
🛠️ Why is Kenya's new digital payments platform so glitchy?
🏥 GE Healthcare's stock market debut kicks off the giant's three-way split
🍿 The biggest movies to watch in theaters in 2023
---
Surprising discoveries
Europe's hottest airport is... Istanbul beat out Amsterdam, Paris, and Frankfurt with 1,156 daily flights on average in 2022.
An adult circus bought an entire town in the Mojave Desert. Spiegelworld paid $2.5 million cash for Nipton, California.
Nine croc heads were found in an Egyptian necropolis. And scientists are scratching their heads (their own, not the crocs') over why they were not mummified.
Slow and steady really does win the race. Running at a slower pace may actually have a bunch of benefits.
A cookable camera has hit the market. A new device can livestream your culinary endeavors from inside the oven.
---
Our best wishes for a productive day. Send any news, comments, oven channels, and city councilclowns to hi@qz.com. Reader support makes Quartz available to all—become a member. Today's Daily Brief was brought to you by Nate DiCamillo, Mary Hui, Sofia Lotto Persio, Julia Malleck, and Susan Howson.