Good morning, Quartz readers!

---
Here's what you need to know
Tens of thousands of travelers flew in and out of China. The lifting of pandemic travel restrictions will bring relief to tourism hubs around the world. Meanwhile, critics of China's covid U-turn are being suspended on social media.

Jack Ma will relinquish control of Ant Group. A regulatory crackdown prompted changes in governance structure that will shrink the billionaire's stake in the fintech giant from 50% to 6%.
Google called on India's Supreme Court to halt an Android antitrust ruling. It's the tech giant's last-ditch effort to stop an order that could dramatically change how it manages its OS.
German authorities arrested an Iranian man suspected of planning a deadly chemical attack. US security officials tipped police off to the possible plot.

North India was hit by severe cold weather. Temperatures in Delhi dropped to 1.9°C (35.4°F) yesterday, and dense fog affected road, rail, and air travel.
A bus collision in central Senegal killed 40 people. President Macky Sall has called for three days of mourning and increased discussions around road safety.
---
What to watch for
Japan's prime minister Fumio Kishida will embark on a whirlwind tour of G7 countries this week, starting from France on Jan. 9 before heading to Italy, Great Britain, Canada, and finally landing in the US, the tour's last stop.

The trip comes as Japan assumes the rotating chair of the G7 group this year, with plans to host the group's summit in Hiroshima this May. The agenda for the meeting will be a focus of Kishida's discussions with fellow world leaders. Talks at the White House will be touching on issues including the war in Ukraine, North Korea's ballistic missile program, and regional stability along the Taiwan Strait.

Kishida will also be stressing the need for disarmament with his G7 partners, planning a panel on a world without nuclear weapons at the May summit. Joe Biden received an invitation to become the first sitting US president to visit Nagasaki, a city destroyed by a US atomic bomb in 1945.

---
Prince Harry's bungled book launch
The contents of the much-anticipated tell-all memoir Spare were supposed to be a tightly guarded secret before publication. Now, thanks to a logistical mistake, readers across Spain will be diving into the sordid details of the Duke and Duchess of Sussex's messy exit from the UK's royal family.
The leak is a major headache for Penguin Random House, as the official release on Tuesday is set to be one of the publisher's biggest launches this quarter.

Let's take at look at the couple's burgeoning content kingdom:

📚 Book Deal: Penguin Random House first announced the publication of Harry's memoir Spare in July 2021. Harry's multi-book deal is said to be worth at least $35 million, though he's pledged to donate a portion of the profits to charity.

📺 Netflix: Harry and Meghan signed a multiyear deal reportedly worth between $100 million-$150 million. Their first special picked up 82 million hours of streaming in its first week.

🎧 Spotify: The Duke and Duchess reportedly signed a multi-year podcast deal for $25 million. The first episode featured their son Archie's first words.
---
America's H-1B visa are getting pricier
The H-1B is the most sought-after US work visa among foreign professionals. Of the more than 407,000 H-1B visas issued between October 2020 and September 2021, Indians bagged more than 300,000—an overwhelming 74%.

The pre-registration fee for this category is now likely to rise from $10 now to $215—up 2,050%.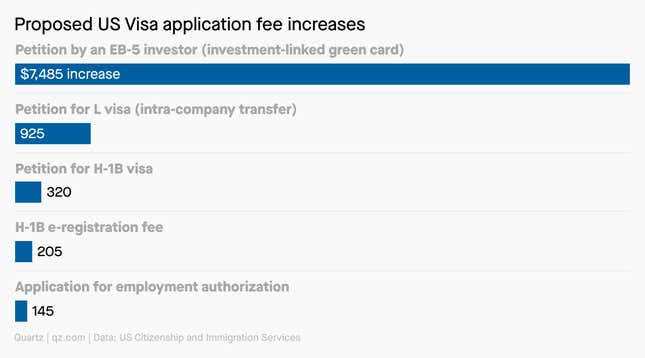 Niharika Sharma explains how these higher fees will play out for Indian employees.
✦ Love stories like these? Help keep content like this free and accessible to all by getting a Quartz membership. We're offering 50% off!
---
Quartz's most popular
1️⃣ Inflation is too important to be left to the central bankers
😩 Major crypto players Genesis and Silvergate are feeling the impact of FTX's collapse
🛍 Walgreens realized theft isn't as big an issue as litigation costs
🚊 Lagos gets a new elevated rail network
🤨 Does the US speaker of the House need to be in Congress?
👎 The more UK residents live with Brexit, the less they like it
---
Surprising discoveries
If a hamster wheel is left in the forest, creatures will just start using it. Wild mice love taking a spin, as do slugs and frogs.

A new machine is helping digitize audio from wax cylinders. Its laser can read the delicate grooves without damaging them.

Stop at the Moon if you need personal care products while in space. Nail clippers and ear plugs are just some of the human objects that have been left behind.

Antennas are appearing in the foothills around Salt Lake City. Public land managers have found about a dozen of the mysterious devices.

Ancient Romans had a secret ingredient that made their concrete extra durable. White chunks known as lime casts have allowed structures to heal their own cracks.
---
Our best wishes for a productive day. Send any news, comments, hamster exercises, and Moon products to hi@qz.com. Reader support makes Quartz available to all—become a member. Today's Daily Brief was brought to you by Diego Lasarte, Sofia Lotto Persio, Julia Malleck, and Morgan Haefner.