Good morning, Quartz readers!

---
Here's what you need to know
The World Bank cut its 2023 global forecast. Economic growth is projected to slow to 1.7%, down from last June's 3% estimate, skirting "perilously close" to a recession.

China suspended travel visas for South Korea and Japan. It marks Beijing's first retaliatory move against countries with covid-related entry curbs on Chinese travelers.
BMW was the top-selling luxury car brand in 2022. The German carmaker beat Mercedes-Benz for the second year in a row, and is expanding its EV line-up in China. In the aerospace industry, Airbus maintained its spot as the number one jetmaker in 2022.
Coinbase is laying off 20% of employees. In its third round of cuts year, the crypto exchange is eliminating around 950 jobs to weather a market downturn.
Hackers targeted Denmark's central bank. Seven other private banks, including two of the country's largest, were also hit by distributed denial of service (DDoS) attacks.
2022 was the fifth warmest year on record. According to EU scientists, it was also the second warmest year on record for Europe.
The first space launch on British soil failed. Virgin Orbit's LauncherOne rocket was unable to enter orbit due to an "anomaly."
---
What to watch for
India's biggest automobile show, Auto Expo, is revving up after a three-year break. The week-long event starts today (Jan. 11) in New Delhi.
Over 100 carmakers are expected to roll in, with brands planning to launch at least 50 new models, most of which are expected to be from the electric and alternative fuel segments. India's biggest car maker, Maruti Suzuki, is slated to unveil its first-ever electric SUV, and China's BYD—which unseated Elon Musk's Tesla as the world's largest EV maker—will be showcasing its new electric sedan, Seal.
Despite India recently being declared the world's third largest market for car sales after China and the US, European luxury carmakers Mercedes-Benz, BMW, and Audi are skipping the event. It'll be up to Japan-based Lexus to bear the torch for the luxury car market at Auto Expo.
---
Cheers, ozone layer
Europe may have just experienced one of its hottest years on record, and California may be enduring a "parade of cyclones," but there's a sliver of good climate news: The Earth's ozone layer is on track to fully recover within the next four decades.
The 9- to 18-mile high atmospheric layer that protects humans from harmful ultraviolet rays emitted by the sun had been damaged by chlorofluorocarbons (CFCs) and halons. But now researchers have found a significant thickening of the ozone layer even compared to 2018 levels. Scientists credit the change to a decline in airborne chemicals, finding that nearly 99% of banned ozone-depleting substances have been phased out.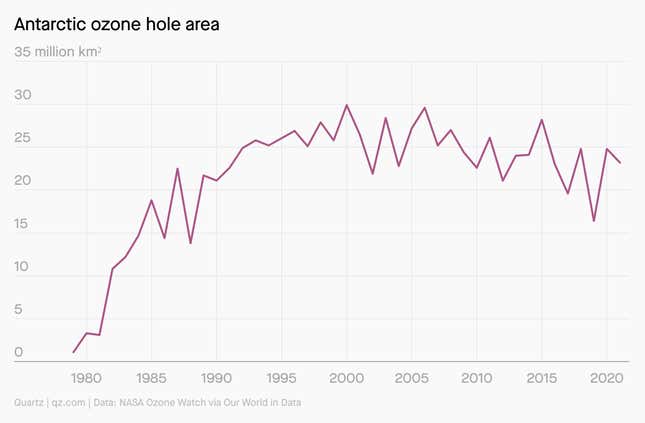 Swift action on ozone depletion "sets a precedent for climate action," says World Meteorological Organization secretary-general Petteri Taalas. "Our success in phasing out ozone—eating chemicals shows us what can and must be done–as a matter of urgency—to transition away from fossil fuels, reduce greenhouse gasses and so limit temperature increase."
---
Not all global economies are looking shabby
The World Bank is glum on global economic growth at-large, but the organization is more upbeat about Senegal, predicting that the west African country's economy will see impressive growth in 2023 and beyond.
In fact, by 2024, Senegal's GDP could be growing faster than its peak rate of 8.9%, set in 1976. There are a few reasons why, and they almost all have to do with digging.
✦ Love stories like these? Help keep content like this free and accessible to all by getting a Quartz membership. We're offering 50% off!
---
Quartz's most popular
🤳 Was Boris Johnson deleted from a photo celebrating the Virgin Orbit launch?
💰 US Republicans' new bill makes tax fraud easier for high earners
🍔 McDonald's ex-CEO is paying $400,000 for obscuring the reason behind his termination
➡️ Apple's $2.5 billion iPhone shipments from India hint at a major manufacturing shift
🩺 Nurses in New York City strike to protest staff shortages and low wages
🚜 John Deere will allow farmers to fix their own tractors
---
Surprising discoveries
Car plates in the Golden State got hacked. Researchers accessed driver data and location through California's digital plates.
Hamsters are once more welcome in Hong Kong. A year-long, covid-era import ban has been lifted.
The hippest apartments in Japan have no baths. Young renters are flocking to public facilities to cut expenses and socialize.
Honeybees can now get vaccinated. The US Department of Agriculture greenlighted the first-ever jab for insects.
The T-rex had both brains and brawn. With 3 billion neurons firing, they may have been as smart as primates.
---
Our best wishes for a productive day. Send any news, comments, low-tech car plates, and hamster (not T-rex) imports to hi@qz.com. Reader support makes Quartz available to all—become a member. Today's Daily Brief was brought to you by Niharika Sharma, Ananya Bhattacharya, Sofia Lotto Persio, Julia Malleck, and Morgan Haefner.