This is a special edition of the Daily Brief. Sign up for more updates from the World Economic Forum by subscribing for our Need to Know: Davos 2023 newsletter.

---
Welcome back, Davos delegates and WEF watchers!

At the last meeting of the World Economic Forum, a frequent conversation topic was how soon it would be time for the next one. And now, seven months later, it's here.
Wise to the fact that business and political leaders have a multitude of emergencies competing for their attention, the WEF put a telling subhead on its official "Cooperation in a Fragment World" theme: Addressing pressing crises, tackling future challenges.
What's interesting is how different the array of crises looks now versus the last WEF meeting. Covid has faded even further into the rearview mirror, natural gas prices are well off last year's peak, and the stock market has learned to live with valuations that are slightly more tethered to facts on the ground. There are other big worries now. Can central banks calibrate rates just right to bring down inflation without triggering a global recession? Will governments and the private sector respond more forcefully to climate change? (That's been a concern at Davos for the past several years, but extreme weather events like Europe's heat wave last summer have raised the stakes.) And can AI be developed responsibly? (See all the recent chatter about ChatGPT.)
Those are all topics Quartz will be following closely this week in Davos. Drop us a line, or a hot tip, or any invitations to hard-to-get-into cocktail receptions. We'd love to hear from you.
---
❄️ WHITHER THE WEATHER
Part of the feeling of how much the world has changed between the last WEF and this one has to do with the skies above Davos. A wave of omicron-variant covid in the winter of 2021-22 pushed last year's jamboree to May. WEF-ing in springtime: unprecedented. Delegates could wear their finest patent-leather shoes without worrying about ruining them in the snow or slipping on ice. No heavy coats were in sight. But this time...bundle up.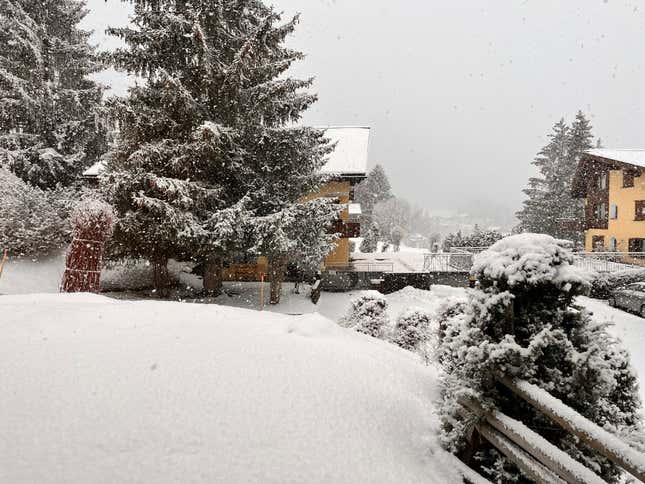 Contrary to the predictions we heard here in May, Europe has been having a warmer winter than usual, much to Vladimir Putin's dismay, and Davos's famed ski slopes, haunted by CEOs pre- and post-WEF, were sere and brown in early January.
It did finally snow last week, and again on Jan. 15, the afternoon before WEF commenced, raising hopes of an apres-WEF ski. But the week ahead promises to turn frigid, with subzero temperatures and sidewalks glazed with ice. If you're here, put away your brogues; you will need your most robust boots.

---
🏁 HERE, NOT HERE
Here: There will be at least 634 CEOs in Davos this year, or nearly one in four attendees. Big names include:

🛢️ Wael Sawan (Shell)
🛒 Andy Jassy (Amazon)
🏦 Jane Fraser (Citigroup)
💉 Stéphane Bancel (Moderna)
Other attendees include a handful of household names and some members of royalty:

🎭 British actor Idris Elba, and his wife Sabrina Dhowre Elba, who is a UN goodwill ambassador
💵 Jared Kushner, Donald Trump's son-in-law and founder of private equity firm Affinity Partners
🎤 will.i.am, member of the Black Eyed Peas and CEO of the i.am/Angel Foundation

👑 Máxima (queen of the Netherlands), Mathilde (queen of the Belgians), and Albert II of Monaco (prince of Monaco)
Not here: The George Soros dinner at Davos has been a tradition: a white-tablecloth, sit-down affair for journalists at the Hotel Seehof, during which the host delivers his view of the world. This year, though, the press will be deprived of Soros's dark (and frequently, but not always, correct) geopolitical analysis. It's a rare absence from the WEF by the nonagenarian investor, who (we are told) had a scheduling conflict. He will instead give a speech at the Munich Security Conference in February.

Also not here: Elon Musk, whose recent words about WEF didn't indulge the conspiracy theories preferred by some of his followers, but were also…not very kind.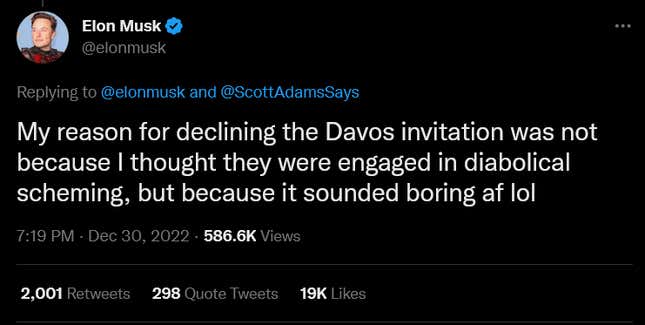 ---
👀 WHAT TO WATCH FOR TODAY
The first Monday of WEF 2023 is a slow one; time enough to beat jet-lag and suck soothing lozenges, so that the networking can begin in earnest the following day. The only three events on the official agenda are:
The Crystal Awards. Hilde Schwab, the first lady of WEF, hosts an event honoring the global activist work of singer Renée Fleming, artist Maya Lin, actor Idris Elba, and model Sabrina Dhowere Elba.

The Red Sea recital. In a concert titled "I Sea You" (get it?), musicians from Egypt, Israel, Jordan, and Germany are backed by immersive footage of the Red Sea corals.
Calling all climate-conscious folks. The first WEF Open Forum, which all members of the public can attend, buttonholes seven speakers about the virtues of a climate-positive lifestyle.
---
🌏 NEWS FROM ELSEWHERE

China said 60,000 people have died in the past month from covid. The number, likely an undercount, is the first official toll since the government abandoned its zero-covid policy.

Russian forces struck an apartment block in the Ukrainian city of Dnipro. At least 21 people died and 72 were wounded in one of the worst missile attacks against civilians since the war started.

More than 80,000 Israelis protested against judicial reform. A new far-right government, led by prime minister Benjamin Netanyahu, wants to give parliament more power over Supreme Court rulings.
A plane crash in Nepal killed at least 68 people. The Yeti Airlines crash, near the Himalayan town of Pokhara, is Nepal's worst aviation accident in 30 years.
---
🤓THANKS FOR READING QUARTZ!
Want more carefully curated news items like this in your inbox? Every weekday, the Quartz Daily Brief delivers the most important and interesting news from the global economy, straight to your email. Sign up here.
Our best wishes for a productive day. Today's Need to Know: Davos was brought to you by Heather Landy and Samanth Subramanian.