Good morning, Quartz readers!

---
Here's what you need to know
Toyota and Honda hiked wages. The Japanese carmakers agreed to raise pay by an amount not seen in at least two decades, putting the pressure on other large companies to do the same.
Russia and China flaunted their ties. The Chinese Communist Party's foreign policy leader Wang Yi traveled to Moscow to meet with his counterpart Sergey Lavrov, while US president Joe Biden met with European leaders in Poland.

Asylum requests soared in the EU last year. Applications neared 1 million, a level that hasn't been recorded since the 2015 migrant crisis.
Apple neared a healthcare breakthrough. The iPhone maker is inching closer to getting its Apple Watch to read blood sugar levels without a prick.
South Korea beat its own record for world's lowest birth rate. The country has spent more than $200 billion over the past 16 years to address its declining population, to no avail.
Drought trends look grim in the Horn of Africa. Sparse rainfall is making projections worse than they were during the 2011 famine, which killed hundreds of thousands of people.
British lawmakers accused tax authorities in India of intimidation. BBC offices in Delhi and Mumbai have been under investigation after a documentary that was critical of prime minister Narendra Modi aired.
Baidu's Ernie Bot is coming in March. Yes, the Chinese search giant has a ChatGPT rival, and yes, it has the best name so far.
---
What to watch for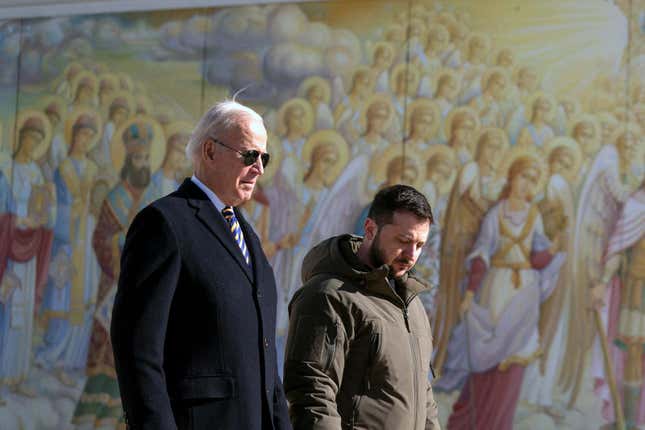 Leaders of the G7 nations will hold an online meeting with Ukrainian president Volodymyr Zelenskyy on Friday (Feb. 24) in a show of solidarity with the country as it marks one year since Russia invaded.
Zelenskyy is likely to ask for more military equipment, such as fighter jets. It's an ongoing demand that has been dominating talks with foreign heads of state as Ukraine's military leaders worry that Russia will launch a major new offensive on the anniversary date.
US president Joe Biden agreed to send tanks to Ukraine last month, but not fighter jets—a position held by other allies such as the UK. In both countries, however, there are growing calls to meet Ukraine's demand.
At a grassroots level, Ukrainians abroad have organized rallies in 38 countries over Feb. 24-25 to demonstrate continuing support as the war enters its second year.
---
Charting the US labor movement
You know how the saying goes: United we bargain, divided we beg. US workers seem to be taking the phrase to heart these days. With the rise of labor power during the pandemic, pro-union sentiment in the US has reached record highs, and new data reflects how this changing attitude has translated into action.
A report released on Feb. 21 from Cornell University's School of Industrial and Labor Relations finds that worker stoppages swelled from 2021 to 2022.
Here's how the numbers stack up.

We've got two other charts for you, breaking down the top industries that are organizing labor actions, and the biggest demands from workers in 2022. Roll up your sleeves, this data is worth digging into.
---
Science fiction's getting too sci-fi
Neil Clarke, who founded one of the most renowned science fiction magazines called Clarkesworld, is facing a very sci-fi problem: AI.
The publication lets users submit stories but has recently been inundated with entries written by generative AI tools like ChatGPT. The volume of work being submitted was so severe that it drowned out fiction written by humans, leading Clarke to halt open submissions altogether.
✦ Love stories written by real people? Help keep our content free and accessible by picking up an annual membership. We're offering 50% off (no robots included).
---
Quartz's most popular
💪🏿 How Ghana and Gambia are planning to bolster their digital economies
📉 A month after the Hindenburg jolt, Adani continues to bleed
🫣 The Mormon Church hid $32 billion in shell companies
🏝️ UK firms tried a four-day week and loved it, for the most part
🗳️ Where are Nigeria's women in the upcoming elections?
🫶 Why we need a more inclusive approach to grief at work
---
Surprising discoveries
Nautical-themed lunchtime is back in the White House. The "Navy mess" is reopening after three years of covid restrictions.
AI may have authenticated a Raphael painting. It only took humans 30 years to come to the same conclusion.
Your first gen iPhone could be a smash hit. Preferably at auction, and not on the floor.
A weird ball washed up on a beach in Japan. It's not of the beachball variety, and definitely has Junji Ito energy.
Speaking of scary manga… one popular series is indecipherable. Cipher Academy's translator called it quits after finding its lipogram puzzles impossible to interpret.

---
Our best wishes for a productive day. Send any news, comments, fish sticks, and beachballs to hi@qz.com. Reader support makes Quartz available to all—become a member. Today's Daily Brief was brought to you by Sofia Lotto Persio, Shivank Taksali, Julia Malleck, and Morgan Haefner.