Good morning, Quartz readers!

---
Here's what you need to know
A US agency said the pandemic likely started after a leak from a Chinese lab. The Energy Department joins the FBI in this assessment, according to The Wall Street Journal, but four other agencies still say natural transmission spread covid, and two are undecided.
G20 finance leaders failed to agree on a closing statement for their India summit. The gridlock came because China refused to condemn Russia's invasion of Ukraine "in the strongest terms."

Results from Nigeria's presidential election rolled in. Final results aren't expected for several days.

Israel and Palestine said they're committed to de-escalating violence. The talks come as two Israelis were killed in the occupied West Bank on Sunday, just days after 11 Palestinians died in a raid.

A shipwreck off Italy's Calabria coast killed at least 59 migrants. The overloaded boat carrying roughly 150 people sank after hitting rocks amid rough seas.

A British family wants to amend its slave ownership past. Members of the Trevelyan family are launching the Reparations Research Fund at the University of the West Indies today.
---
What to watch for
The UAE is about to celebrate another milestone on its journey to space dominance. Emirati astronaut Sultan Al Neyadi is one of four crewmembers set to launch toward the International Space Station (ISS) today (Feb. 27).
Al Neyadi follows in the footsteps of compatriot Hazzaa Al Mansoori, who became the first Arab to go to space on a eight-day mission to the ISS in 2019. Al Neyadi's stay will be longer, up to six months.
The UAE, a country that aims to set up a Mars colony by 2117, isn't the only Arab nation with galactic ambitions. Saudi Arabia, which launched its first astronaut program last year, plans to send two of its citizens to the ISS as part of the Ax-2 mission that it's conducting with Houston-based Axiom, and that will make Rayyanah Barnawi the first Saudi woman to go to space.
---
Which generation had it best?
Wealth inequality is a perennial topic in the US, and a common Millennial lament is that they're worse off than their Baby Boomer parents. But that may not necessarily be true.
Jeremy Horpedahl, an economist at the University of Central Arkansas, has found that when measuring wealth in per capita terms, Millennials are actually as wealthy as Boomers were at their age, and Gen X (born between 1965 and 1981) is wealthier now than Boomers at the same age.
That said, inequality within generations has been increasing, with the richest Boomers wealthier than previous generations, while the poorest have become even poorer. Horpedahl is optimistic about Millennials' future financial prospects, but one key factor to watch is homeownership. Treating housing as primarily a wealth-building investment is likely to exacerbate inequality.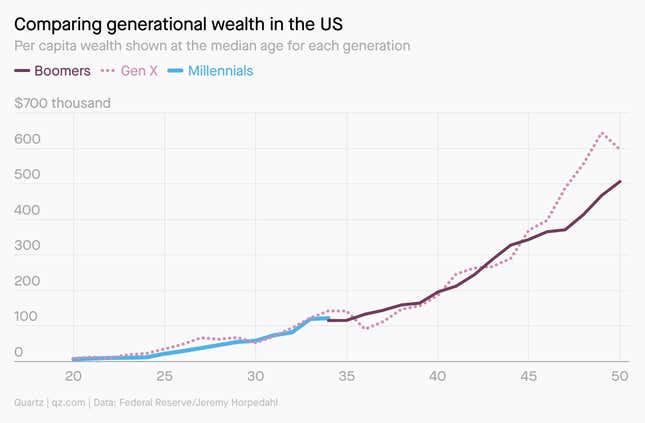 ---
The Quartz Obsession podcast is branching out
What do pasta, disco, and Google docs all have in common? Not much, admittedly, except that like most items we interact with daily, their stories get complicated once you start asking where they came from and what they tell us about the forces that are changing the way we live.
That's the idea behind the Quartz Obsession podcast, back for its fourth season. The first episode will look at how the seemingly altruistic act of planting trees might be doing more harm than good for our planet.
✅ Subscribe on: Apple | Spotify | Google | Stitcher
---
Quartz's most popular
🇺🇦 Ukrainians keep returning home as the war enters its second year

🇷🇺 How Russia's economy unexpectedly survived a year of war and sanctions
🚀 NASA and SpaceX will send their next crew to the International Space Station
🍎 High energy prices and Brexit are causing a fresh produce shortage in the UK 

📺 Ozy Media's founder was arrested after two former executives admitted to fraud
⛽️ How much money did India save in a year by buying Russian fuel?
---
Surprising discoveries
A planet the same size as Jupiter was found outside of our solar system. But TOI 5205b is orbiting a much smaller star than our sun, challenging theories on planet formation.

Alphabet's layoffs didn't just affect humans. A unit making one-armed robots to open doors and clean up trash was shut down amid budget cuts.

AI can now interpret the different emotions of pig noises. We'd gladly give the job of listening to 7,000 recordings from 411 snouts to robots.

An SOS signal cost one hiker $300,000. A fire intended to catch the attention of authorities also set 230 acres ablaze.

The earliest bow and arrow used in Europe was found. The 54,000-year-old weapon was used by Homo sapiens to hunt bison and horses in France's Rhône Valley.
---
Our best wishes for a productive day. Send any news, comments, jobs for robots, and flame-resistant SOS signals to hi@qz.com. Reader support makes Quartz available to all—become a member. Today's Daily Brief was brought to you by Ananya Bhattacharya, Tim Fernholz, Sofia Lotto Persio, Julia Malleck, and Morgan Haefner.