Good morning, Quartz readers! Today, our readers are interested in learning how companies can better understand neurodivergent employees.

---
Here's what you need to know
California hit back at Walgreens over its family planning stance. Governor Gavin Newsom said the state would boycott the company because it backed out of selling abortion pills in Republican-run states.
Marlboro's parent company switched vaping sides. Altria plans to acquire e-cigarette maker NJOY for $2.75 billion, after its $12.8 billion investment in Juul blew up.
WeightWatchers wants in on the digital health business. The dieting company is buying Sequence, which offers telehealth appointments with doctors who can prescribe weight-loss drugs.
The White House urged the UN to investigate the poisoning of Iranian schoolgirls. Dozens of female students have been hospitalized in the country where women have led months-long protests against the government.
Canada appointed a rapporteur on election interference. Prime minister Justin Trudeau ordered an investigation after media reports raised concerns of Chinese meddling in the country's election.
---
What to watch for
Remember when, for a little while at least, it looked like interest rate hikes were going to calm down a bit? When US Federal Reserve chair Jerome Powell appears before various congressional committees and panels today, we're likely to learn those days are behind us.
Of course, things could change. The Fed's decision, scheduled for March 21-22, will be informed by a bunch of data yet to be released:
🤑 Consumer inflation report: (March 10) Although better than last year, inflation could be plateauing at well above the Fed's 2% annual goal. If it maintained January levels, it would suggest the Fed has to maintain a tight fist.
🛍️ Retail sales data: (March 15) A jump would signal the central bank may need to keep rates high.
Read more about the factors at play, and what major banks are predicting for rate hikes in 2023.
✦ Love stories like this? Support our newsroom by becoming a Quartz member. Daily Brief readers get 50% off.
---
Credit Suisse is losing friends, fast
Over the weekend, Credit Suisse's former top shareholder, Harris Associates, announced it had sold its entire stake in the troubled Swiss bank.
It's not hard to see why. Last month, Credit Suisse reported its worst annual loss since the 2008 global financial crisis—7.3 billion Swiss francs ($7.9 billion), to be exact—and intoned some dire predictions for 2023.
110.5 billion francs ($120 billion): Volume of Credit Suisse client withdrawals in the last quarter of 2022.
50%: Decline in the bonus pool for the whole bank. The executive board will receive no bonuses at all for last year.
5: Approximate number of Credit Suisse scandals in the past two years. We've gone ahead and rounded them up for you.
---
In other Swiss troubles…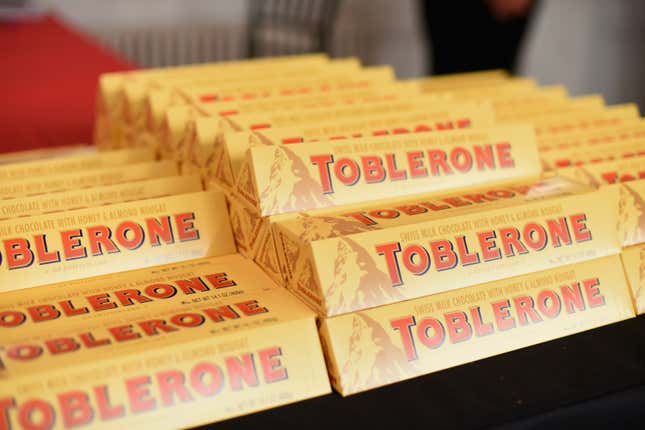 Toblerone is no longer Swiss enough to use the Matterhorn on its packaging. The bar will now say it was merely established in Switzerland, not made in it.

---
Quartz's most popular
🚗 Tesla cut the price of its most expensive models in the US
🥚 Egg freezing is getting a badly needed technology upgrade
📚 Women are now publishing more books than men—and it's good for business

⚡ Are electric vehicles really better for the environment?
📈 Startups in Francophone Africa are on the rise
🔮 Why are humans so bad at predicting the future?
---
Surprising discoveries
The Romanian government hired an advisory robot. And it promptly committed some copyright infringement.
Fungus-killing compounds got a Keanu Reeves namesake. "Keanumycins" are to fungi as Neo is to Agent Smith.
You can change Bing AI's personality type. But why choose a personality when you can shoot the breeze with Matthew McConaughey?
Local seagulls could have a case of plasticosis. The condition is plaguing sea birds' stomachs.
There's a way to end your confusion between "fission" and "fusion." Tune in to episode 2 of the Quartz Obsession, which dives into the potential of a nuclear fusion-powered future.
🎧 Listen on: Apple Podcasts | Spotify | Google | Stitcher
---
Our best wishes for a productive day. Send any news, comments, Keanu namesakes, and Bing personality suggestions to hi@qz.com. Reader support makes Quartz available to all—become a member. Today's Daily Brief was brought to you by Sofia Lotto Persio, Ananya Bhattacharya, Julia Malleck, and Susan Howson.