Good morning, Quartz readers!

---
Here's what you need to know
US taxpayers won't bail out Silicon Valley Bank. The US government will focus on helping depositors recover their money, but the US's second-largest banking collapse to date has repercussions across the world, including India and China. In the UK, HSBC has struck a deal to buy the bank's British arm for £1 ($1.21).
JP Morgan lent First Republic Bank a hand. The California-based bank secured funding from the Wall Street giant that gives it more than $70 billion in unused liquidity.
Sanofi is buying Provention Bio for $2.9 billion. The French pharma giant is offering $25 a share for the US-based company known for its diabetes treatment.
Everything Everywhere All at Once dominated the Oscars. The night was a triumph for the multiverse action film that beat All Quiet on the Western Front in taking home the most awards.
What to watch for
Abu Dhabi National Oil Company (ADNOC) Gas is launching on the Abu Dhabi stock market today (Mar. 13). Having raised $2.5 billion at a $50 billion valuation, it'd be a blockbuster IPO by any standard, but it's also the world's largest so far this year.

The listing is remarkable for its size, but it won't be a one-off. Countries in the Persian Gulf, and the UAE in particular, are going to see a wave of sizable debuts on bourses this year. Ananya Bhattacharya looks into what 2023 holds for the region's capital markets.
---
The US is thawing
Spring arrived at least 20 days early for many parts of the US this year, most notably in the northeast. The trend is likely to continue. In fact, the entire contiguous US as well as Alaska could see fewer frozen days by 2040, according to data from the Climate Impact Lab.
Quartz's Clarisa Diaz breaks down why analysts aren't feeling too hot about fewer cold days.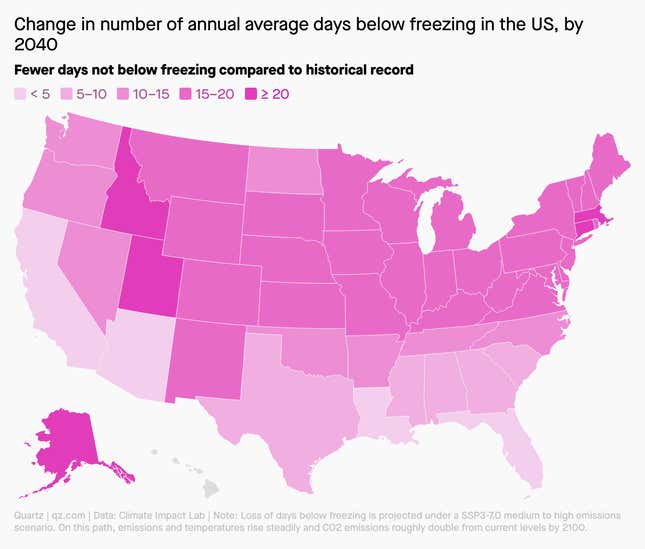 ✦ Do you rely on stories like this to stay in the loop? Support our newsroom by becoming a Quartz member, and take 50% off.
---
Quartz's most popular
💉 How many lives an equitable vaccine rollout could have saved
🪢 Why Saudi Arabia and Iran agreed to restore ties
✂️ GM is doing job cuts a little differently
☠️ India linked a chemical supplier to cough syrup deaths
🏃🏽‍♀️ The Fed will likely speed up rate hikes 
💬 Reddit is shutting down its Clubhouse-style feature Talk
Surprising discoveries
White vans are losing their stereotype... In the UK, 43% of drivers are women, and a lot of them eat avocados and do yoga.

… and so is the boozy UK. Young Brits are drinking a lot less alcohol and opting for sobriety.

The evolution of tool use may have been more accidental than intentional. TL;DR: we might not be as smart as we thought.
Without grazing sheep, we wouldn't have Pompeii's ruins to study. Unruly grass, be gone!
Sometimes too many trees means too many fires. Abandoned lumber forests or tree-planting efforts can mean unchecked growth that fires love to eat. Silicon Valley is coming up with solutions.

🎧 Listen to the "Firetech: A match for the Valley," the latest episode of the Quartz Obsession podcast on: Apple Podcasts | Spotify | Google | Stitcher
---
Our best wishes for a productive day. Send any news, comments, mocktails, and helpful sheep to hi@qz.com. Reader support makes Quartz available to all—become a member. Today's Daily Brief was brought to you by Clarisa Diaz, Sofia Lotto Persio, Julia Malleck, and Morgan Haefner.