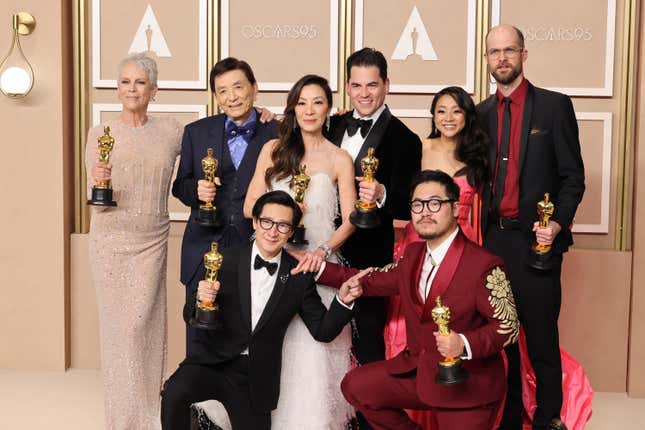 A champagne carpet—not red—was rolled out Sunday (March 12) for the 95th Academy Awards, breaking a decades-long tradition in a night of historic firsts. The slapless affair proved a smashing success for Everything Everywhere All at Once, which picked up seven awards including Best Picture.

Eric Beiley Part II: Where rates are heading
Nominated for 11 Oscars, the sci-fi-action-comedy-family drama also dominated the acting categories, winning honors for Best Actress (Michelle Yeoh), Best Supporting Actress (Jamie Lee Curtis), and Best Supporting Actor (Ke Huy Quan). Daniel Kwan and Daniel Scheinert, a.k.a. "The Daniels," also won Best Director and Best Original Screenplay.
The directing duo delivered a joint speech, where they dedicated the film to "all the mommies in the world." Scheinert thanked his parents for letting him dress in drag as a child, in a possible allusion to Tennessee's recent ban on the practice.
Kwan closed out the remarks, stating: "There is greatness in every single person, it doesn't matter who they are. If you have a genius that is waiting to erupt, you just need to find the right people to unlock that. Thank you so much everyone who has unlocked my genius."
Who else won awards at the 2023 Oscars?
It was a big night for Asian representation at this year's show. Yeoh made history as the first person of Asian descent to win the award for Best Actress. The 60-year-old Malaysian star, who began her film career in Hong Kong, was the favorite to win, having already picked up the awards for her performance at the Golden Globes and Screen Actors Guild Awards, among others.
Yeoh's win marked only the second time in the Oscar's 95-year-history that a woman of color has been honored with the Best Actress award. Halle Berry won the Oscar for Monster's Ball in 2002.
The Telugu-language film RRR bagged Best Original Song for the explosive and exuberant "Naatu Naatu." Introduced at the awards ceremony by Deepika Padukone as "a total banger," the song beat out the likes of Lady Gaga and Rihanna, just as it did earlier this year at the Golden Globes.
India celebrated another victory when The Elephant Whisperers won the award for Best Documentary Short. Guneet Monga, the film's producer, remarked on Instagram that it was the first-ever win for an Indian production at the Oscars.
Capping off the feel-good night was a win for the fan-beloved Brendan Fraser, who won the Best Actor award for his performance in The Whale.
Quotable: Michelle Yeoh's heartfelt Oscar dedication
"I have to dedicate this to my mom, all the moms in the world, because they are really the superheroes, and without them none of us would be here tonight. She's 84, and I'm taking this home to her. She's watching right now in Malaysia with my family and friends. I love you guys. I'm bringing this home to you."
—Michelle Yeoh, accepting the award for Best Actress in Everything Everywhere All at Once at the 95th Academy Awards
The 2023 Oscar winners in one chart