Good morning, Quartz readers!

---
Here's what you need to know
Tesla made a record number of deliveries in the first quarter. Globally, the EV maker shipped 422,875 cars, an increase that came after it slashed prices in January to boost demand.
Swiss prosecutors probed UBS's takeover of Credit Suisse. The government-backed deal has caused complaints among shareholders, who incurred losses in the transaction.
Huawei saw a big decline in annual profit. The Chinese telecommunications giant said strict pandemic restrictions and rising commodity prices hampered sales, but didn't talk much about American chip sanctions.
Donald Trump's arraignment was scheduled for April 4. The former US president is expected to turn himself in after being indicted in a case that centers on a $130,000 hush money payout to the adult film star Stormy Daniels.
---
Who is the investor behind Virgin Orbit's failed rescue?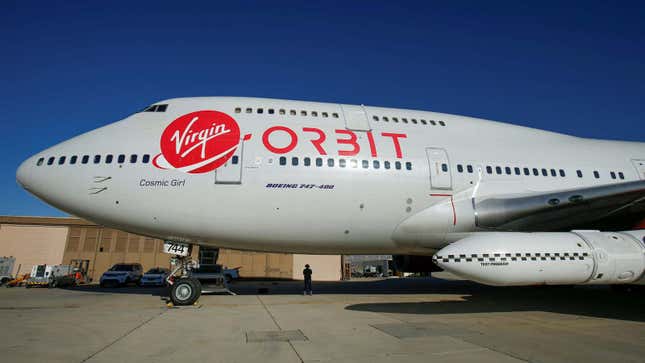 According to a Virgin Orbit employee not authorized to speak publicly, the team at the rocket-maker was first elated by news of a potential rescuer, then dismayed by more of what they learned about Matthew Brown as the deal crumbled.
That's an excerpt from Quartz reporter Tim Fernholz's investigative story into Brown, the investor behind Virgin Orbit's failed $200 million rescue. After weaving through a trail of questionable claims about his business experience, only one thing is for sure: As Fernholz writes, the future of Virgin Orbit and its employees no longer hangs in the hands of a 33 year-old investor—if it ever did. Read the full story.
---
The fully remote crowd is shrinking
Despite several large firms predicting that remote work would be a permanent option, if not the only one for their employees moving forward, something is shifting: a hybrid situation, it turns out, is winning.

Is this shift happening at your company, and if so, how is it being handled? We're currently accepting submissions for our annual Best Companies for Remote Workers report, and we want to know if your company, whether it's fully remote or not, should make our list!
---
West Africa is revving up its electric bike fleet

3,750,000: Tons of carbon emitted by zems, or motorcycles, in Benin each year
The roads of the west African nation of 13 million people are filled with zems, but that transportation mainstay could lose its prominence as more electric bikes hit the pavement. And you might be surprised where all those e-bikes are being imported from.
✦ Love stories about how global travel is changing? Help keep our content free and accessible to all by becoming a member. Daily Brief readers get 50% off.
---
Quartz's most popular
😮‍💨 The UK's new climate plan goes big on carbon capture—and fossil fuels
🙄 Nobody has donated to Tennessee's anti-abortion monument
😬 The "world's biggest startup funding festival" that never was
🐭 Meta, Microsoft, and Disney are reversing their bets on the metaverse
🤐 The negative impacts of quiet firing and what to do instead
🤑 The US is reducing tax credits for foreign-made EV models
---
Surprising discoveries
Solar can now power one in five US homes. Utility use of the energy has increased by a whopping 91% since 2019.
Plants make sounds when they're stressed. The noise emitted can carry information about their type and conditions.

The flattest explosion ever recorded in space was called "the Cow." It's baffling scientists.

Cystic fibrosis may get a new treatment that uses nanoparticles. The molecules deliver RNA that can edit genes in the lungs.

A celestial light show is being created from Earth. A new artificial shooting star display has purposes beyond entertainment though.
---
Our best wishes for a productive day. Send any news, comments, plant music, and drawings of "the Cow" to talk@qz.com. Reader support makes Quartz available to all—become a member. Today's Daily Brief was brought to you by Morgan Haefner.

Correction: In Friday's Daily Brief, we referred to new changes that the Securities and Exchange Commission is making around insider trading as a tax loophole. It's not, it's a loophole for corporate executives selling company stock.