Good morning, Quartz readers!

---
Here's what you need to know
Bids rolled in for First Republic. The US Federal Deposit Insurance Corporation wants all or some of the struggling bank's assets sold. JPMorgan, Citizens Bank, and PNC have submitted bids.

Google lost its bid to dismiss a wide-ranging antitrust case in US federal court. That renews a federal investigation into the company's dominant advertising business.

Africa's largest power firm is shedding $55 million a month. Theft and corruption are stripping Eskom of its profits and plunging South Africa's economy into darkness.
The Glazer family got an earful over its potential Manchester United sale. Demonstrators rallied against the owners yesterday ahead of their deal announcement, which could come this week.
---
US governments are spending so much they're propping up GDP
It's not news that government spending boosts gross domestic product. But the latest GDP numbers in the US suggest that government spending is also increasing private investment, compounding its influence on economic growth.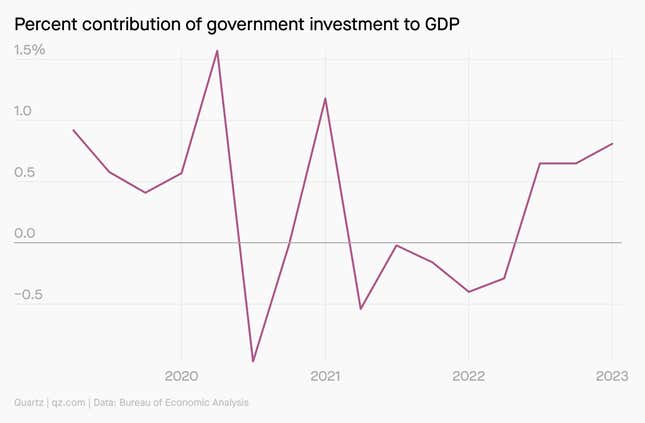 For example: There's been uncharacteristically fast investment growth in a category called special machinery equipment, which includes equipment to create semiconductors. It's clear the CHIPs Act—a 2022 US law providing $280 billion in new funding for the domestic research and manufacturing of semiconductors—is swaying investors.
---
The sad state of sustainability
12%: Share of roughly 140 Sustainable Development Goals, set by the UN, that are on course to meet their 2030 deadlines.
It's not a great look for the key global ambitions that were made to encourage work on a range of issues, from ending gender inequality to preserving ecosystems to eradicating hunger. But there are three areas where at least a little progress is being made.

---
Paraguay's presidential election is a referendum on China
Paraguay, the landlocked country bordering Brazil and Argentina, is the last holdout in South America to still recognize Taiwan. That has prevented lucrative agricultural exports to China, which is why Taiwan has become a key factor in Paraguay's presidential election.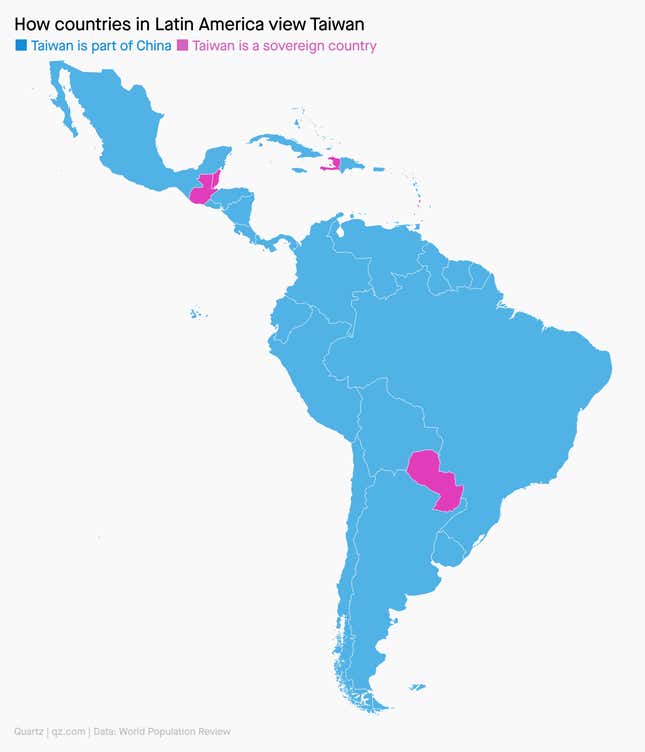 While China has not made any promises to Paraguay, there is a clear reason for Taiwan's dwindling presence in Latin America: China's unprecedented investment in the region.
---
Quartz's most popular
📑 The lexicon of the Biden economy
🔌 Every fifth car sold worldwide this year will be electric
😮‍💨 The problem with valuing resilience as a skill in the workplace
🫦 Elon Musk is courting fresh FTC scrutiny with his latest Twitter fiasco
📡 Are satellite-based calls the future of mobile phones?
🥊 How George Soros became a punching bag for rightwing Twitter in India
---
Surprising discoveries
Don't yell at umpires during your kids' Little League games. It might just land you with the job of calling the shots for three games.
How do octopuses experience time? Since they can move in any direction and aren't constrained by limbs that were made for walking forward, probably much differently than us.
Rents are going up by as much as 100% in Singapore. Price hikes are outpacing those in London and New York City.
A California company made a bionic eye that might help the blind see again. It could also help them see beyond reality.
The first babies fertilized by a robot were born. A Sony PlayStation 5 controller was used to position a robotic needle that deposited a single sperm cell in an egg.
---
Our best wishes for a productive day. Send any news, comments, an octopus watch, and a bionic eye to talk@qz.com. Reader support makes Quartz available to all—become a member. Today's Daily Brief was brought to you by Morgan Haefner.