Good morning, Quartz readers!

---
Here's what you need to know
JetBlue and American Airlines were ordered to end their partnership in the Northeast US. A judge ruled the alliance broke antitrust laws.
Twitter added pirated movies to its list of content issues. A feature allowing monthly subscribers to upload two-hour videos to the site is being used to post films that violate copyright laws.

Uber's diversity, equity, and inclusion chief was put on leave. Bo Young Lee faced employees complaints after hosting a session titled "Don't Call Me Karen." 
Serbia imposed gun controls after just two mass shootings. The Balkan country has one of the world's highest rates of civilian gun ownership, after Yemen and the US.
Saudi Arabia sent a female astronaut to the ISS. Rayyanah Barnawi marks a milestone for the country's burgeoning space ambitions.
The US Treasury's pile of cash is dwindling
The US is edging ever closer to its "X-date," when the country's Treasury is expected to run out of cash. It's hard to say exactly when the US could run out of money if a new deal on its debt ceiling isn't reached, but some analysts think it could happen as early as June 1.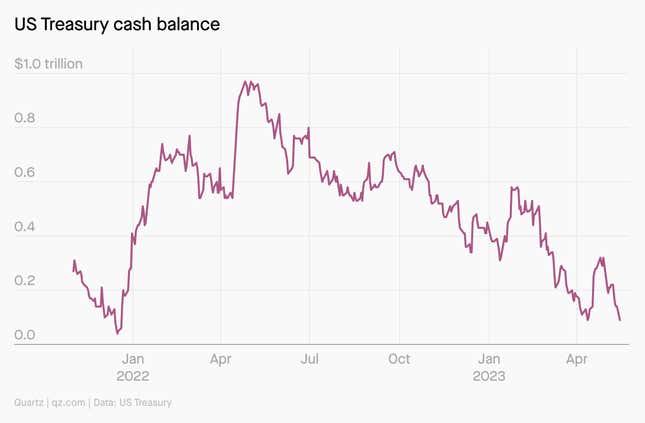 ---
CEOs are making bank on generative AI bets
98%: How much Nvidia CEO Jensen Huang's fortune has increased this year, thanks to the global AI frenzy
Huang, the world's 44th richest man, saw the highest wealth increase among all US billionaires last year. He said it helps that Nvidia hit "the iPhone moment of AI."
---
Pop quiz: The $1 billion tour
Beyoncé's Renaissance tour and Taylor Swift's Eras tour could be on the path to break the $1 billion mark, thus becoming the biggest-ever tour by revenue. But that title currently belongs to someone else. Who is it?
A. Bruce Springsteen
B. Elton John
C. Cher
D. The Beatles
Find the answer here, as well as why Ticketmaster is the definite winner, no matter who eclipses $1 billion first.
---
Quartz most popular
💊 An AstraZeneca executive said the quiet part about China out loud
🥴 Mistake at work? Try this 3-step process to address it
🪧 US union membership is at its lowest level since the Great Depression
🛏️ Musk is being investigated for turning Twitter's office space into bedrooms
🧐 The healthiest people in the world don't go to the gym
🍔 Despite falling profits, global fast-food chains keep expanding in India
Surprising discoveries
A huge snapping turtle is bringing hope to Chicagoans. The presence of Chonkasaurus on the city's river is a sign that healthy life is possible on the once toxic waterway.
The Wienermobile is no more. The infamous Oscar Mayer hotdog car has been renamed to the Frankmobile.
A billionaire Moon competition is taking off. NASA decided that both Jeff Bezos's Blue Origin and Elon Musk's Starship will help Americans land back on the lunar surface.
Oil execs and environmental activists both get a chance to shape COP28. The UAE has unveiled the advisory board of the UN's climate summit it's preparing to host in November.
Estonia has been a pioneer in online voting. Even though the European country began using the technology in 2005, it wasn't until this year that half of all votes were finally cast online. Host Scott Nover and Quartz's Shivank Taksali talk about why it has taken so long for the world to digitize its voting systems in the latest episode of the Quartz obsession podcast.

✅ Subscribe wherever you get your podcasts: Apple Podcasts | Spotify | Google | Stitcher | YouTube 

👀 Or, read the transcript
---
Our best wishes for a productive day. Send any news, comments, Chonkasaurus sightings, and Frankmobiles to talk@qz.com. Reader support makes Quartz available to all—become a member. Today's Daily Brief was brought to you by Sofia Lotto Persio and Morgan Haefner.