Good morning, Quartz readers!

---
Here's what you need to know
China's economic recovery is slowing. Higher interest rates are hampering global demand, leading the country's exports and imports to shrink last month compared to a year before.
Russian hackers threatened to publish payroll data of 100,000 people. Cyber gang Clop is demanding ransom from the victims, some of whom are employed by British Airways and the BBC.
Meta will change how it collects data across Instagram, Facebook, and its other units. After German antitrust concerns, the tech giant will allow users to say if they want to have Meta's platforms gather their information separately, or in combination.
Saudi Arabia's takeover of the PGA tour is just one step of its sportswashing plan. The country would rather have you look at boxing, F1, cricket, and several other sports (read about them all) than its oil and human rights records.
---
India's unemployment problem could help Indonesia
India may be the world's fastest-growing economy, but its struggles to match workers with jobs could make another country in southeast Asia much more attractive to investors: Indonesia.
Read more about how Indonesia has made getting people into its workforce a little less bureaucratic (which we're obsessed with).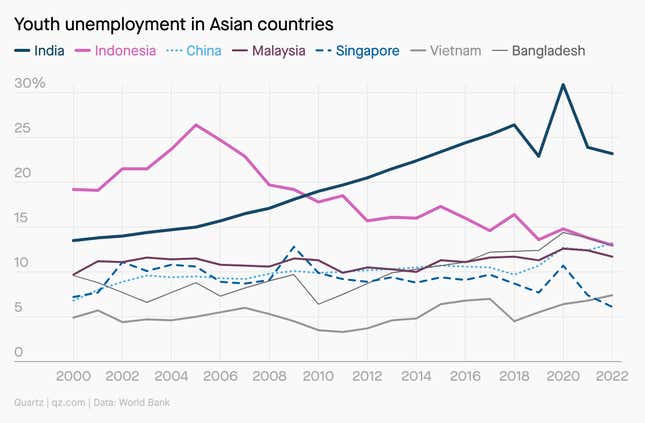 ---
One employment problem the US doesn't have: Electricians
There's never been a better time to be an electrician in the US—since 2021, the American workforce sees more every year than it has any year prior. And in early 2022, that number shot past the 1 million mark for the first time in more than 30 years.

It helps that electricians are getting the best wages they've had in decades. But as Quartz's Nate DiCamillo explains, there are still cultural attitudes around trade jobs that are hurting the profession.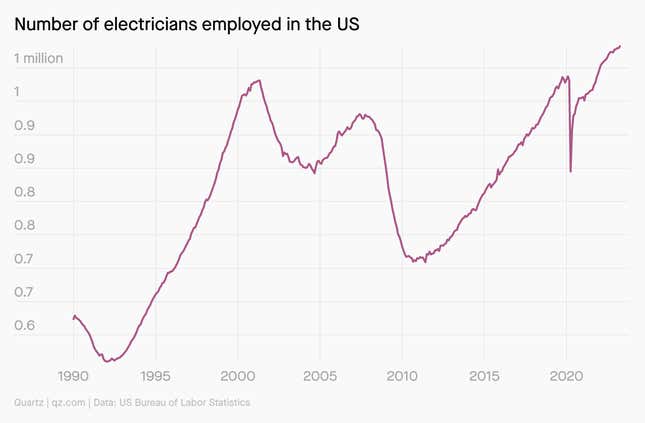 ---
It's getting harder for global companies to ignore geopolitics
62: The number of deals that Sequoia China—the Chinese arm of the US venture capital giant—did between the third quarter of 2022 and the second quarter of 2023, compared to 177 deals the year before

Sequoia Capital, which just split into independent, region-specific companies, is perhaps the first major US firm to acknowledge the impact of China-US geopolitical frictions. But it's nothing new to Chinese companies, and they're trying to do the opposite of Sequoia: appear more global. Quartz's Ananya Bhattacharya explains why.
---
Quartz most popular
🕳️ Why is China drilling down to 10,000 meters—one of the deepest holes in the world?
🧠 The psychological effects of growing up with an extremely common name
🔥 Canadian wildfire smoke has given New York the worst air quality of any major city
🥽 Apple's Vision Pro VR headset announcement did more for shares of Unity than for Apple
⚽ Professional soccer players are using AI to filter out racist content hurled at them
🚨 What happens if the SEC's Coinbase lawsuit lands at the Supreme Court?
---
Surprising discoveries
The oldest-known grave was found. The burial site in South Africa belonged to a distant human relative.
Some greenwashing was actually quashed. The UK saw right through Shell's ad about "low-carbon choices."
A single "Magic: The Gathering" card is being sought for $500,000. The ultra-rare One Ring (001/001) didn't have a baseline value before a former NFL player posted the bounty.
A crocodile impregnated itself. It's the first time a croc self-reproduced. It would be less scary if Crocs spontaneously grew new Crocs.
Less treatment can be better for cancer. Lower doses of radiation can keep survival odds the same without compromising a patient's quality of life, or leading to huge costs.
---
Our best wishes for a productive day. Send any news, comments, a Black Lotus, and matching Crocs to talk@qz.com. Reader support makes Quartz available to all—become a member. Today's Daily Brief was brought to you by Morgan Haefner.