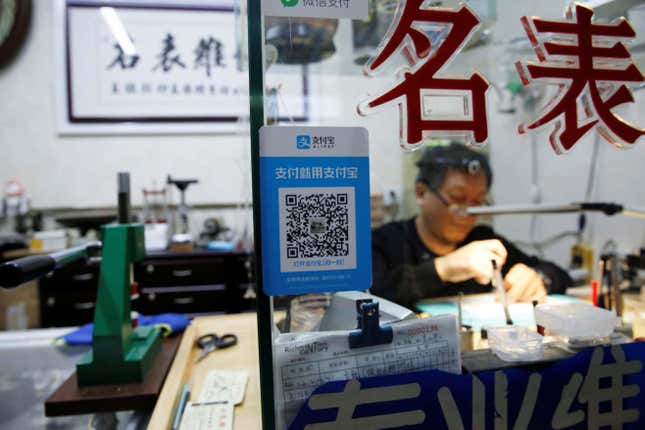 Good morning, Quartz readers!
---
Here's what you need to know
Ant Group expanded its global e-wallet network. The Alipay+ cross-border payments program will now be supported by seven more e-wallets across Asia—a big step for foreigners traveling in China.
What inspired Elon Musk's design for Tesla's Cybertruck?
Instacart investors went shopping. Trading under the symbol CART, the grocery delivery app listed at $30 a share, and had risen 12.33% by the closing bell. Unlike its gig-economy peers, it went public as a profitable company, but like its gig-economy peers, it struggles to maintain smooth relations with its workers.
Amazon's ready to take those workers off of Instacart's hands. The retail behemoth is hiring 250,000 logistics employees for the upcoming holiday season, 100,000 more than last year's figure, which indicates big hope for a spending season other brands have seemed less bullish on.
Neuralink is readying its first human clinical trial. Elon Musk's brain implant neurotech company is seeking patients with quadriplegia to test technology that would let users control devices with their mind.
---
Can TikTok conquer the American shopper?
Last week, TikTok desperately wanted Quartz reporter Scott Nover to buy a hairbrush.
One influencer hit him repeatedly with the "viral TikTok brush" as part of a paid campaign
Several smaller influencers hawked the brush as part of an affiliate marketing program
It was everywhere–"I mean everywhere"—on the TikTok Shop, and weirdly, at different price points
"The prices were weird, but something else was much weirder. Nothing in the store seemed remotely related to my likes or interests, despite the fact that I've probably spent thousands of hours scrolling since I downloaded TikTok in 2019. (What app knows more about what I like than TikTok?)" observed Scott.
TikTok, like everything else, has to make a living, and it makes sense that shopping is its latest tack. But why is it so bizarre? Scott—who has no need of a hairbrush, by the way—will take you on his long, strange trip.
---
How to look at the carbon footprint of buildings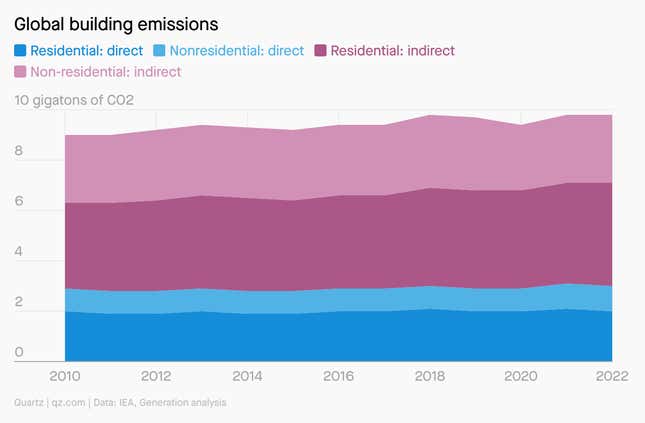 At only 6%, buildings don't make up a huge share of global emissions. But take into account more electricity use—thanks to increased demand—and the materials used to make the structure in the first place, and that building's carbon footprint triples.
There are ways to shrink emissions back down to the numbers we thought we were working with already, but they're not easy. Clarisa Diaz has the story.
---
Does X need Google?
In a word, yes! Even before Elon Musk took the reins, Twitter was never a huge hit with advertisers. Now, a name change, rollback of site rules, prioritized engagement of site users, and Musk's edgy persona have made advertisers steer clear.
Enter third-party vendors, who auction off ad space on the platform and bring you those programmatic ads you've been seeing on X since May. Last week, Google confirmed it's going to sell ad space on X as well. It all implies that X is still struggling to answer the advertising question—and quickly.
---
Quartz's most popular
📺 A little-known giant of local TV wants to buy ABC from Disney
📅 US auto workers are joining the push for a four-day work week
🤔 How much longer can Elon Musk stay "hardcore" at Tesla and SpaceX?
🎲 Young hackers are sticking up Las Vegas casinos for hefty ransoms
📚 How commuter boredom turned audiobooks into a billion-dollar industry
🖨️ Tesla is experimenting with 3D printing its car bodies
---
Surprising discoveries
South Korea's capital has a very big, very mysterious tunnel underneath it. Feel like doing a little Seoul searching?
Crayola is getting into the flower business. The crayon company thought it was time to diversify into another thing that involves colors and strong smells.
Does it count as birdwatching if you're watching through a digital camera from really, really far away? Bird Buddy says yes.
The US Senate is now operating sans dress code. We're kind of excited to tune into the next vote, but possibly from a digital Bird Buddy camera from really, really far away.
Public TV painter Bob Ross's first on-air painting is up for auction. "A Walk in the Woods" would make a nice memorandum on your wall, if you've got happy little millions to throw down.
---
Our best wishes for a productive day. Send any news, comments, bird buddies, and Senate hoodies to talk@qz.com. Reader support makes Quartz available to all—become a member. Today's Daily Brief was brought to you by Morgan Haefner, Susan Howson, and special thanks to Shivank Taksali.