Good morning, Quartz readers!
Correction: The May 12 edition of the Daily Brief stated that "SoftBank's revenue grew slightly, despite WeWork." It was the subsidiary SoftBank Corp that reported revenue, not the parent company SoftBank Group that runs the Vision Fund.
Here's what you need to know
Things are looking up in China. Smartphone sales rose 17% in April, Shanghai Disneyland reopened on Monday, and the first Popeyes restaurant opens this week. Beijing is pressing its advantage by potentially allowing foreign executives to enter the country despite a travel ban. Some good news for workers too: 4,200 Hong Kong companies committed to zero pandemic layoffs.
India will spend 10% of GDP on coronavirus relief. Prime minister Narendra Modi announced the $266 billion bill to support workers, the middle class, and post-lockdown development on Tuesday. One day earlier, Nobel laureate Esther Duflo advocated for direct cash transfers to stabilize India's economy.
Luckin Coffee's CEO and COO were fired. The Chinese rival to Starbucks let go of Jenny Zhiya Qian and Jian Liu after an accounting scandal over fabricated sales was uncovered.
Kim Jong Un is "probably doing well." United States national security advisor Robert O'Brien all but confirmed a positive US intelligence assessment of recently published photos of North Korea's leader.
Uber is hungry for Grubhub. With its share price up over 130% from March lows, Uber reportedly approached its rival food-delivery service with a takeover offer. The news sent Grubhub's stock soaring 30%.
Twitter initiates WFHForever. CEO Jack Dorsey said that most employees can indefinitely work from home. Twitter previously won generous tax breaks from San Francisco for maintaining a robust headquarters in the city.
Covid-19 could end fashion weeks. An open letter from industry heavyweights asked the fashion world to reconsider its calendar. Saint Laurent, for one, already has.
Broadway fans and gamers can look forward to familiar fare. Disney announced a 15-month-ahead-of-schedule release of Hamilton on Disney+, and Activision is releasing remastered versions of the first two Tony Hawk's Pro Skater video games in September.
---
The very hungry capital pillars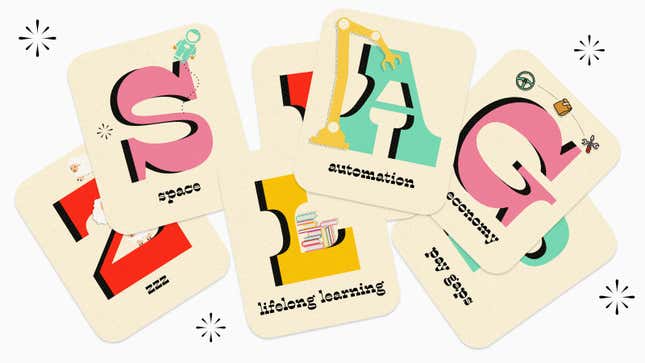 We made a guide to prepare children for the future of work. Quartz's Dan Kopf and Bárbara Abbês wrote and illustrated the alphabet of the next global economy, from A for automation 🤖to Z for Zzz 😴. Design reporter Anne Quinto guest stars for an audiobook edition that's perfect if you want to circle back for a very productive bedtime.
---
Charting the confusing UK lockdown guidelines
Prime minister Boris Johnson's Sunday address was meant to simply announce new, mostly small changes to England's lockdown. But it appears to have left many Brits with more questions than answers. Google searches about visiting family members spiked 100-fold the hour Johnson addressed the nation. Queries about how often people could exercise also shot up, though by a slightly smaller margin.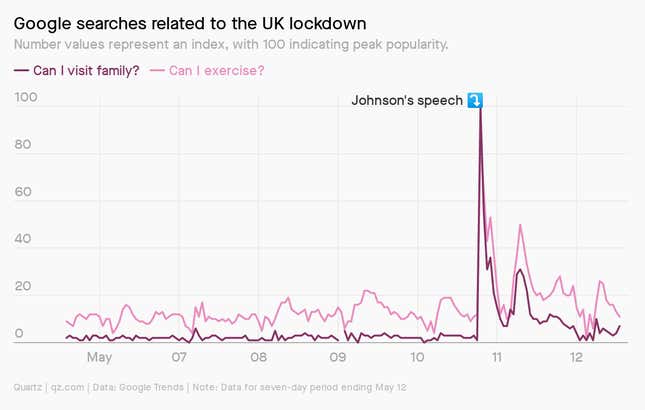 ---
For Quartz members
From restrictions on government bailouts to antsy investors, venture-backed startups face a particular set of problems in navigating the new business environment. In these Quartz member exclusives, we look at what comes next.
For more exclusive content on Why Startups Fail, The VC Boom, and more, become a Quartz member with a seven-day free trial. ✦
---
We're obsessed with Ruth Bader Ginsburg
The physically tiny US Supreme Court justice Ginsburg is an intellectual giant. The Notorious RBG may well be the only judge in the world known by a hip-hop moniker and likely the sole jurist to inspire books, documentaries, operas, workouts, feature films, and imitators who dress like her for Halloween. Choose the perfect collar before you read the Quartz Daily Obsession.
---
You asked about China's reputation
Are we still going to treat China as a trustworthy nation? – Jeff
From the US trade war to journalist expulsions to unfounded coronavirus accusations (in both directions), it's no secret that China is at a diplomatic crossroads. But according to recent polling, Americans are still most concerned by China's contributions to climate change and capacity for cyberattacks—not global health. Beyond the US, European countries are worried about a coronavirus-induced wave of Chinese corporate takeovers. Even China's neighbors India and Japan are paying domestic companies to move production out of China.
These changes can't wholly be attributed to the pandemic, which trade and territorial issues predate. And with China poised to rebound quicker than some of its G20 peers, the rest of the world will likely have little choice but to continue to engage with Beijing.
✉️ Do you have a burning question about how coronavirus is changing the world?
---
Surprising discoveries
Humans go to extreme lengths for sanitation. Retailers are hiring crime-scene teams for deep cleaning, and Mexico built "sanitizing tunnels" to disinfect those crossing the US border.  
East Africa has a "coronavirus hairstyle." The colorful, braided, and spiked hairstyle is now a fashionable form of awareness.
A Chinese rocket may be raining debris from space. Reports suggest a rogue metal part landed in Cote d'Ivoire.
Researchers designed a cheetah-like robot. Inspired by the biomechanics of the fastest land animal, they created a soft robot that can really run.
Bottled water isn't worth it. Britain's Ocado can now deliver to 6,000 more homes after eliminating online water orders.
---
Our best wishes for a productive day. Please send any news, comments, fast robots, and disinfection strategies to hi@qz.com. Get the most out of Quartz by downloading our app on iOS or Android and becoming a member. Today's Daily Brief was brought to you by Max Lockie and Patrick deHahn.