Good morning, Quartz readers!
Here's what you need to know
The "jewel" in China's "economic crown." The UK threatened to retaliate by forming an alliance of countries if China didn't change its course in Hong Kong, which British foreign secretary Dominic Raab said was a surefire way for China to hurt both its own economic interests and its global reputation. Meanwhile, a Hong Kong student was acquitted of riot charges, and chief executive Carrie Lam accused the US of a double standard.
The WHO's own frustration with China. The Associated Press reported that—despite the World Health Organization's initial praise for Beijing, whom it had previously said reported coronavirus developments in a timely fashion—the behind-the-scenes situation involved unnecessary delays in releasing the virus's genome and detailed patient data.
It's up to Asian governments to get the global economy back on track. A strategy set out by Australia National University called for pan-Asian collaboration to boost the economy so that European and North American countries would follow, and thwart any nation's attempts to act in narrow self-interest. For the plan to work, South Korea and Japan will need to put aside their trade dispute.
India is willing to pay for smartphone manufacturers to set up shop. The government is offering financial incentives up to 500 billion rupees ($6.6 billion) to attract global makers of phones and their components, in a bid to create millions of jobs and establish India as a mobile hub.
Zoom's got gas, but no map. The videoconferencing platform reported massive gains as global lockdowns sent workers, students, and families online, but its margins are narrowing as it invests in more computing power to keep up with demand. Shares rose, then fell on the news, as Zoom failed to share a plan for the future amid more and more competition from Big Tech.
---
Superpowers and social media
TikTok apologized for suppressing protest videos. Disney veteran Kevin Mayer faced a major test on his first day as CEO, asking users to "hold the platform accountable." TikTok claimed the issue arose from a bug, and pledged $4 million to fight racial injustice in the US.
TikTok's popularity in the US soared around 2018, as relations with China were taking a nosedive. That's led to intense scrutiny in the US, and fears that it could be a national security threat, for example if it were to share user data with its parent company. TikTok has said it strongly protects user data—and rejects the claim it censors content.
Grindr's new buyers have ties to its Chinese owners. Concerned about data privacy, the US foreign investment committee had ordered Beijing Kunlun Tech Co Ltd to divest itself of the dating app. But Kunlun appears to be connected to the winning bidder, an investment group named San Vicente Acquisition, to which it also extended financing support not available to other bidders.
If you're in India, use an Android, and want to rid yourself of any platforms with ties to China, there's an app for that. It does, however, raise many of the same privacy issues that it seeks to eliminate.
---
Charting the bias of the US stock market
Nationwide protests over the death of George Floyd, an unarmed black man killed by a white police officer, are renewing attention to the ways that African Americans have been failed by everything from policing to job creation and public health. Many black Americans have also been unable to improve their quality of life through stock market investing—an important wealth generator.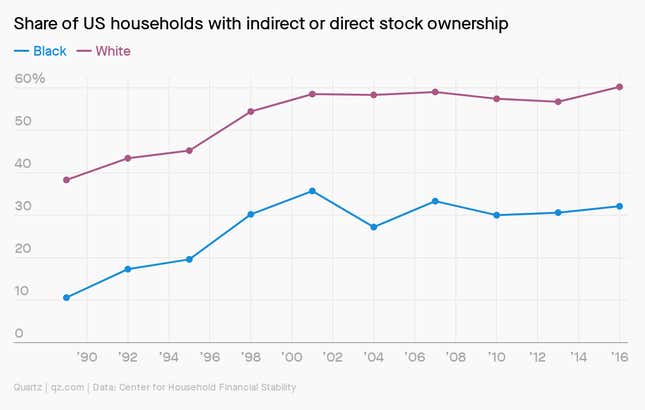 While the stock market is far from a guarantee for getting rich, the equity market's capacity to help savers accumulate wealth through long-term, diversified investing is well documented. But African Americans are far less represented when it comes to financial asset holdings, with just about 30% of black households owning stocks, compared with around 60% of whites.
---
For Quartz members: Keeping up social distancing
People don't change behavior based on rational persuasion; they change to conform to those around them. That's what Quartz contributor and behavioral planning strategist Will Hanmer-Lloyd writes in a new piece that examines how behavioral science can help enforce social distancing. Here are a few tips to stay safe.
To stay social (see #1) we want your vote on the strategy that makes the most sense to you:
🕺 Emphasize the social. People generally want to fit in, so whether you're a parent, a manager, or just a friend, amplify correct behavior instead of spotlighting incidents of noncompliance. (Vote for social)
🐷  Piggyback on existing behaviors. A campaign to get people to check their fire alarm when they changed their clocks saw up to 40% of people who'd seen the campaign go on to check their alarms, compared to 13% of people who hadn't. (Vote for existing behaviors)
👍 Make it easy. If you need to reopen a workplace, for example, plan ahead by making it clear that simple processes are in place to manage risks in elevators and other shared spaces. (Vote for simplicity)
✦ To gain access to all the stories, presentations, field guides, workshops, and more available exclusively to Quartz members, you can start with a seven-day free trial. ✦
---
You asked about deadly diseases
How do deaths from coronavirus compare with deaths from other diseases like malaria or influenza over the current time period? – A.P.
It's true that coronavirus is far from the only disease causing death around the world. Heart disease, stroke, and lung disease are the top three killers globally. Malaria and influenza also contribute significantly to global mortality, with the former estimated to have killed 445,000 people in 2016 and the latter as the likely cause of death for between 250,000 and 500,000 people annually.
With close to 400,000 lives lost in just the first six months of the pandemic, Covid-19 has quickly risen to be a leading cause of death worldwide—hence the global scramble for a vaccine (✦). The burden of each disease varies country by country and region by region, and will disproportionately impact those that already struggle with poverty, endemic diseases, and less robust healthcare systems.
✉️ Do you have a burning question about how coronavirus is changing the world?
---
Surprising discoveries
Your new gold might be old. Pandora A/S, the world's largest jewelry maker, will stop using newly mined precious metals in favor of recycled gold and silver.
Glamour's fresh face. The July edition of British Vogue features a train driver and other essential workers as cover models.
A step forward for transparency. Adding squid DNA to human cells successfully made the cells more transparent —which could make them easier to study.
No one is buying truffles. As high-end restaurants shut down or go bust, sellers may have to pivot to making processed products like truffle oil to get rid of inventory.
Singapore is finding otters to be less cute. They're wreaking havoc in the city-state, including eating up fish in a pond at a spa.
---
Our best wishes for a productive day. Please send any news, comments, cheap truffles, and any old gold you may have lying around to hi@qz.com. Get the most out of Quartz by downloading our app on iOS or Android and becoming a member. Today's Daily Brief was brought to you by Susan Howson and Max Lockie.