Good morning, Quartz readers!
Here's what you need to know
The US further distanced itself from China. While the world waits for US-China trade talks to resume after a recent cancellation, the White House suspended three bilateral agreements with Hong Kong, including an extradition treaty, following similar recent moves by Australia, Canada, New Zealand, Germany, France, and Britain.
TikTok said it's not going anywhere. The platform's US operations chief insisted that TikTok protects user data and will continue to serve its customers, whether or not it separates from its Chinese-based parent ByteDance, after US president Donald Trump's Sep. 15 deadline. Japan may also insist that TikTok find new ownership, but has indicated it won't ban the app.
Apple became the first $2 trillion public company. The world's current most valuable company doubled its valuation in just over two years, though it fell just below the $2 trillion mark by Wednesday's market close. It wasn't the only one having a good day on the market— Nike also closed at an all-time high after rallying over 70% from its March low, and Airbnb confidentially filed for an IPO.
Facebook employees in India are holding their employer accountable. Reuters reports that staff are asking questions about the treatment of political content following controversy over the social media platform's failure to crack down on anti-Muslim posts by a politician in prime minister Narendra Modi's Bharatiya Janata Party. India is currently Facebook's biggest market.
The EU said it does not recognize the results of the Belarus election. European Council president Charles Michel called the Aug. 9 election "neither free nor fair" and said it failed to meet international standards. As a result, the European Union is preparing sanctions for individuals it says are responsible for fraudulence and the ensuing violence.
---
Obsession Interlude: Person of interest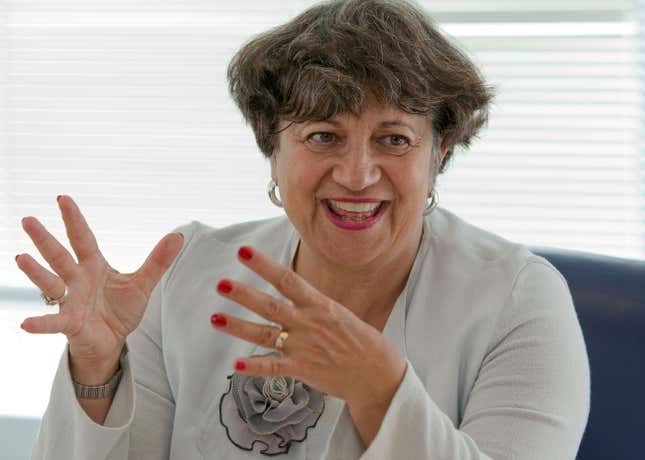 To seamlessly navigate a Quartz obsession, it helps to know who to follow. Here's one key figure shaping the climate economy.
Mary Nichols is the world's most powerful environmental regulator you've never heard of. The Yale-trained lawyer serves as the chair of the California Air Resources Board. From her perch presiding over air quality regulations in the world's fifth-largest economy, she influences climate policy in more than a dozen US states that have adopted California's strict vehicle emission standards, which go beyond federal requirements. China has modeled its carbon-trading scheme on California's, too. The state has managed to grow its economy by 26% while keeping emissions at 1990 levels, and thanks to Nichols' work, it's now committed to reaching a net-zero economy by 2045. Many are betting against her, but clean air advocate Wendy James wouldn't take that bet. "She always wins," she says. "I'm not aware of any instance where she has lost."
Go deeper into the fate of fossil fuels, and keep an eye on Quartz's Climate Economy obsession.
---
The coup d'etat in Mali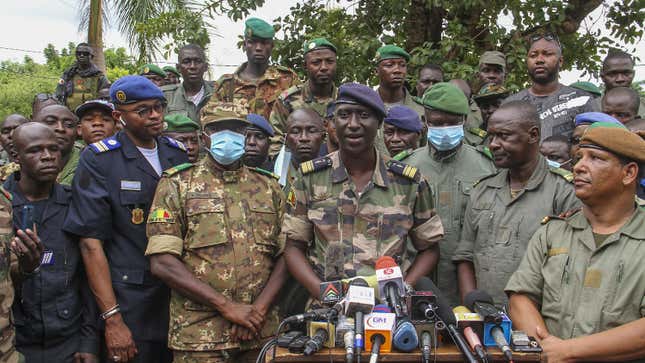 Mali's president Ibrahim Boubacar Keita resigned this week hours after he was detained by military officers following months of mass protests against corruption and escalating insecurity in Mali, where Islamic militants have been active since 2012. Calling themselves the "National Committee for the Salvation of the People," the mutineers called on Mali's civil society and political movements to join them in creating conditions for a political transition.
For more coverage of the continent—from Nigeria's new startup hubs to Zimbabwe's compensation to displaced white farmers—subscribe to the Quartz Africa Weekly Brief.
---
Charting foreign populations in countries around the world
One in 10 people living in OECD countries were foreign nationals in 2018. Many are no longer there. Covid-19 is pushing immigrant workers out of their adopted homes and pulling them back to their homelands.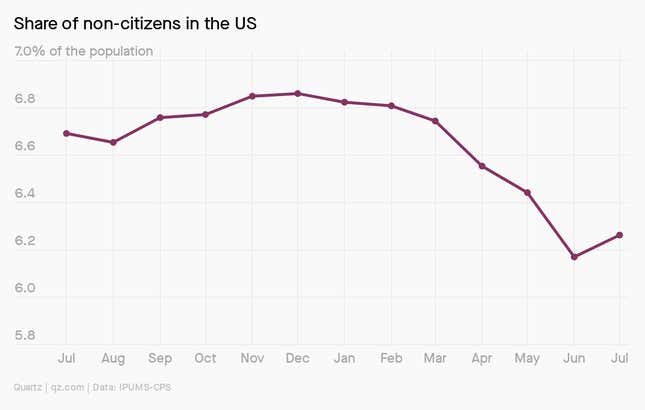 This is a global trend. Quartz Things reporter Youyou Zhou digs into data from Japan, China, the UK, Germany and Canada to show how a global recession coupled with a global pandemic makes it unlikely for immigration to return to a pre-pandemic level anytime soon. The question is how long countries could afford to lose immigrants.
---
A tragic timeline
Beijing has lost patience with the Hong Kong government. The new national security law transformed the city overnight from a relatively free place, to one where it's possible to be arrested for shouting a slogan. This is how it happened:
April 17: Beijing's liaison office in Hong Kong declares that it has full authority to weigh in on Hong Kong's affairs, going against two decades of legal precedent.
May 28: China's legislative body approves the decision to draft a national security law for Hong Kong. Lawmaker Claudia Mo calls it the beginning of a "sad and traumatizing era."
June 18: While Hong Kong remains in the dark about the law's provisions, it is heavily marketed in the city as a good thing that will only affect a few people.
June 30: Xi Jinping signs the law. Hong Kongers read its language for the first time hours before it goes into effect. Turns out, it covers everybody on earth.
Read the full timeline of events that led to this moment as part of our field guide on Hong Kong's global fight.
✦ Becoming a member directly supports the work we do—including those who report on the unfolding situation from Hong Kong—and gives you access to every bit of it. Join us for 50% off your first year by using code "SUMMERSALE".
---
We're obsessed with laam caau
Burning down the house. Laam caau (pronounced "lahm tsow," with the "ow" sounding like "how") is a strategy that a sizable fraction of Hong Kong protesters believe is the only method that gives them a fighting chance against their formidable authoritarian foe, the Chinese Communist Party (CCP). Imagine the little guy gripping on to a fearsome opponent as they wrestle to the death, with the two of them eventually tumbling off a cliff and crashing down in mutual destruction. One might describe it as an "if we burn, you burn with us" philosophy—it's a risky approach and may well backfire, but protesters feel they have no choice. The Quartz Obsession invites you to make a wager.
---
Surprising discoveries
It's time for your government-mandated walk. Germany is debating a law to require dogs to be walked twice daily.
Chinese sci-fi films are getting new rules, too. China's Communist Party encourages filmmakers to "highlight Chinese values" and invest in local high-tech production capabilities.
Earth almost faced a real-life sci-fi disaster. A vehicle-sized asteroid nearly crashed into Earth over the weekend, and no one knew until hours later.
There are even cutting edge advances to lock-picking. The phone in your pocket can record audio at a level of detail high enough to produce a working copy of a key.
We really are living in the future. Finnish scientists may have ended hangovers with a new treatment that also helps reduce the impulse to imbibe.
---
Our best wishes for a productive day. Please send any news, comments, manageably-sized asteroids, and smartphone-proof locks to hi@qz.com. Get the most out of Quartz by downloading our app on iOS and becoming a member. Today's Daily Brief was brought to you by Michael J. Coren, Chidinma Irene Nwoye, Youyou Zhou, Susan Howson, and Max Lockie.