Good morning, Quartz readers!
Here's what you need to know
House Republicans are turning against Donald Trump… Several senior GOP lawmakers have signaled support for the Democrats' impeachment vote against the president tomorrow, after vice president Mike Pence rejected calls to remove Trump.
…while Trump said the Capitol riot wasn't his fault. He insisted his comments before and during the insurrection were "totally appropriate." European leaders disagreed, forcing secretary of state Mike Pompeo to cancel his last trip there after several officials declined to meet him.
International visitors to the US will need to show a negative Covid-19 test. The new rule for airline passengers is expected to take effect Jan. 26, the Wall Street Journal reports.
The US executed its first female inmate in nearly 70 years. The execution was one of three scheduled before Joe Biden's inauguration. The president-elect opposes federal executions, which were resumed by the Trump administration in 2019 after a 17-year pause.
Visa dropped its $5.3 billion acquisition of fintech startup Plaid. The deal, first proposed a year ago, was scrapped to avoid an anti-trust lawsuit from the US justice department.
Zoom is looking for another $1.5 billion. The video conferencing company said the secondary offering will help it conduct "acquisitions or strategic investments."
Beijing wants a quiet Chinese New Year. After new lockdowns in some cities, Beijing urged people to "avoid unnecessary travel" ahead of the country's biggest festival, which falls next month.
What to watch for
Uganda's upcoming election. The east African country's government yesterday blocked access to social media platforms ahead of Jan. 14's presidential and parliamentary elections. Attempts at suppressing the opposition are reminiscent of the country's 2016 elections—and tech giants are being sucked into the bitter fight. The continent is looking closely at the election to see if Uganda's current president's long-standing regime can be ousted.
The two presidential candidates to watch:
Yoweri Museveni: The 76-year-old incumbent has been in office for 34 years, and was instrumental in Uganda's revolution against Idi Amin, but has since employed brutal suppression tactics to silence any opposition. Museveni oversaw a change in the presidential age limit shortly before campaigns began.
Bobi Wine: The 38-year-old singer and lawmaker (real name Robert Kyagulanyi) is wildly popular with younger generations, and accuses Museveni's regime of rampant corruption. Riots surrounding his arrest in November led to the death of 50 people.
---
Charting crypto's global worth
Comparing the market value of crypto to the value of hard currency in circulation offers perspective on the size and pace of today's cryptocurrency mania.
Based on data collected from central banks and other economic databases, crypto is, by value, now the fifth-most circulated currency. It outstrips the sum of circulating coins and bills in even large economies like India and the UK—at least, unless another cycle of volatility sends it spiraling down again.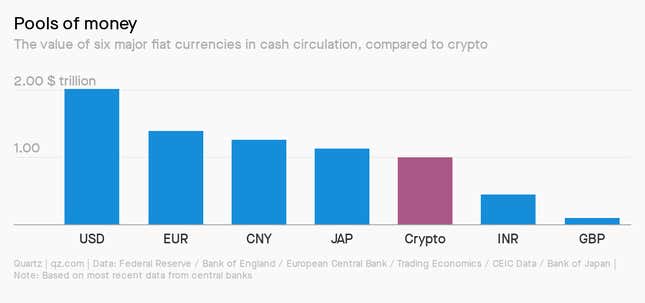 ---
The lasting impact of corporate misbehavior
Can companies that violate human rights be held accountable? The answer, historically, has often been no. But a recent working paper on the killings of mining activists shows the financial fortunes of companies associated with those murders often take a big hit.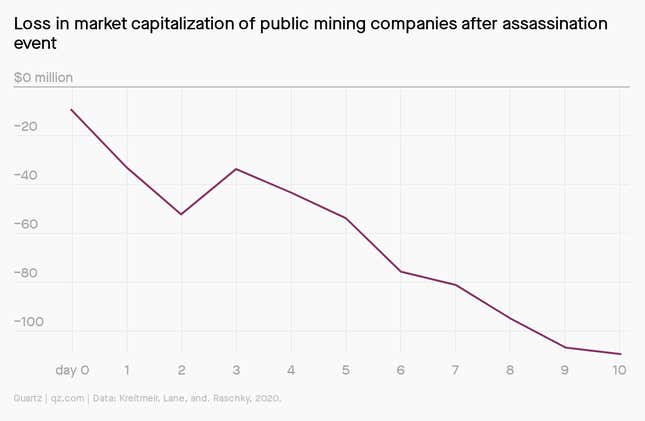 Does this change corporate behavior in the long run? Institutional investors sensitive to reputational risk tend to reduce stakes in companies linked to ethical and legal changes. Some corporations make adjustments in less meaningful ways, such as a name change.
Ultimately, investor revolts, declining share prices, and litigation threats drive changes in corporate boardrooms, even more than customer boycotts.
✦ Help support Quartz's mission to make business better by signing up for a membership. Try it free for seven days.
---
Surprising discoveries
US emissions hit their lowest levels since 1990. The pandemic brought a steeper drop than seen during the 2009 recession.
Have you seen these shoes? A pair of rare Nike sneakers may help the FBI capture an individual caught planting explosive devices during last week's Capitol riots.
A Japanese man receives money for nothing. He charges $96 for requests to do nothing much with strangers,  like taking a walk in silence.
French wine is set to return from outer space… The 12 unopened bottles of Bordeaux and snippets of grapevines spent a year on the International Space Station.
…while samosas crash-landed in France. British-based restaurant Chai Walla sent its tasty morsels into the sky with weather balloons.
---
---
Our best wishes for a productive day. Please send any news, comments, space wine, and candidates to do nothing with to hi@qz.com. Get the most out of Quartz by downloading our iOS app and becoming a member. Today's Daily Brief was brought to you by Jane Li, Tripti Lahiri, Jackie Bischof, Liz Webber, and Susan Howson.